Planning your visit
Opening Hours

Parliament Buildings is usually open to the public between 9.00am and 4.00pm Monday to Friday.
Travelling by car
If travelling by car, visitors are required to pass through a security facility at all entrances to the Estate. All visitors to Parliament Buildings are required to pass through a search facility.
Find out more about the Assembly Visitor management System...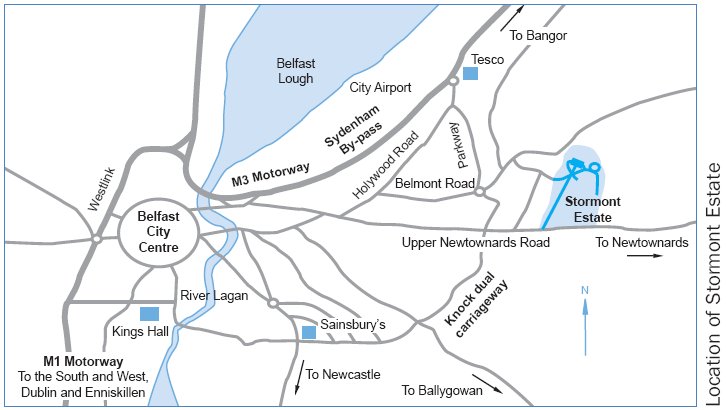 Parliament Buildings is situated in Stormont Estate which is on the east side of Belfast, on the Upper Newtownards Road (A20). When travelling out of Belfast along the Upper Newtownards Road, the large entrance to the Estate can be seen on the left hand side of the road, approximately 5 miles from the city centre.
Our address is:
Northern Ireland Assembly
Parliament Buildings
Ballymiscaw
Stormont
Belfast
BT4 3XX
GPS: +54°36'13.02", -5°49'50.40"
Getting here by Public Transport
There is a regular Metro bus service (3g, 3h and 7h) to and from Stormont Estate. There is also an Ulsterbus service from Bangor (4).
Please check the Translink website for up-to-date timetables and information.
Members of the public are welcome to visit the Great Hall in Parliament Buildings between 9.00am and 4.00pm, Monday to Friday.
You are welcome to visit the Great Hall in Parliament Buildings between 9.00am and 4.00pm, Monday to Friday. You can usually watch full meetings of the Assembly (plenary sessions) from the Public Gallery on Mondays from 12 noon and on Tuesdays from 10.30am.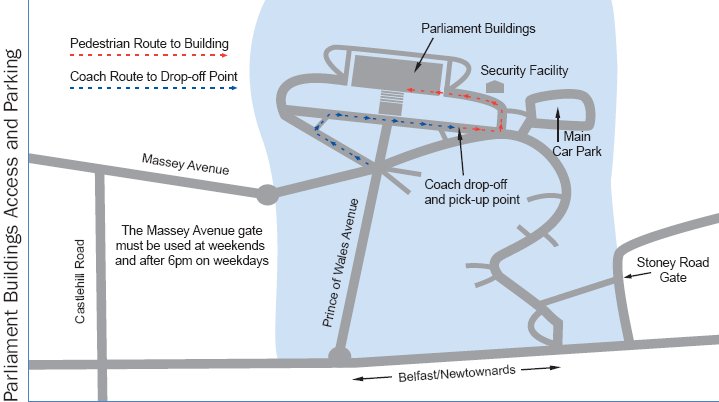 Map showing the bus drop off points and car park for Parliament Buildings
When you arrive you will be asked to go through a security facility.
If you have any special access requirements please call us in advance on +44 (0) 28 9052 1586.
Special Requirements
Any Visitor who requires assistance should make themselves known at the external Search Facility where arrangements will be made to ensure that they gain access to the building.
Parliament Buildings has disabled parking in the Upper East Carparks by prior arrangement. Call (028) 90 521 900.
Wheelchair users can access the building at the front door and induction loops for people with hearing difficulties are installed in public areas.
Personal Data
The Assembly collects data on visitors to Parliament Buildings. Please read our policy NI Assembly Visitor Management System for further information.
Parking
Guests can access Stormont Estate by car with parking facilities in the Visitors Car Park to the left-hand side of Parliament Buildings (right-hand side on approach) or along the Prince of Wales Avenue.
The Visitors Car Park also contains two electric charging points. Learn how to make use of the electric charging points...
Disabled Parking
Upper Car Park access can be arranged if in line with Security Policy. This should be arranged in advance, but Blue Badge holders can receive upper access permitting there are parking spaces available.
Disabled Access

Disability access to Parliament Buildings is via ramps at the front, east and west entrances.

There is a changing places facility on the ground floor of Parliament Buildings.

The Assembly welcomes assistance dogs onto the premises.

The Assembly has produced a braille tour guide, it also includes a tactile map of the entrance, Great Hall, Assembly and Senate Chambers.

New equipment including an upgrade to the hearing loop system, additional signage and the introduction of whispering tour equipment have been introduced.
Autism Friendly
A page on the Assembly website providing information to visitors on the Autistic spectrum has been developed and includes useful contacts, links, the access video, guidance and information on sensory issues that may be encountered.