Office of the Speaker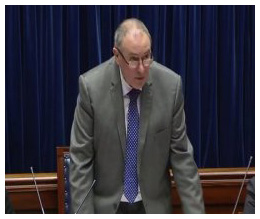 My name is Mitchel McLaughlin and I was elected as Speaker of the Northern Ireland Assembly on 12 January 2015, the first nationalist to take up this position.
I consider it an honour to serve in this capacity, as I seek to uphold the impartiality and independence of this Office, and the interests of this House, on behalf of all its elected Members.
As Speaker I perform three main roles: procedural, corporate and representational.
Procedural Role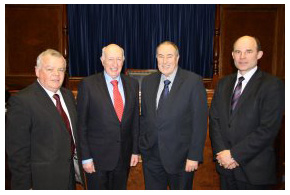 In this role I chair plenary sessions of the Assembly, calling Members to speak on debates, maintaining order in the Chamber and replying to areas of dispute raised by Members. As Speaker, I am politically impartial and do not participate in any debates in the Assembly. In this work I am assisted by the Principal Deputy Speaker Robin Newton (DUP), Deputy Speaker John Dallat (SDLP) and Deputy Speaker Roy Beggs (UUP). I chair meetings of the Business Committee which is responsible for determining the business to be discussed in plenary sessions.
Corporate Role
In this role I chair the Assembly Commission which is responsible under legislation to ensure that the Assembly is provided with the property, staff and services it requires to carry out its work.
Representational Role
As Speaker I also perform an important representational role which includes: receiving VIP visitors to the Assembly, such as Heads of State, Ambassadors and senior political figures; attending external events to promote the work of the Northern Ireland Assembly, such as officially opening the Assembly marquee at the Balmoral Show; and hosting events at Parliament Buildings to widen public access to their locally devolved institution.