Office of the Speaker
Following the resignation of William Hay MLA on 13 October 2014 there remains a vacancy in the position of Speaker to the Northern Ireland Assembly. The Northern Ireland Act (1998) under section 39 (4) allows for the Deputy Speakers to perform the procedural and representative functions of the Speaker during such a vacancy until a new Speaker is elected.
The three Deputy Speakers are (L-R) John Dallat, Mitchell McLaughlin and Roy Beggs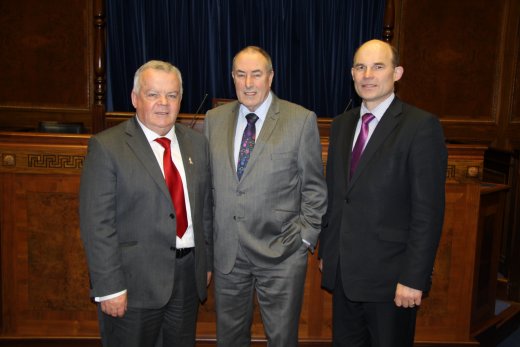 Procedural duties performed by the Deputy Speakers:
The Deputy Speakers chair plenary sessions of the Assembly, calling Members to speak on debates, maintaining order in the Chamber and reponding to issues raised by Members. They also chair meetings of the Business Committee (under an agreed rota system) which is responsible for determining the business to be discussed in plenary sessions.Deputy Speakers also have responsibility for the signing in of new Members to the Assembly and 'witnessing' the signing of the pledge of office for new Ministers taking up a position in the Executive.
Representational duties performed by the Deputy Speakers
The Deputy Speakers perform an important representational role which includes receiving VIP visitors to the Assembly, such as Heads of State, Ambassadors and senior political figures.