Office of the Speaker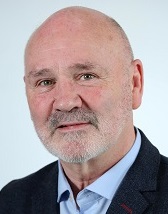 Alex Maskey was elected as the Speaker of the Northern Ireland Assembly on 11 January 2020.
As Speaker he performs three main roles: procedural, corporate and representational.
Procedural Role
In this role he chairs plenary sessions of the Assembly, calling Members to speak on debates, maintaining order in the Chamber and replying to areas of dispute raised by Members. As Speaker, he is politically impartial and does not participate in any debates in the Assembly. In this work he is assisted by Deputy Speaker Patsy McGlone (SDLP). He chairs meetings of the Business Committee which is responsible for determining the business to be discussed in plenary sessions.
Corporate Role
In this role he chairs the Assembly Commission which is responsible under legislation to ensure that the Assembly is provided with the property, staff and services it requires to carry out its work.
Representational Role
As Speaker he also performs an important representational role which includes: receiving VIP visitors to the Assembly, such as Heads of State, Ambassadors and senior political figures; attending external events to promote the work of the Northern Ireland Assembly, such as officially opening the Assembly marquee at the Balmoral Show; and hosting events at Parliament Buildings to widen public access to their locally devolved institution.
---
Condolences delivered to King Charles III at Hillsbourough Castle
On Tuesday 13 September 2022, the Speaker, Alex Maskey, delivered a message of condolence to the King and Queen consort on the death of Queen Elizabeth. You can watch a clip of the speech from the BBC website below.
You can also read the condolences in full by following this link.
---
Speaker's Videos
Take a look back at the Parliament Buildings 80th Anniversary Open Day celebrations. This very successful event saw almost 5000 people visit Parliament Buildings to mark the special occasion.