Northern Ireland Women's Coalition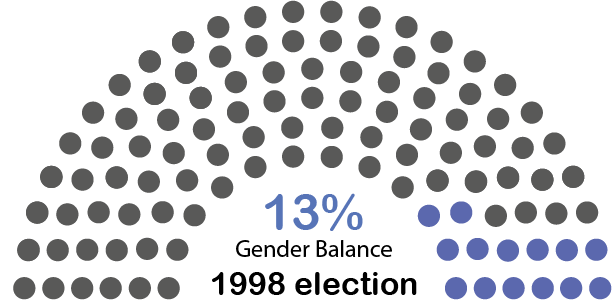 The Northern Ireland Women's Coalition (NIWC) was formed in 1996, following denial of their request to the Northern Ireland Office to require parties to submit gender balanced lists of representatives for the upcoming elections to the Northern Ireland Forum for Political Dialogue. Some academics have speculated that the NIWC's existence forced other party leaders to pay more attention to women's interests in their campaigning during elections. It has been argued that the main parties put forward higher numbers of women in response to the advent of the NIWC.
Due to a mechanism ensuring the representation of minority parties, founding members Monica McWilliams and Pearl Sagar were elected to two seats in the Northern Ireland Forum for Political Dialogue. The NIWC was the first single issue party in Northern Ireland. It did not take a stance on whether Northern Ireland should be part of the UK or Ireland. The party introduced proposals to the Belfast/Good Friday Agreement regarding victims, integrated education, mixed housing and a civic forum.
In the Assembly election which followed, the NIWC secured 13,019 votes (1.6%) and Monica McWilliams (South Belfast) and Jane Morrice (North Down) were elected. Jane Morrice was appointed Deputy Speaker and Monica McWilliams would go on to be appointed Human Rights Commissioner for Northern Ireland.