Assembly to introduce live sign language for Executive Office Question Time
Session: Session currently unavailable
Date: 06 December 2021
Reference: SO 04/21/22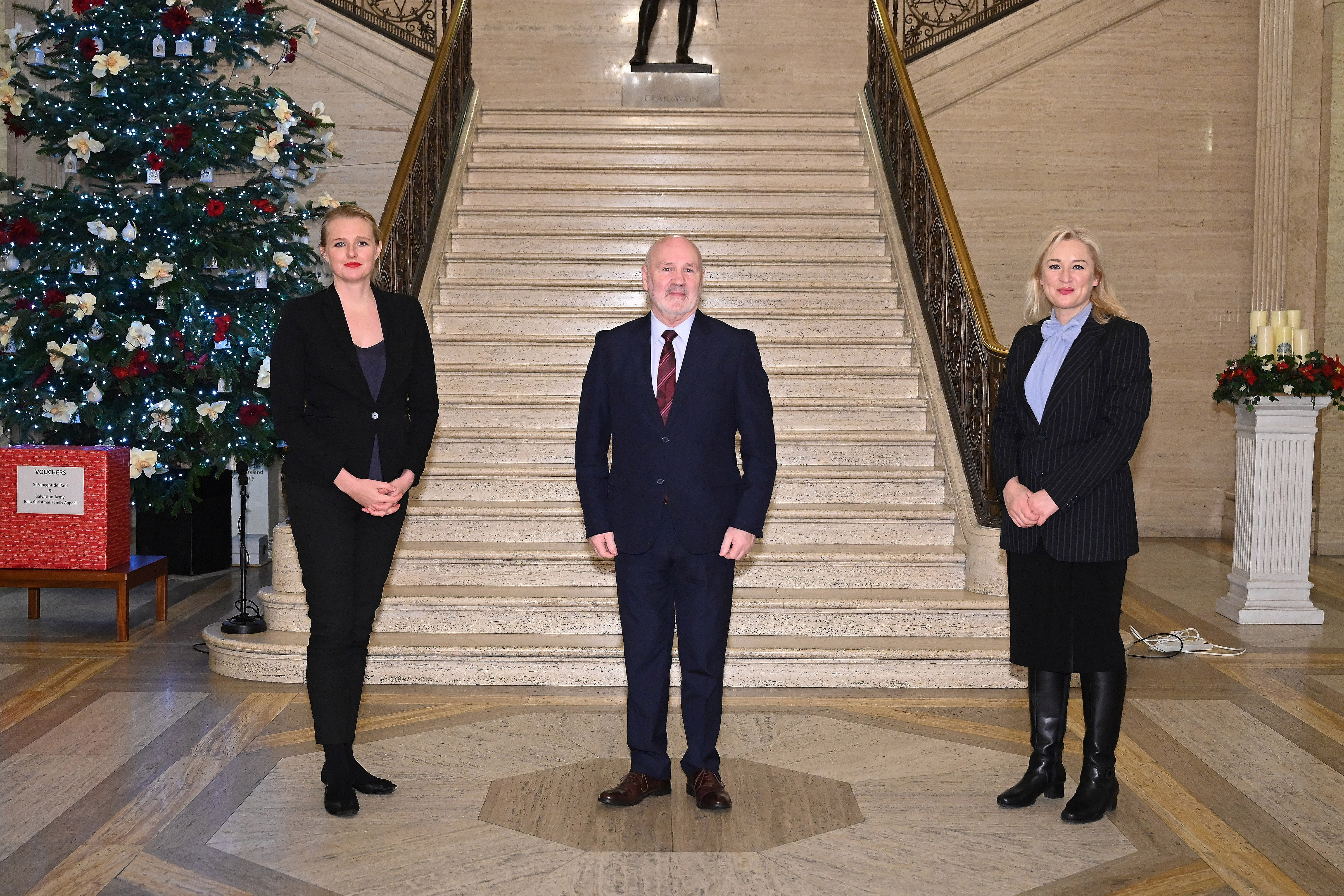 Image: The Speaker of the Northern Ireland Assembly, Alex Maskey MLA pictured with (L-r: Kristina Laverty (BSL Signer) and Amanda Coogan (ISL Signer).


The Speaker of the Northern Ireland Assembly, Alex Maskey MLA, today confirmed that a pilot project to provide live signing of Executive Office Question Time will begin on 13 December. The pilot will run until the end of the Mandate, expected to be by the end of March 2022.
Both British and Irish Sign Language will be included and will help those in the deaf and hard of hearing communities to access this important part of Assembly business.
The Speaker said: "I am very pleased to introduce this important initiative. Question Time is an essential part of our democratic process where MLAs can directly question Ministers. It is at the heart of the Assembly's role in holding Ministers to account and therefore crucial that it is accessible to all of our citizens.
"We have a long-standing commitment to making our work as accessible as possible to all parts of our community. Introducing live sign language for questions to the First Minister and deputy First Minister in this pilot is a demonstration of how seriously we take this obligation. In parallel, recordings of the Executive Office Question Time will also be subtitled and available on playback. Learning from this experience will leave the Assembly better placed to consider how to meet the needs of the deaf and hard of hearing in the longer term."
During this pilot period, the Assembly will hold regular meetings with representatives from the deaf and hard of hearing community to review how the project is working. In addition, the representatives will assist with a formal evaluation of the pilot that will finish with the end of the Assembly Mandate in March 2022.
ENDS


Notes to Editors
Oral Questions or Question Time usually takes place during Plenary each Monday and Tuesday between 2.00pm – 3.30pm while the Assembly is in session. It is an opportunity for Members to question Ministers on the work of their Departments. At present there are two Ministerial slots during Question Time on Monday, and one during Question Time on Tuesday. The First Minister and the deputy First Minister attend Plenary for oral questions on a Monday every other week.
Each Minister's slot is a maximum of 45 minutes: the first thirty minutes are allocated for scheduled oral questions, followed by 15 minutes of topical, or unscheduled, questions to that Minister.
A maximum of 15 questions are selected for oral answer and these will be published on the website 10 day before the Question Time. It is common for time to run out before all the submitted questions are answered. The written answers to oral questions are in the Official Report (Hansard) for each sitting.
For media enquiries please contact:
The Communications Office
Northern Ireland Assembly
Email: info@niassembly.gov.uk