Assembly screens films made to mark World Mental Health Day
Session: Session currently unavailable
Date: 12 October 2015
Reference: SO 05/15/16
The Northern Ireland Assembly has today screened three films, made by young people, on the important theme of mental health. The films, which were made as part of the project 'Connections' was funded through the EU's Erasmus+ programme and involved young people working with MLAs and mental health agencies.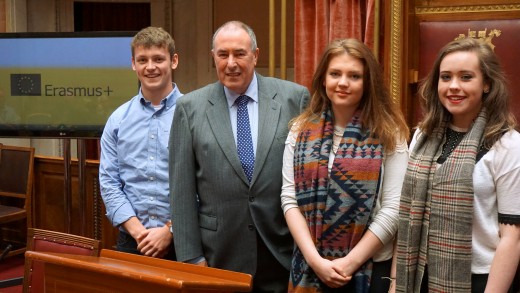 The research that underpins the films was carried out by the participants and will be presented to a number of Assembly Committees later this year.
Speaker of the Assembly, Mitchel McLaughlin MLA, who introduced the programme said: "I am very pleased to screen the films that have come about through an innovative partnership between young people and the Assembly, made possible by a grant from the Erasmus + programme.
"The issue of mental health is extremely important; we have 25% more mental illness than in the rest of the UK—this is something that touches all of us; young people, our communities and our local representatives.
"We hope that this project will strengthen democracy by giving young people an opportunity to influence decision-making on an issue that concerns them and concerns all of us."
ENDS
Notes to Editors:
• In the summer of 2014, the Assembly applied to the European Union's Erasmus + funding stream. The €50,000 award enabled the Assembly to develop a youth engagement project.
• The project, entitled 'Connections' started in April 2015 and will finish its work in January 2016 and gives 36 young people from a variety of backgrounds the opportunity to actively participate in democratic life by working closely with the Assembly on an issue of importance to them.
• The participants chose 'mental health' and spent a week in August 2015 producing three short films on various aspects of the issue.