Calling Young Artists To Design Official Assembly Christmas Card
Session: 2013/2014
Date: 16 September 2013
Reference: SO 02/13/14
The Northern Ireland Assembly today launched a new and exciting Art Competition aimed at Key Stage 2 pupils (P5/P6/P7).
Children enrolled in primary schools across Northern Ireland are being asked to design this year's official Northern Ireland Assembly Christmas card. The winner, as well as several shortlisted entrants, will also have their work displayed in a special Art Exhibition in Parliament Buildings that will run throughout the festive period.
Launching the competition the Speaker of the Northern Ireland Assembly, Mr William Hay MLA said: "In recent months, the Great Hall in Parliament Buildings has become recognised as a public art space, showcasing some magnificent pieces of artwork to politicians and visitors alike.
"For children in particular, art encourages a better understanding of the world they live in and allows them to explore and imagine new ideas. This initiative follows on from the success of the Assembly Art Competition in 2012, which drew an overwhelming response from primary schools throughout Northern Ireland.
"The Christmas Card Competition has been designed to complement our other popular education programmes by reaching out to young people and stimulating their understanding and interest in government and politics. I very much look forward to seeing the creativity and talent our local children have to offer."
This year's competition closes on Wednesday 9 October 2013. More information on how to enter can be found on the Northern Ireland Assembly's Education Service website.
ENDS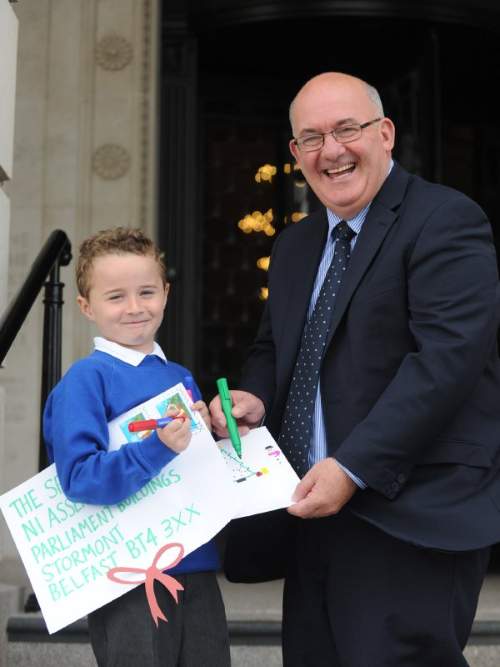 The Speaker of the Northern Ireland Assembly, William Hay MLA, is calling on budding young artists at Key Stage 2 in primary schools across Northern Ireland to design this year's official Assembly Christmas Card. Helping the Speaker to launch this exciting new competition is James Murphy from St Joseph's Primary School in East Belfast.