Young People Tell Committee why they Want to Meet in the Middle
Session: 2011/2012
Date: 07 December 2011
Reference: COFMDFM 05/11/12
Young people from the pioneering "Ambassador's for Change" programme met with the Northern Ireland Assembly's Committee for the Office of First Minister and deputy First Minister today to tell Members about their efforts to bring together young people from North Belfast Interface areas.
The programme, which is co funded by Co-operation Ireland and the Intercomm project facilitates discussion and co-operation between young people already involved in Community initiatives in their local areas.
Following today's meeting, Committee Chairperson Tom Elliott MLA said: "The Committee was delighted to meet with this group of inspiring young people today and to hear about the tremendous strides they have taken in their local areas to bring about real understanding and change.
"This programme puts a very real emphasis on challenging ingrained view points and prejudices and in encouraging participants to question pre-conceived and often entrenched beliefs."
"The young people today have related some their very real experiences of personal growth and how the development of leadership skills has now allowed them to become mentors in their own Communities.
"The work carried out already and the commitment shown by all involved is admirable and the Committee is very keen to see further streams of funding made available to allow the programme to extend to other interface areas both within Belfast and beyond."
The Ambassador's for Change programme has been running since July 2011 but is due to end soon, unless further funding streams can be identified.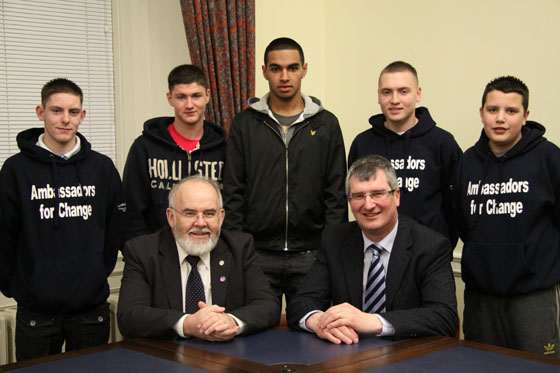 Young people from the 'Ambassadors for Change' programme, which facilitates cross-community discussion and co-operation, meet with the Committee for the Office of the First Minister/deputy First Minister. Pictured with the young people is Committee member Francie Molloy MLA and Committee Chairperson Tom Elliott MLA.