Golfing Legends Unveiled at Parliament Buildings
Session: 2011/2012
Date: 26 October 2011
Reference: SO 11/11/12
Paintings of Northern Ireland's Open Golf Champions by Belfast born Mark Robinson [1], were unveiled at Parliament Buildings tonight at a special reception hosted by the Speaker of the Northern Ireland Assembly.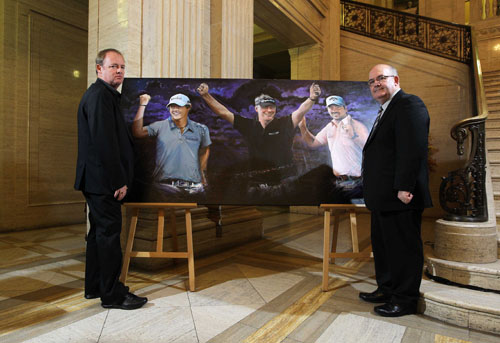 The eight paintings of Rory McIlroy, Darren Clarke, Graeme McDowell, and 1947 Open Championship winner Fred Daly are on display in the Great Hall of Parliament Buildings before touring other venues throughout Northern Ireland and worldwide.
Speaking about the exhibition, Speaker of the Northern Ireland Assembly, William Hay, MLA said: "Everyone is rightly proud of the historic and remarkable victories achieved by our golfers and the goodwill and positive publicity they have brought to Northern Ireland. It is not surprising that that their success has inspired the creative talents of others and I think it is important that the Assembly reflect that and mark Northern Ireland's wider achievements.
"This display of art in the public spaces of Parliament Buildings is another example of the work we have been doing to open up the building and encourage people to visit us. The exhibition will be on display in the Great Hall until 4 November 2011 so visitors and particularly young people have a chance to see the paintings over Half Term."
Mark Robinson, added: "I am very pleased that the exhibition of my paintings is launched here in Parliament Buildings. Having my work displayed in such a wonderful setting is a great way to start the tour which will promote Northern Ireland as the 'World Capital of Golf'."
The exhibition is part of a new initiative by the Assembly to display art in its public spaces to encourage more people to visit Parliament Buildings. A series of exhibitions is being planned between now and next summer. More information on future exhibitions will be released shortly.
ENDS