Committee Praises Skills Training in Fermanagh
Session: 2009/2010
Date: 24 June 2010
Reference: E&L 06/09/10
Without a significant improvement in the skills of our workers, Northern Ireland will continue to lag behind its neighbours. That's what the Northern Ireland Assembly Committee for Employment and Learning heard as they held a meeting at the Technology and Skills Centre of the South West College in Enniskillen.
MLAs heard about the variety of skills training that the college undertakes, including apprenticeships, essential skills, training for Success programmes, Steps to Work programmes and foundation degrees in a range of subjects, including engineering.
Chairperson Dolores Kelly MLA, said: "It is very clear to the Committee that if we do not offer our young people the very best in skills training we will be left behind by our competitors.
"What the College has established at the Centre is very impressive. The Committee has seen state of the art equipment and training methods being applied. The South West College should be very proud of the facilities that they provide here for the young people of Fermanagh and beyond.
"We were very interested in the work that the college is taking forward with foundation degrees. This allows people to undertake higher education learning in their local college and means that HE is not confined to Belfast.
"With foundation degrees in local colleges new skills and innovation should be brought to the area to revive the local economy. Fermanagh, like so many places here, has long suffered from underinvestment. Now, with young people in the local community learning new skills in areas such as engineering and sciences, we believe that they will make a real impact on local businesses and will increase the number of local entrepreneurs."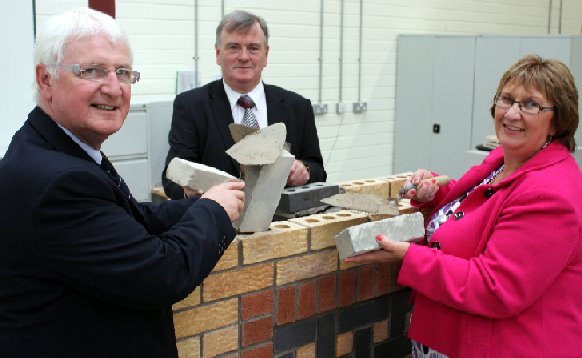 Dolores Kelly, MLA, Chairperson of the Employment and Learning Committee, with Malachy McAleer, Director of the South West College (centre) and Committee member David McClarty MLA, on a visit to the College's Technology and Skills Centre in Enniskillen.