Parliament Buildings 80th Anniversary Open Day
Saturday, 17th November 2012
---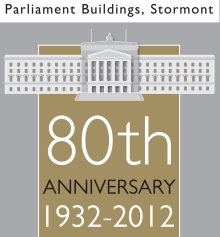 ---
About the Open Day
Parliament Buildings is celebrating its 80th anniversary. To mark this historic occasion, there will be a special open day to showcase the Building and its grounds on Saturday 17 November, 2012.
Admission is free and open to everyone.
Directions to Parliament Buildings
Please note: Pedestrian access is via the Prince of Wales Avenue and Massey Avenue while access by car is via the Stoney Road entrance.
---
About the building

Parliament Buildings was designed by architect Sir Arnold Thornley of Liverpool. He designed the Portland stone building to be 365ft wide, representing one foot for every day of the year. It is a Grade-B listed building, designed in Greek Classical tradition.
---
Parliament Buildings Facts
On 19 May 1928, the Governor of Northern Ireland the Duke of Abercorn laid the Foundation Stone for Parliament Buildings.