Severe Fetal Impairment Abortion (Amendment) Bill
Bill Number: Bill 15/17-22
Bill Type: Non-Executive
Bill Sponsor: The Bill was introduced by Paul Givan, but sponsorship has been transferred to Christopher Stalford.
The Severe Fetal Impairment Abortion (Amendment) Bill is:
A Bill to amend the Abortion (Northern Ireland) (No. 2) Regulations 2020 to remove the ground for an abortion in cases of severe fetal impairment.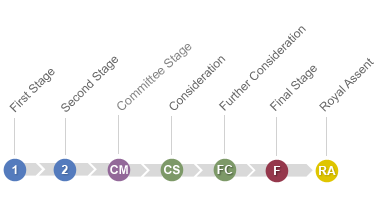 Bill Stage
Date Completed / Status
All Associated documents and links
First Stage
16 February 2021

Bill as Introduced (HTM) (PDF)
Explanatory and Financial Memorandum (HTM) (PDF)

Official Report - 16 February 2021

Second Stage
15 March 2021
Official Report - 15 March 2021
Committee Stage
11 November 2021
Committee Report
Consideration Stage
14 December 2021
Further Consideration Stage
Further Consideration Stage not scheduled prior to dissolution
Final Stage
Royal Assent