Document 4: Complaint: Further information Steve Aiken OBE MLA
Annex B4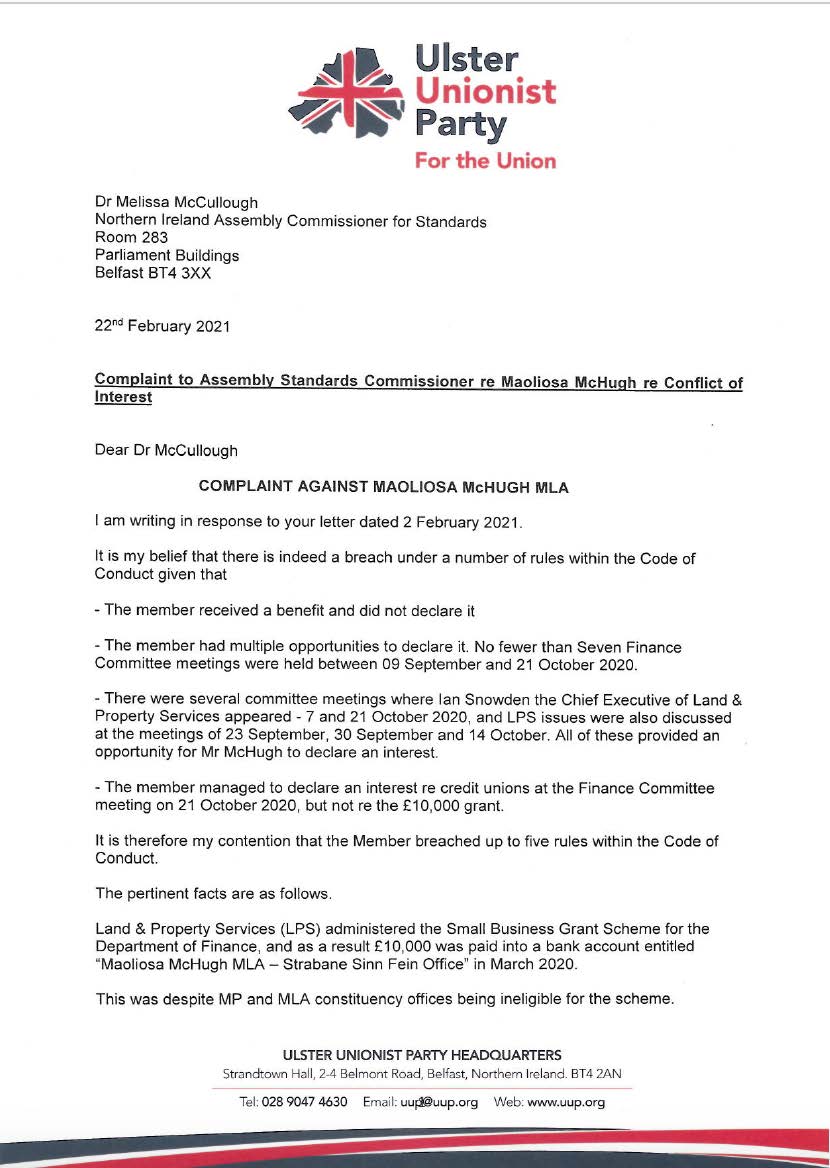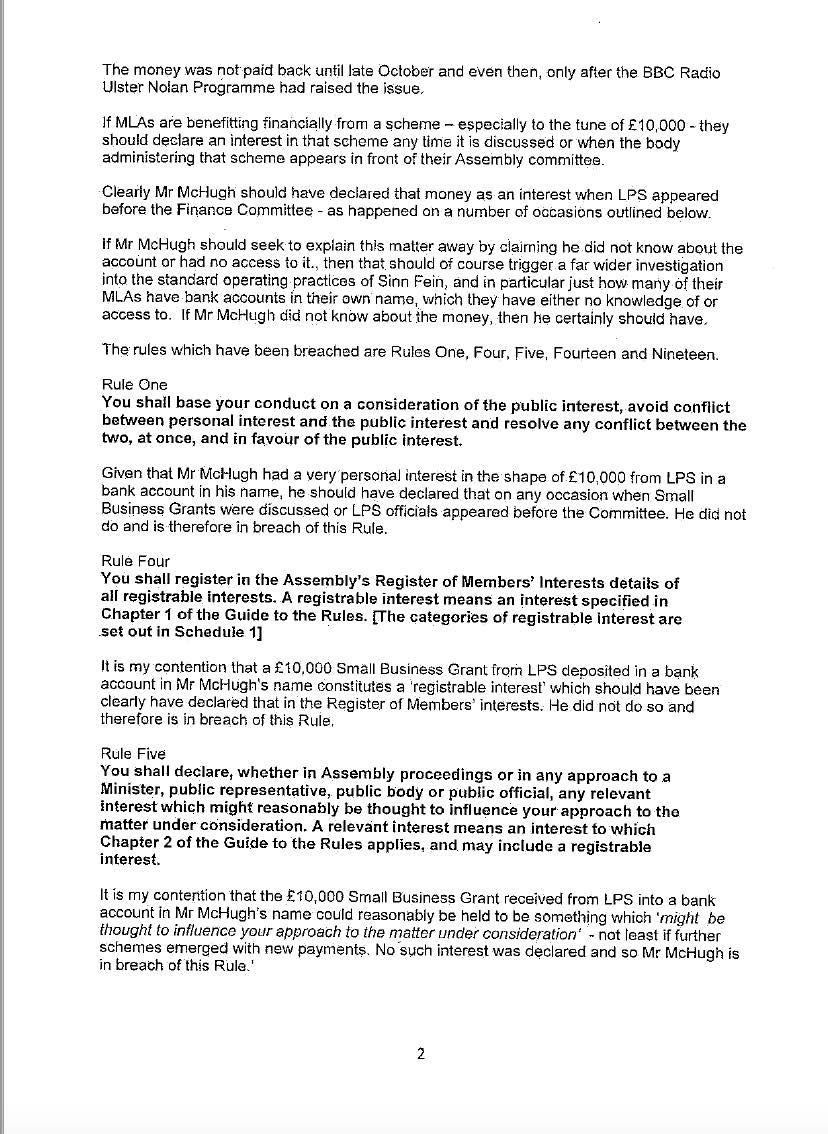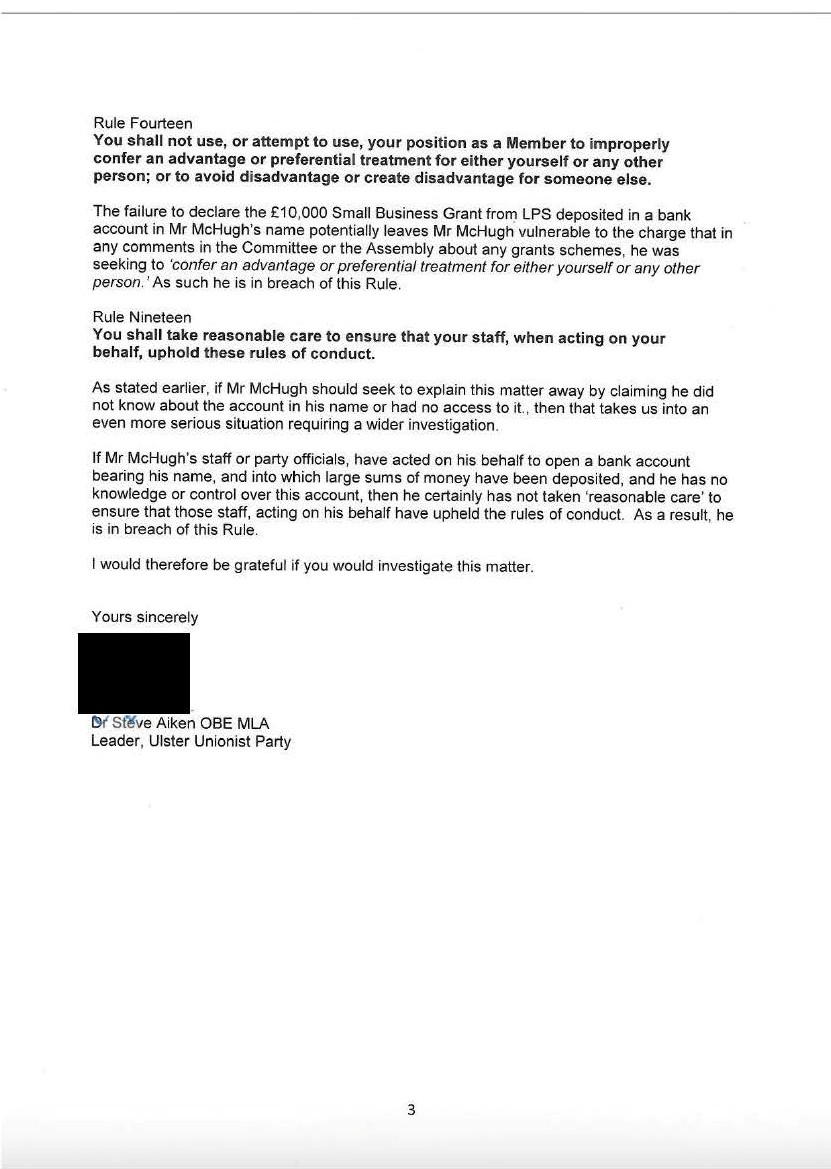 Transcription of Mr Aiken's letter
Dr Melissa McCullough
Northern Ireland Assembly Commissioner for Standards
Room 283
Parliament Buildings
Belfast BT4 3XX

22nd February 2021

Complaint to Assembly Standards Commissioner re Maoliosa McHugh re Conflict of Interest

Dear Dr McCullough
COMPLAINT AGAINST MAOLIOSA McHUGH MLA

I am writing in response to your letter dated 2 February 2021.

It is my belief that there is indeed a breach under a number of rules within the Code of Conduct given that
- The member received a benefit and did not declare it

- The member had multiple opportunities to declare it. No fewer than Seven Finance Committee meetings were held between 09 September and 21 October 2020.

- There were several committee meetings where Ian Snowden the Chief Executive of Land & Property Services appeared - 7 and 21 October 2020, and LPS issues were also discussed at the meetings of 23 September , 30 September and 14 October. All of these provided an opportunity for Mr McHugh to declare an interest

- The member managed to declare an interest re credit unions at the Finance Committee meeting on 21 October 2020, but not re the £10,000 grant. It is therefore my contention that the Member breached up to five rules within the Code of
Conduct.

The pertinent facts are as follows.

Land & Property Services (LPS) administered the Small Business Grant Scheme for the Department of Finance, and as a result £10, 000 was paid into a bank account entitled "Maoliosa McHugh MLA - Strabane Sinn Fein Office" in March 2020.

This was despite MP and MLA constituency offices being ineligible for the scheme.
The money was not paid back until late October and even then, only after the BBC Radio Ulster Nolan Programme had raised the issue.

If MLAs are benefitting financially from a scheme - especially to the tune of £10, 000 - they should declare an interest in that scheme any time it is discussed or when the body administering that scheme appears in front of their Assembly committee.

Clearly Mr McHugh should have declared that money as an interest when LPS appeared before the Finance Committee - as happened on a number of occasions outlined below.

If Mr McHugh should seek to explain this matter away by claiming he did not know about the account or had no access to it., then that should of course trigger a far wider investigation into the standard operating practices of Sinn Fein, and in particular just how many of their MLAs have bank accounts in their own name, which they have either no knowledge of or
access to. If Mr McHugh did not know about the money, then he certainly should have.

The rules which have been breached are Rules One, Four, Five, Fourteen and Nineteen.

Rule One
You shall base your conduct on a consideration of the public interest, avoid conflict between personal interest and the public interest and resolve any conflict between the two, at once, and in favour of the public interest.

Given that Mr McHugh had a very personal interest in the shape of £10,000 from LPS in a bank account in his name, he should have declared that on any occasion when Small Business Grants were discussed or LPS officials appeared before the Committee. He did not do and is therefore in breach of this Rule.

Rule Four
You shall register in the Assembly's Register of Members' Interests details of all registrable interests. A registrable interest means an Interest specified in Chapter 1 of the Guide to the Rules. [The categories of registrable Interest are
set out in Schedule 1]

It is my contention that a £10,000 Small Business Grant from LPS deposited in a bank account in Mr McHugh's name constitutes a registrable interest' which should have been cleady have declared that in the Register of Members' interests. He did not do so and therefore is in breach of this Rule.

Rule Five
You shall declare, whether in Assembly proceedings or in any approach to a Minister, public representative, public body or public official, any relevant interest which might reasonably be thought to influence your approach to tho matter under consideration. A relevant interest means an interest to which Chapter 2 of the Guide to the Rules applies, and may include a registrable interest.

It is my contention that the £10,000 Small Business Grant received from LPS into a bank account in Mr McHugh's name could reasonably be held to be something which ' might be thought to influence your approach to the matter under consideration' - not least if further schemes emerged with new payments. No such interest was declared and so Mr McHugh is in breach of this Rule.'
Rule Fourteen
You shall not use, or attempt to use, your position as a Member to improperly confer an advantage or preferential treatment for either yourself or any other person; or to avoid disadvantage or create disadvantage for someone else.
The failure to declare the £10,000 Small Business Grant from LPS deposited in a bank account in Mr McHugh's name potentially leaves Mr McHugh vulnerable to the charge that in any comments in the Committee or the Assembly about any grants schemes, he was seeking to 'confer an advantage or preferential treatment for either yourself or any other person. ' As such he is in breach of this Rule.

Rule Nineteen
You shall take reasonable care to ensure that your staff, when acting on your behalf, uphold these rules of conduct.
As stated earlier, if Mr McHugh should seek to explain this matter away by claiming he did not know about the account in his name or had no access to it. , then that takes us into an even more serious situation requiring a wider investigation.

If Mr McHugh's staff or party officials, have acted on his behalf to open a bank account bearing his name, and into which large sums of money have been deposited, and he has no knowledge or control over this account, then he certainly has not taken 'reasonable care' to ensure that those staff, acting on his behalf have upheld the rules of conduct As a result, he
is in breach of this Rule.

I would therefore be grateful if you would investigate this matter.

Yours sincerely
[signature redacted]

Dr Steve Aiken OBE MLA
Leader, Ulster Unionist Party