Document 16: Declaration of Interests in Committees
Guide to Declaration of Interests received from Finance Committee 25 February 2021 in response to Commissioner request (with Appendix C included)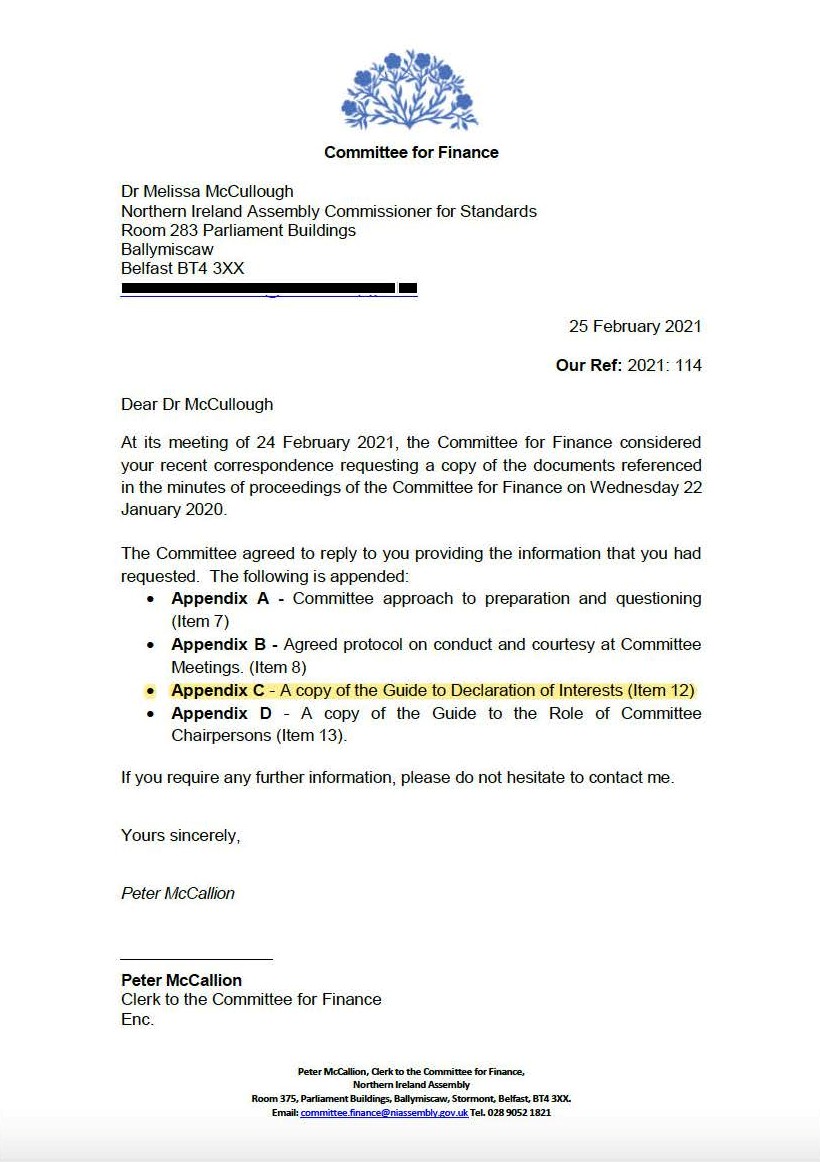 Transcription of letter
Dr Melissa McCullough
Northern Ireland Assembly Commissioner for Standards
Room 283 Parliament Buildings
Ballymiscaw
Belfast BT4 3XX
[sensitive information redacted]
25 February 2021
Our Ref: 2021: 114
Dear Dr McCullough
At its meeting of 24 February 2021, the Committee for Finance considered your recent correspondence requesting a copy of the documents referenced in the minutes of proceedings of the Committee for Finance on Wednesday 22 January 2020.
The Committee agreed to reply to you providing the information that you had requested. The following is appended:
Appendix A - Committee approach to preparation and questioning (Item 7)
Appendix B - Agreed protocol on conduct and courtesy at Committee Meetings. (Item 8)
Appendix C - A copy of the Guide to Declaratfon of Interests (Item 12)
Appendix D - A copy of the Guide to the Role of Committee Chairpersons (Item 13)
If you require any further information, please do not hesitate to contact me.
Yours sincerely,
Peter McCallion
Peter Mccallion
Clerk to the Committee for Finance
Enc.


Appendix C
FROM: Jim McManus, Clerk to the Committee for Finance
TO: Chairperson, Deputy Chairperson and Committee Members
DATE: 17th January 2020
SUBJECT: Declaration of Interests in Committees
1. Standing Order 69(5) states: "A
member who has:
(a) A financial interest in any matter;or
(b) A relevant interest in any matter, must declare that interest before taking part in any proceedings of the Assembly relating to that matter."
2. The requirement to declare an interest complements the registration requirements and applies to almost every aspect of your Assemblyduties, including work on committees. The requirements for declaration cover a broader range of interests thanregistration.
3. Members of committees are required to declare, at various times, any relevant financial or other interests which relate to the work of any committee of which they are a member. In particular, a financial or other relevant interest should be declared if it might reasonably bethought by others to influence your approach to the matter under consideration (in this case, by the Committee).
4. The requirements for declaration include the following types of interests which relate to a matter under consideration: financial interests which have been registered; past financial interests (normally limited to those active within last 12 months); indirect financial interests (such as the financial interests of a third party); expected future interests; financial interests of a sort which do not require registration; and anynon-financial interests.
5. At your first meeting of a Committee you should declare financial and other interests relevant to the remit of the Committee. In addition, you should declare financial and other relevant interests as and when they arise on the Committee (e.g. when deciding on the subject of an inquiry, during evidence sessions involving witnesses to whom the interest is particularly relevant).
6. Circumstances may arise when you should consider whether, on the grounds of conflict of interest, you should stand aside from the Committee proceedings relating to the matter. In that regard, you should note that, under Rule 1 of the Code of Conduct, all Assembly members are required to base their conduct on a consideration of the public interest, avoid conflict between personal interest and the public interest and resolve any conflict between the two at once, and in favour of the public interest.
7. Members should also be mindful that, in addition to the rule on declaring interests (Rule 5), other rules contained in the Code of Conduct are applicable when sitting on committees. These include, for example, the rules prohibiting paid advocacy (Rule 7 and Rule 8). It should be noted that failure to comply with the rules on registering and declaring interests and on paid advocacy may be an offence under section 43 of the Northern Ireland Act 1998.
8. Members should refer to "The Guide to the Rules relating to the Conduct of Members" for further information on declaring interests (Chapter 2) and on paid advocacy (Chapter 3). Members will already have received acopy of the Code of Conduct and Guide to the Rules. Further advice and guidance is available from the Clerk of Standards, Mr Shane McAteer in Room 254, Parliament Buildings.
Jim McManus Clerk to the Committee for Finance