Ad Hoc Committee on a Bill of Rights
---
Latest News
The Committee has concluded taking formal evidence sessions and is now in its reporting phase.
The next meeting is scheduled for 2.30pm on 04 November 2021. Following a public session to consider committee business the meeting will continue in closed session to consider evidence that has been previously received.
---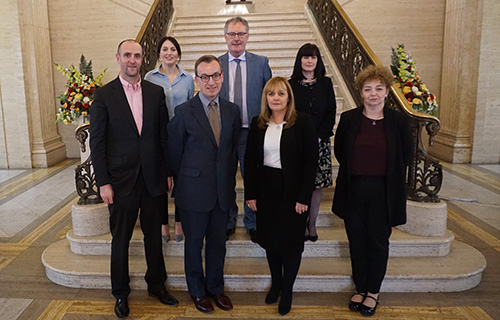 The Ad Hoc Committee on a Bill of Rights
---
Ad Hoc Committee on a Bill of Rights Stakeholder Consultation
Ad Hoc Committee on a Bill of Rights Stakeholder Consultation
The Northern Ireland Assembly's Ad Hoc Committee on a Bill of Rights recently held a call for evidence. Members of the Committee were delighted to receive over 2,400 responses through written submissions and survey responses and the Committee is very grateful to everyone who took the time to provide their views.
The next stage of the process was to capture more in-depth feedback on this topic. To ensure that the Committee heard from a diverse range of voices, a series of stakeholder events took place between March - May 2021.
Due to COVID-19 restrictions, these stakeholder events were delivered via virtual platforms.
Summary of Findings from Committee Stakeholder Events
The full timetable of events can be found below. Events were based broadly around section 75 groups.
---
Have your say on human rights in Northern Ireland
The Committee's survey has now closed. Thank-you to everyone who took part. The Committee will look at all of your responses and they will all form part of the report into a Bill of Rights for Northern Ireland.
Tá suirbhé an Choiste dúnta anois. Go raibh maith agat do gach duine a ghlac páirt. Féachfaidh an Coiste ar do chuid freagraí go léir agus beidh siad uile mar chuid den tuarascáil ar Bhille um Chearta do Thuaisceart Éireann.