Perspectives
---
Speaker's Message
Over the last 12 months, one of the main challenges which was identified for the political process was how the upcoming decade of centenaries would be marked, particularly when it includes events which mean so much to the unionist and nationalist communities individually. Read on...
---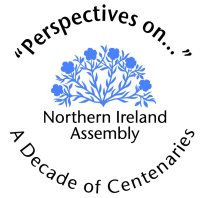 ---
Perspectives on Women's Suffrage
One hundred years ago, women in Great Britain and Ireland were not allowed to vote. The Suffrage Movement fought for the right for women to vote and to run for office. This Movement united women from all social, economic, political and religious backgrounds who shared the same goal.
As part of the "Perspectives On..." series the Assembly hosted an event entitled 'Perspectives on Female Suffrage' which featured a lecture by Dr Margaret Ward.
---
Perspectives On The Ulster Covenant
Jonathan Bardon's lecture provided a basis to reflect on the facts of the Ulster Covenant and the politics of the time, and for Members and guests to give their own reflections on it. Find out more...