Fellowship Programme
The Assembly Community Connect fellowship programme aims to increase engagement between MLAs and the community and voluntary sector. MLAs have the opportunity to visit organisations and get practical experience of the valuable work they are doing, and community and voluntary organisations get the chance to promote their work and create meaningful connections with elected representatives.
Applications are welcome from any community and voluntary groups – the application form should be sent to outreach@niassembly.gov.uk
FELLOWSHIP VISITS TO DATE:
Maeve McLaughlin MLA – Cancer Focus NI
On 16th October 2015, Cancer Focus Northern Ireland showcased a range of its services to Maeve McLaughlin, Chair of the Assembly's Health Committee, at Altnagelvin Hospital.
The Foyle MLA took a tour of the charity's Keeping Well van, which brings health checks and advice to the heart of communities. She also spoke to staff who look after the charity's bra and swimwear-fitting service for women who've had breast surgery, which is based at Altnagelvin.
Head of Care Services, Cancer Focus NI, Liz Atkinson, told the MLA about the charity's thriving North West prostate cancer group, which has a healthy membership of 74, and she also heard about Zest for Life, art therapy and Look Good, Feel Better.
Cancer Focus NI Head of Cancer Prevention Gerry McElwee, from Castledawson, discussed various issues with Ms McLaughlin such as extending the HPV vaccination to include boys to help protect against cervical cancer in women as well as a range of cancers in men.
The MLA also heard about the charity's important work fundraising to help fund research at Queen's University Belfast into breast cancer.
The charity was also recently awarded a top UK accolade by the Royal Society for Public Health for its work, particularly the Well Aware project for older people.
Ms McLaughlin said: 'I was delighted to spend some real time with the staff from Cancer Focus NI and to develop my understanding of this vital service.
"Cancer is one of the most significant causes of ill health and disability in our society. It is estimated that 1 in 3 of the population will develop a cancer by the age of 75 years. There are approximately 13,000 new cases of cancer in Northern Ireland annually and around 4,000 lose their battle with the disease.
"While we have seen much progress in relation to research and development in this field it remains the case that prevention and early detection are critical.
"The Cancer Focus NI van is critical in taking health messages right to the heart of our homes, communities and workplaces and I would appeal for all sectors to utilise this vital tool - after all early intervention can quite literally save lives.
"I would like to personally thank all the staff I met for their time, expertise and important work supporting our communities."
Joyce Savage, from Cancer Focus NI, said, "We were delighted to show Maeve some of the work we are involved in. This includes care services, cancer prevention work in local schools and colleges and stop smoking clinics in various community venues.
"We are very keen to let people in the North West know about our services and encourage people to make use of them."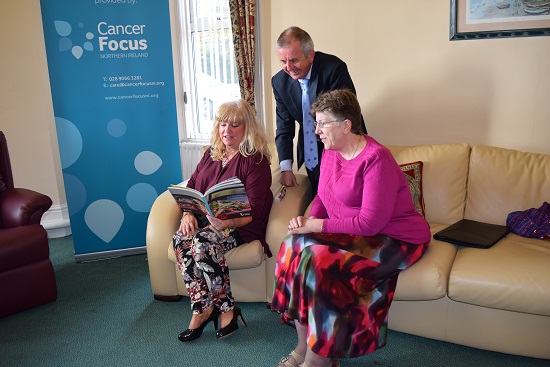 Maeve McLaughlin with Gerry McElwee, Head of Cancer Prevention and Liz Atkinson, Head of Care Services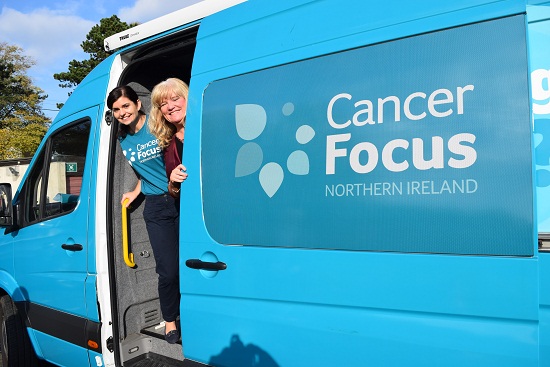 Maeve McLaughlin on the Keeping Well van, with Maresa Gettigan, Keeping Well Service
Claire Sugden MLA –Aspire Collaborate Partnership and Claudy Rural Development
On 1st May 2015, Claire Sugden MLA visited Aspire, a collaborative partnership of local grass-roots organisations operating in Coleraine, where she was greeted by Brendan Patterson, Project Manager for Focus on Family, and received a presentation on the work of the Aspire Collaborative Partnership and the Focus on Family Project. She then visited the "Healthy Eating Café" at Building Ballysally Together, the Millburn Community Association, and finally the drop-in centre at Oasis Causeway, to hear more about their work.
In the afternoon, Claire visited Claudy Rural Development, where she enjoyed some lunch with the Diamond Diners, before being treated to a demonstration of Ibuki Taiko Drumming by the children from the Nest Out Of Schools Club.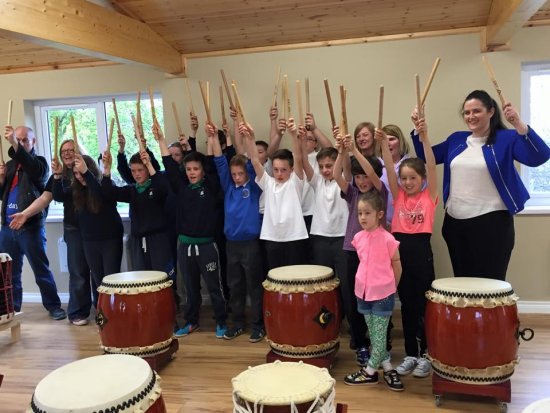 Phil Flanagan MLA – Fermanagh Rural Community Initiative and RSPB
On Thursday 23rd April 2015, Phil Flanagan MLA visited Fermanagh Rural Community Initiative, where he was taken on a tour of their facilities and then spent time with FRCI Manager Ciaran Rooney, discussing the programmes offered by the organisation and the issues they faced.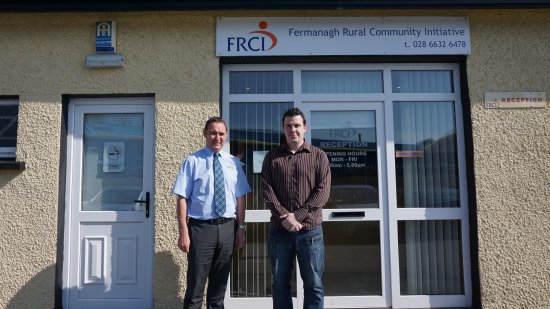 Phil then went on to meet Brad Robson, RSPB Reserves Manager, and Colum Delaney, RSPB Policy Officer, to view the bird reserves at Hare and Cruninish Islands. Phil was briefed on the Lakelands Landscape Project and initiatives being undertaken with local farmers to help improve reserves for nesting birds in the local area.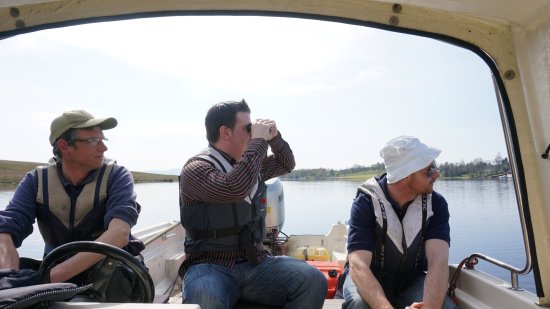 Maeve McLaughlin MLA – Voice of Young People in Care (VOYPIC)
On Friday 20th March 2015, Maeve McLaughlin visited the VOYPIC office in L'Derry, where she met Vivian McConvey, CEO; Donna O'Kane, Western Area Manager; and Eithne Gilligan, Policy Manager. Maeve heard about VOYPIC's advocacy, mentoring and participation services, and also had the opportunity to speak directly to young people about how VOYPIC has impacted on their lives.