The Northern Ireland Assembly Bursary Programme
A key recommendation in the Assembly's Engagement Strategy was the establishment of a student bursary programme to provide university graduates with the opportunity to experience working in the Assembly, and to gain a Masters in Legislative Studies and Practice.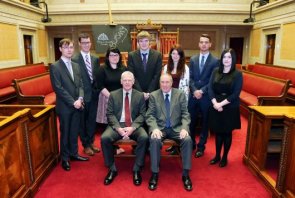 The Assembly has had an existing partnership relationship with Queen's University Belfast for student placements since 2001. This partnership, involving Directorate participation on the corporate and procedural side, has developed from the principle of a shared understanding and mutual trust. This has led to an agreement between both institutions to pilot the development of the Assembly Bursary Programme. The Speaker and the Vice-Chancellor of Queen's University Belfast jointly launched the Assembly Bursary Programme on Tuesday 24th March 2009 in Parliament Buildings.
The programme began in September 2009 and is now in its 6th year. 33 students have completed the programme so far. Currently another seven students are taking part in the programme this year.
This programme is unique, and only one other similar programme exists in either the UK or Republic of Ireland (that programme operates with the European Parliament).
---
Bursary Students visit the European Parliament, March 2012