Youth Assembly – Making A Difference One Year On
Session: Session currently unavailable
Date: 30 June 2022
Reference: SO 01/22/23
This time last year, 90 young people celebrated as they took the pledge to become members of the inaugural Youth Assembly for Northern Ireland. Fast forward one year later, and members were still in a celebratory mood as they marked their key achievements at a training day at Belfast Activity Centre.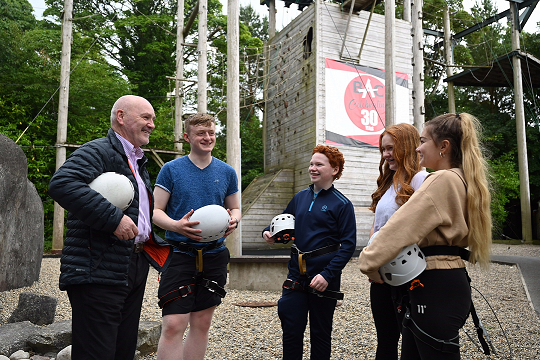 Speaker of the Northern Ireland Assembly, Alex Maskey attended the event and met Youth Assembly members to hear about their plans for the future: "The Assembly Commission and I are extremely proud of the Youth Assembly and recognise its hard work and many achievements in its first year. Today we celebrate those achievements, and thank our members for getting involved and for striving to make a difference.
"Watching them take part in the event today and seeing how they support each other with camaraderie and respect fills me with hope for the future. We are fortunate to have an articulate, passionate, caring and forward-thinking group driving the Youth Assembly, and I have no doubt that many of them will go on to become future leaders and politicians."
As well as participating in three plenary sittings, the Youth Assembly has agreed its priorities, focusing on: the school curriculum; support for youth mental health; children's rights; and climate change. Members have formed five Committees - Education, Environment, Rights and Equality, Health, and Business – who meet regularly to manage and progress priorities.
In addition, members have contributed to a range of important consultations, including the Independent Review of Education; Marriage Bill; Irish Language Strategy; and the Ulster Scots Language, Heritage and Culture Strategy.
The Youth Assembly has also engaged with MLAs, the Northern Ireland Commissioner for Children and Young People, the PSNI Chief Constable, the Chief Electoral Officer, and the Northern Ireland Youth Forum.
Speaker Maskey continued: "I believe it's the young people of today and the next generation who will benefit the most from the Youth Assembly. I'm pleased that they have such inspiring role models to look up to, who passionately represent their voice on a range of important issues.
"I would like to take this opportunity to thank all those who have supported the Youth Assembly over the past year. Special thanks go to the Youth Assembly Consultation Forum, who are an important research group for Youth Assembly members. I'd also like to thank parents and carers of our current Youth Assembly members for their support and encouragement. And to those representatives from the youth sector on the Speaker's Advisory Group, I extend my thanks for your continued support and your valuable contributions and insights.
Speaker Maskey concluded: "I look forward to hearing about the continued work of the Youth Assembly in its second year, and seeing how the young people's ideas and views are heard and make a difference across the political spectrum here."
ENDS
Notes to Editor:
The Youth Assembly held its first plenary sitting (virtually) on Friday 2 July 2021. The second plenary sitting was held in person in the Great Hall of Parliament Buildings on Saturday 6 November 2021. The third plenary sitting was held in the Assembly Chamber on Saturday 5 March 2022. It is anticipated that the next plenary sitting will take place in November 2022.
The Youth Assembly consists of 90 members, aged between 13 to 17.
Each Youth Assembly mandate lasts for two years. The current mandate is 2021-2023.
Comprehensive safeguarding measures and protections have been put in place, including training and support for the members of the Youth Assembly and all those working with them.
The Youth Assembly Advisory Group was set up in 2021 to advise the Speaker and Commission about the establishment and development of the Youth Assembly and to review its operation. The Group's membership includes the Speaker and the Children's Commissioner, Assembly officials, Professor Laura Lundy, Director of the Centre for Children's Rights, Queen's University Belfast; Sean McDonnell, Youth Worker, YouthAction; Caitlin Wickham, YouthAction; Chris Quinn, Director, NI Youth Forum; Ciara Hesketh, NI Youth Forum; Arlene Kee, Assistant Director, Education Authority Youth Service; Aimee Woods, Lisburn and Castlereagh Youth Council and Education Authority.
For all media enquiries:
Caroline Moore
The Communications Office
Northern Ireland Assembly
Mobile: 07900 278992