Speaker of Assembly launches 'Creating Opportunities' as theme for term of office
Session: Session currently unavailable
Date: 14 September 2016
Reference: SO 03/16/17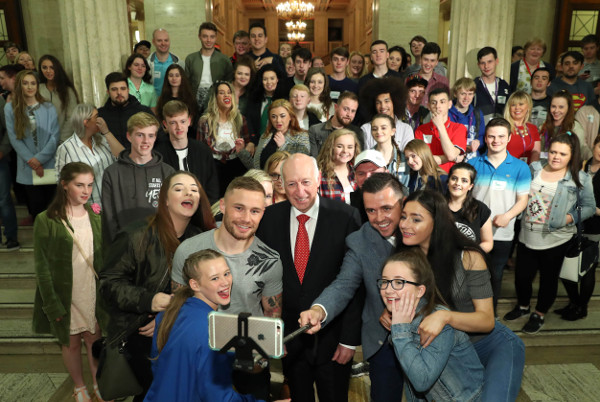 The Speaker of the Northern Ireland Assembly, Robin Newton, MBE MLA tonight welcomed Carl Frampton to Parliament Buildings for an event with young people.
The Speaker used the event to announce that the key theme during his time as Speaker would be to underline the potential of Parliament Buildings and the Assembly for 'Creating Opportunities'.
The Speaker said: "My predecessors demonstrated that the office of Speaker could be used to pursue some specific priorities. Key to shaping my approach to the role is that I am a passionate believer in the potential of devolution and this Assembly. That can be demonstrated both at the level of Members assisting individuals in their own constituency or through Members and Ministers scrutinising and introducing measures on the floor of the Assembly. Members and parties will have differences on what their priorities and positions are but I know that that those in the Executive, Opposition or on the Backbenches could all agree that one of the things we are here for is to create opportunities for the society this Assembly represents.
"We have a responsibility to use the ability to make decisions here to create opportunities for the future. We have a responsibility to create opportunities for those who face difficulties in their local area and daily lives. We have a responsibility to create opportunities for local business and our economy. Increasingly it is also clear that we can create opportunities to promote and recognise, on the world stage, our talents and achievements as a region and a people. As Speaker, areas of party political debate or Executive policies are not for me, but I believe there is great potential to use Parliament Buildings and the Assembly as an institution to underline that principle of creating opportunities through some of the initiatives I might lead.
"We have a particular duty to create opportunities for those coming beyond us and that is why I wanted to start with an event on the International Day of Democracy which focused on young people. It is important that the Assembly hears their voice in taking decisions and that they know that the Assembly can influence the issues which affect their lives and create opportunities for them.
"Carl Frampton is the perfect ambassador for the first 'Creating Opportunities' event. He is a fantastic role model of how, no matter where you live or your circumstances, you can use your talents and hard work to create opportunities and build a bright future for yourself. Beyond that he has shown that you can use your own success as a platform to help and inspire others and act as a fantastic ambassador for Northern Ireland. I am delighted that Carl has given the time to share his perspective with the young people attending this evening.
"I am working with my officials to develop how we can continue to use events and initiatives which I can lead as Speaker to underline the principle of creating opportunities in many forms. This Assembly is here to reflect, respond to and scrutinise the challenges faced by our community. However, I also want the message to go out loud and clear that Parliament Buildings should also act as a platform to inspire and encourage the potential within our society by seeking to create opportunities for others."
ENDS