Committee visits Waterways Ireland HQ
Session: Session currently unavailable
Date: 19 October 2016
Reference: CfI 05/16/17
The Northern Ireland Assembly Committee for Infrastructure has today visited the Waterways Ireland headquarters in Enniskillen.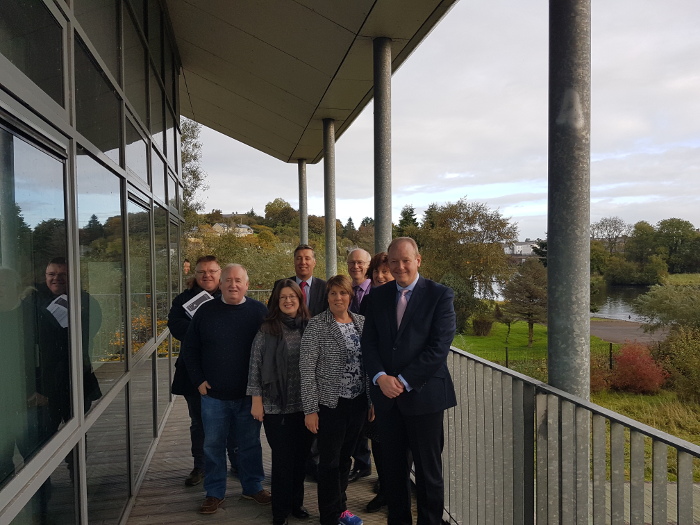 As part of the visit, the Committee received briefings from Waterways Ireland on their programmes as part of their remit to manage, maintain and develop some 1000 kms of inland waterways for recreational use.
Chairperson of the Committee, William Humphrey MLA said: "My Committee was very pleased to visit the Waterways headquarters and to hear from them the work they are doing to promote both the waterways and recreational opportunities that are available. There is no doubt that our waterways can contribute even more to the economic development of the area and we are pleased to see this is one of the areas on which Waterways Ireland is concentrating its efforts."
The Committee also heard from Fermanagh Community Transport which provides transport through Fermanagh for those with mobility issues, and the Department of Infrastructure's Blue Badges division on the backlog of blue badge applications.
Chairperson Humphrey said: "Ensuring that all people are able to access transport, regardless of any mobility issues, is something that the Committee has been focussing its attention on for a number of weeks. There are always particular transport problems for people living in rural and isolated areas and these are compounded where people have mobility issues.
"As a registered charity, Fermanagh Community Transport is to be commended for their work to provide transport for those who have no access to transport or have mobility problems; this model is something that the Department might wish to examine further.
"We are still concerned that the problems surrounding the backlog of blue badge applications are still ongoing—over 9,000 outstanding applications with approximately 3,600 not processed after eight weeks. The Committee is pleased to hear that more staff will be in place to process the backlog but we are concerned that staff numbers, including the temporary workers, may still not be sufficient to rectify this situation in a timely manner. We will continue to keep this matter at the forefront of our concerns as a Committee."
ENDS.