Committee takes closer look at coastal erosion in Ards Peninsula
Session: Session currently unavailable
Date: 23 November 2016
Reference: CfI 09/16/17
The Committee for Infrastructure has today visited the Ards Peninsula to look at the problems of coastal erosion and to meet with members of the Ards Peninsula Coastal Erosion Group.
As part of the visit, the Committee visited Ballyhalbert and Cloughey to see for themselves some of the pressing issues caused by the erosion of sea wall defences.
Chairperson of the Committee, William Humphrey MLA said: "The issues of coastal erosion should be of concern to us all, but they are of real pressing concern to those communities, including ones on the Ards Peninsula, which are most affected by sea erosion and winter storms.
"We were keen to come and see for ourselves the problems that the Group has identified as well as looking at some of the sensible solutions that have been put forward.
"There are a number of things that we believe the Department should, and must, implement and implement quickly. Winter is upon us and it is imperative that sea wall defences, in particular, are not allowed to deteriorate further. Ballyhalbert residents are asking for an interim solution to protect roads and homes with a solid barrier to prevent beach rubble being carried across the roadway; this is a modest solution that should be taken seriously.
"The Ards Pennisula Coastal Erosion Group should be commended for their clear vision—it is after all, an informal collective of individuals and members of community and voluntary groups whose only goal is to promote coastal management and to minimise coastal erosion.
"I can only hope that their concerns and suggestions for improvements are taken seriously by the Department and we, as a Committee, will hold the Department to account in these matters."
ENDS.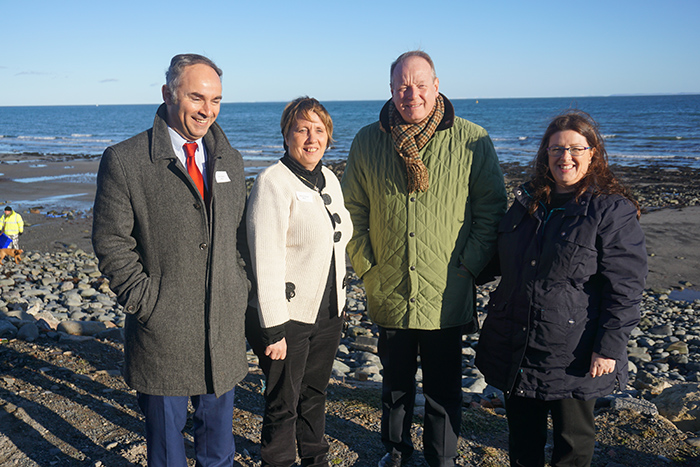 Committee for Infrastructure in Ballyhalbert, Ards Peninsula, visiting an area impacted by coastal erosion. Pictured from left to right: Alex Easton, MLA; Jenny Palmer MLA; Chairperson of the Committee, William Humphrey MLA; and Kellie Armstrong, MLA