Committee briefed on Belfast city centre traffic solutions
Session: Session currently unavailable
Date: 07 December 2016
Reference: CfI 12/16/17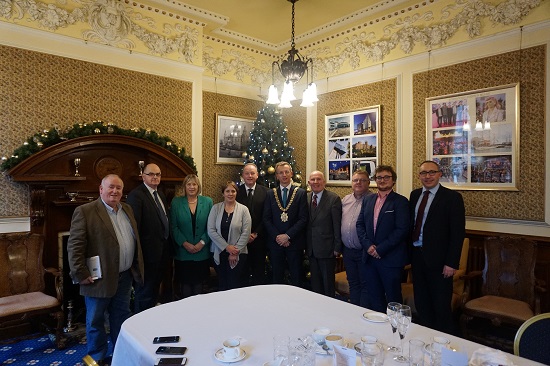 Pictured left to right : Mr Fra McCann MLA, Alderman Pat Convery, Councillor Aileen Graham, Mrs Jenny Palmer MLA, Mr William Humphrey MLA (Chairperson), The Lord Mayor Alderman Brian Kingston, Alderman Jim Rodgers OBE, Mr Declan McAleer MLA, Councillor emmet McDonough-Brown & Mr Gerry Millar (Belfast City Council)
The Committee for Infrastructure has today visited Belfast City Council where they heard from the Council, the Chamber of Commerce, Taxi Forum and the Roads Service.
Chairperson of the Committee, William Humphrey MLA said: "We were pleased to visit Belfast City Council and hear about the strategies for promoting Belfast as tourist and leisure destination.
"Over the past few years it is heartening that Belfast has been put on the international map as a destination for both shopping and dining and it is important that our transport system helps visitors to enjoy the city.
"The Belfast Chamber of Commerce play, of course, an important role in developing strategies to showcase all that Belfast has to offer—and Christmas is one of the highlights of the year, with late night shopping and the popular Christmas market.
"We are also interested in the way that both the Council and the Transport NI are dealing with the difficulties of traffic congestion. This is an issue that has been brought to the Committee again and again. We were pleased to hear from the Transport NI about their rational for the location of bus lanes and how well they work in Belfast city centre, as well as the way the bus lane policy is kept under review. It was also instructive to hear from the Taxis Forum on the contribution that taxis make to transport solutions in Belfast city centre.
"As Northern Ireland's capital city, we all are interested in ensuring that people can avail of the many leisure opportunities that Belfast has to offer and easing traffic congestion plays a significant part in this."
ENDS.