Committee for Health
Synopsis: Welcome to the Home Page of the Committee for Health. The Committee was established to advise and assist the Minister on matters within his responsibility. The Committee undertakes a scrutiny, policy development and consultation role with respect to the Department for Health and plays a key role in the consideration and development of legislation.
---
Latest News
The next meeting of the Committee for Health is scheduled for 03 December 2020. At this meeting the Minister of Health will provide a COVID-19 update to Members. Also at this meeting the Committee will receive a briefing from a panel of international academics on COVID-19 Find, Test, Trace, Isolate and Support systems in Northern Ireland. The meeting will start at 8.45am.
---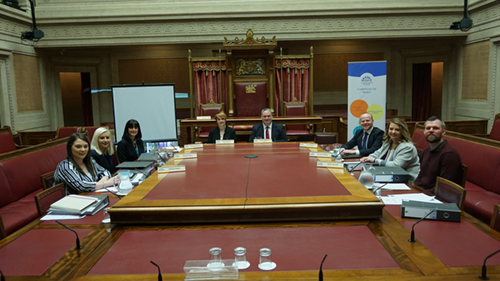 The Health Committee prepare for a meeting in the Senate Chamber
---
Contact the Committee
Committee Clerk: Éilis Haughey
Room 419, Parliament Buildings,
Ballymiscaw, Stormont,
Belfast, BT4 3XX
Ph. 028 90520348
Email: Committee.Health@niassembly.gov.uk