Committee for Health
Synopsis: Welcome to the Home Page of the Committee for Health. The Committee was established to advise and assist the Minister on matters within his responsibility. The Committee undertakes a scrutiny, policy development and consultation role with respect to the Department for Health and plays a key role in the consideration and development of legislation.
---
Latest News
The next meeting of the Health Committee will be at 09.30am on Thursday 04 March 2021. The Minister for Health will provide Members with an update on COVID-19 disease response.
---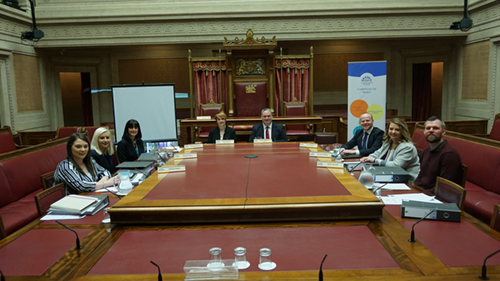 The Health Committee prepare for a meeting in the Senate Chamber
---
Contact the Committee
Committee Clerk: Keith McBride
Room 419, Parliament Buildings,
Ballymiscaw, Stormont,
Belfast, BT4 3XX
Ph. 028 90520348
Email:
---
Impact of COVID-19 in Care Homes
How have care homes coped with COVID-19 during the second wave? What were the key concerns that affected care homes during the pandemic? What can we learn from this experience?
These are just some of the issues that the Assembly's Health Committee wanted to explore when it set up its Inquiry into COVID-19 and its Impact on Care Homes.