Clerk / Chief Executive - Mrs Lesley Hogg
The role of the Clerk/Chief Executive comprises three important elements:
First, as Clerk she is responsible for the provision of procedural advice to the Speaker and Members of the Assembly.
Second, as Chief Executive she is responsible to the Assembly Commission for the management of the administrative support services to the Assembly.
Third, the Clerk/Chief Executive is the Accounting Officer for the Assembly's budget.
Lesley Hogg took up her post on 27 June 2016.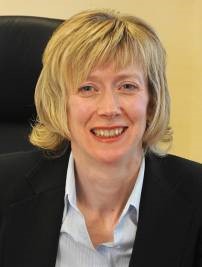 Before joining the Assembly, Lesley was the Director of Finance and Corporate Affairs for AFBI which provides essential scientific support to government and other industry bodies through the delivery of statutory testing, internationally recognised Research and Development and emergency response.

Previously Lesley was the Chairperson of the Electricity Association of Ireland and Director of Strategic and Regulatory Affairs for AES, owner of the Ballylumford and Kilroot power stations. She was also the Chief Executive Officer of Premier Power Ltd when it owned Ballylumford, the largest independent generating station on the island of Ireland and was instrumental in its sale to AES.

Lesley is a Chartered Accountant and held the positions of Principal Financial Accountant for the PSNI during its transition from the RUC, Regional Finance Manager for the newly integrated national British Red Cross Society and Training Manager for Price Waterhouse.

She is a member of the Board of Governors of Carrickfergus Grammar School and was also a non-Executive Director of Women in Business, a charity supporting and promoting Business Women in Northern Ireland. She is married with two children.
Contact
If you would like to contact the Clerk/Chief Executive please send emails to: lesley.hogg@niassembly.gov.uk