Knowledge Exchange Seminar Series (KESS)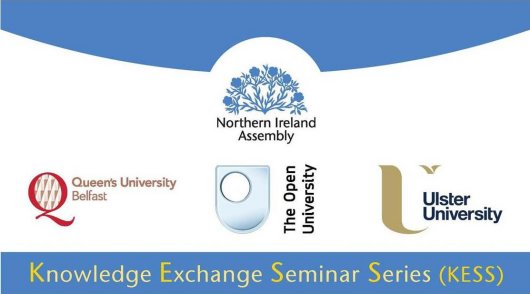 2016-2017 PROGRAMME
"Promoting evidence-led policy and law-making within Northern Ireland" – that is the underlying aim of the Knowledge Exchange Seminar Series (KESS). KESS is the first of its kind in the United Kingdom, formally partnering a legislative arm of government – the Assembly - with academia. Aiming to encourage debate and improve understanding, KESS provides a forum to present and disseminate academic research findings in a straightforward format, on issues that are relevant to the Programme for Government. It seeks to bring the findings to the attention of key participants and decision-makers in the policy and law-making processes in Northern Ireland, such as MLAs and Assembly committees, as well as the wider public sector.
Embedded in the KESS model are: the local universities via their academics; Assembly committees via their Chairpersons; the Assembly's Research and Information Service (RaISe) via its Researchers; and, a broad spectrum of attendees. (Attendees include: MLAs and their staff; political party staff; Assembly and Departmental officials; others from the public and private sectors; academics; voluntary and community groups; and, members of the public.) For this reason, KESS creates unique engagement opportunities; and importantly provides a 'pathway' for more, in-depth discussion at a later date about findings presented at KESS.
The Series is jointly delivered by RaISe, in partnership with all three universities located in Northern Ireland (NI) – the Queen's University of Belfast (QUB - co-founder in 2011), Ulster University (Ulster - in 2012) and The Open University (OU - in 2013).
Seminars are free and will be held from October 2016 through June 2017. Each seminar starts at 1.30pm in Parliament Buildings, located on Stormont Estate. Most seminars cover a range of themes under one broad heading – see below for relevant dates and timings. On arrival, delegates receive a seminar pack that includes the academics' policy briefings and power point presentations, including contact information.
Tea/coffee is provided following presentations and discussion. Free parking is available to all. Kindly allow time to pass through Assembly Security upon entry to Parliament Buildings; and ensure that you specify your special needs (for example, wheelchair accessibility) when registering. The Assembly is committed to fulfilling its equality-related roles and responsibilities and will take reasonable efforts to meet requests relating to them.
The new 2016-17 KESS programme will be available in September and the launch event will take place on Monday 3rd October 2016 in the Long Gallery, Parliament Buildings from 5.00-6.00pm.
To reserve your place at a seminar, email raise@niassembly.gov.uk.
Thanks for supporting KESS.
---
Details of earlier Seminars (including Briefing Papers, powerpoint presentations and videorecordings) can be found at the following;
Series 5: 07 October 2015 - 29 June 2016
Series 4: 05 November 2014 - 24 June 2015
Series 3: 03 October 2013 - 29 May 2014
Series 2: 04 October - 16 May 2013
Series 1: 22 March - 05 July