Tours of Parliament Buildings
Parliament Buildings is one of the best known and most striking pieces of architecture in Northern Ireland. The architect Sir Arnold Thornely, who was knighted by King George V in recognition of his architectural work, designed the building with perfect symmetry and symbolism, such as the building being 365ft wide representing one foot for every day of the year; having six floors and six pillars at the entrance, one for each county in Northern Ireland.
Public Tours operate at 11:00am and 2pm between Monday - Friday.
You can visit Parliament Buildings to hear more about its history in a number of ways shown below.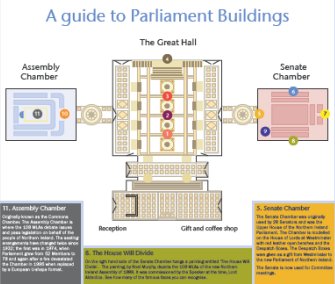 Download your guide to Parliament Buildings
Visit Parliament Buildings
You are welcome to come and visit Parliament Buildings Monday to Friday 9.00am to 4.00pm to view the Great Hall or visit the gift and coffee shop.
During Summer recess tours will be available on the hour from 11:00am to 3:00pm.
Outside of these times, free guided tours are available Monday to Friday at 11.00am and 2.00pm.
You can arrange a private tour of Parliament Buildings outside of the above mentioned times by contacting your local MLA.
Anyone who wishes to have a tour of Parliament Buildings and who requires assistance due to hearing or sight impairments can request that a sign language interpreter attends, ask for a braille tour script or for the provision of 'Hearing Helpers', however the Events Office will require advance notice and this can be done by telephone 028 905 21802 or by email events.office@niassembly.gov.uk.