Committee Visits Fermanagh Archaeological Dig
Session: 2012/2013
Date: 15 March 2013
Reference: CAL 04/12/13
Members of the Committee for Culture, Arts and Leisure recently visited The Drumclay Crannog in Fermanagh to see first-hand some of the artefacts that have been recovered there.
The Crannog, a man-made island, includes the remains of 30 wooden houses. Numerous artefacts, including carved wooden bowls, pottery and chess-like pieces from games, have been discovered at the site and give us a better understanding of life 1200 years ago.
Committee Chairperson, Miss Michelle McIlveen MLA said: "It is exciting to see such well-preserved items uncovered for the first time in over 1200 years. The significant find at the Drumclay Crannog, and the wealth of cultural information gathered here, will give us and future generations an important insight into the way of life of people back then.
"The Committee had previously expressed concern for the long term curation and preservation of artefacts found in planning-led excavations, given the lack of statutory and planning policy provision to address this issue."
She concluded: "The Committee expects that the artefacts found here will be properly conserved and that this invaluable resource will continue to be of benefit to archaeologists, historians and the local community for many years to come."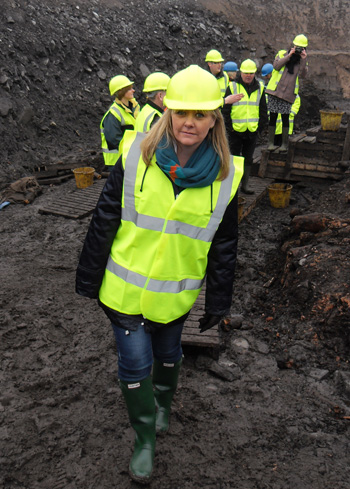 The Assembly Committee for Culture, Arts and Leisure recently visited Drumclay Crannog in Fermanagh to see first-hand some of the artefacts that have been recovered there. Pictured is Committee Chairperson Michelle McIlveen MLA