Speaker unveils portraits of Seamus Heaney and CS Lewis
Session: Session currently unavailable
Date: 24 November 2015
Reference: 10/15/16
The Speaker of the Northern Ireland Assembly, Mitchel McLaughlin MLA, today unveiled portraits of two of Northern Ireland's most famous literary sons.
The portraits were commissioned by the Assembly Commission after receiving proposals in November 2013 that the men whose writing has received universal acclaim should be recognised within Parliament Buildings. Patsy McGlone MLA had proposed the tribute to Seamus Heaney while Sammy Douglas MLA nominated CS Lewis. The portraits were unveiled by Marie Heaney, the wife of the late Seamus Heaney and Rev Roy Taylor, in the presence of the artist Ross Wilson.
Speaker McLaughlin said: "These two new artworks are very different additions to our existing collection of portraits in that they do not recognise parliamentarians. While they were approved before I joined the Assembly Commission, I have often spoken about the need for this Assembly to reflect the community it represents. It is therefore a positive development that the images of two of our finest sons will now adorn these corridors. We should be proud that a region of our size can produce two legendary figures whose work is adored and quoted right across the world. It is only right that they should be celebrated here.
"I am delighted that Ross Wilson has incorporated quotations from the work of CS Lewis and Seamus Heaney in their portraits. Both are reflective of Parliament Buildings at this time in our history. We need to look back on our past and learn from it. That includes celebrating those elements and people we are proud of but our focus clearly needs to be on seeking better times ahead."
The portraits will hang in Parliament Buildings on the official tour route between the Great Hall and Senate Rotunda where they will be viewed and enjoyed by visitors to the Assembly.
ENDS.
Notes to Editors:
The two portraits contain quotations as follows:
"There are far, far better things ahead than any we leave behind." C.S. Lewis
"Believe that a further shore is reachable from here." Seamus Heaney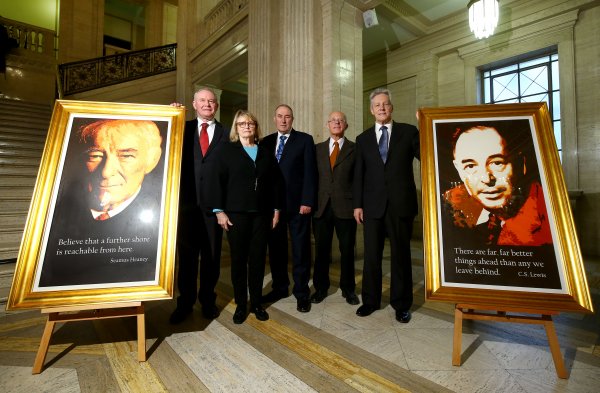 The Speaker of the Northern Ireland Assembly, Mitchell McLaughlin MLA, today unveiled portraits of two of Northern Ireland's most famous literary sons, Seamus Heaney and CS Lewis. Pictured from left are deputy First Minister Martin McGuinness, Mrs Marie Heaney, Speaker McLaughlin, Rev Roy Taylor and First Minister Peter Robinson. (Press Eye/William Cherry)