Agriculture Committee Highlights Relationship Between Supermarkets and Suppliers with Key Meeting
Synopsis: The Northern Ireland Assembly Committee for Agriculture and Rural Development has welcomed the establishment of the UK's first independent Groceries Code Adjudicator (GCA) after a meeting with the organisation today at Parliament Buildings. The GCA helps ensure supermarkets treat their suppliers lawfully and fairly. Reference: AGR 01/13/14
Session: 2013/2014
Date: 30 September 2013
The Northern Ireland Assembly Committee for Agriculture and Rural Development has welcomed the establishment of the UK's first independent Groceries Code Adjudicator (GCA) after a meeting with the organisation today at Parliament Buildings. The GCA helps ensure supermarkets treat their suppliers lawfully and fairly.
Speaking after the meeting Committee Chairperson, Paul Frew MLA said: "I am delighted to have met the new Groceries Code Adjudicator, Ms Christine Tacon. The creation of this unprecedented organisation signals the UK's commitment to encouraging fair and best practice in the food supply chain by ensuring supermarkets treat their suppliers lawfully and fairly.
"When this role was first proposed, the Committee was very keen to ensure that the Adjudicator had the correct powers particularly around financial penalties. We are delighted therefore to meet Ms Tacon and discuss how she intends to carry out investigations. The work of the GCA will be of benefit to not only those in the food supply chain, but ultimately, the consumer as well."
Deputy Chairperson, Joe Byrne MLA said: "I welcome the opportunity to meet with Ms Christine Tacon. The fact that she has come over to meet with the Committee here in Parliament Buildings is a positive indication that she is keen to work with us locally.
"It is especially helpful to have the GCA at a time when the cost of living is continuously rising and there is more pressure on retailers and suppliers from the consumer to lower prices. I look forward to working with the GCA more closely in the near future."
ENDS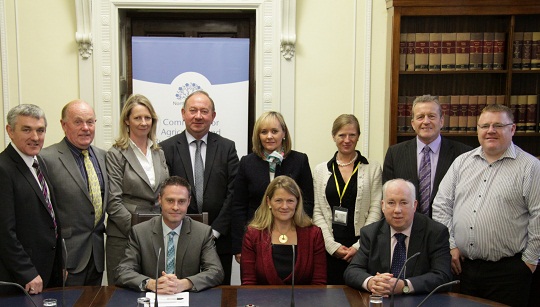 Pictured from L-R standing are: Mr Trevor Buchanan MLA; Mr Kieran McCarthy MLA; Ms Angela Lotta (GCA); Mr William Irwin MLA; Miss Michelle McIlveen MLA; Ms Helen Gordon (GCA); Mr Ian Milne MLA; and Mr Declan McAleer MLA. Seated are: the Committee Chairperson, Mr Paul Frew MLA; the Groceries Code Adjudicator Ms Christine Tacon; and the Committee Deputy Chairperson, Mr Joe Byrne MLA.