Solutions to Fuel Poverty are Top Priority for Committee
Session: 2011/2012
Date: 16 November 2011
Reference: SD 08/11/12
The Assembly Social Development Committee tonight hosted an event to highlight the effects of fuel poverty on local people.
The event brought together a range of stakeholders, officials from the eight Government departments represented on the Interdepartmental Group on Fuel Poverty and the Chairs of the Committees which oversee the work of these departments, in a collaborative approach to identify and prioritise workable solutions to fuel poverty.
Speaking after the event, Committee Chairperson, Alex Maskey MLA said: "Fuel poverty here is amongst the worst in Northern Europe and is a contributory factor to the increased number of deaths during the winter months. That is an indefensible and disgraceful situation and we are determined to find ways to remedy it. Being forced to choose between eating and staying warm should be totally unacceptable in a modern society.
"Addressing fuel poverty is therefore a key issue for the Committee for Social Development but we realise that this Committee cannot do it alone. Tonight's event is ground-breaking in that the Chairs of other statutory committees, departmental officials and stakeholders have come together to clarify the work that is currently underway in relation to fuel poverty and to identify and prioritise solutions to this widespread problem. I believe that this event will initiate a new ethos of collaborative working between Committees and across departments that will focus on outcomes, not processes, for the benefit of those who remain in fuel poverty."
Some of the shocking statistics that emerged from the event include the fact that some 300,000 households here are in fuel poverty, defined as spending 10% or more of household income on fuel and energy costs. The number of local people who have problems heating their homes is three times the number in England and nearly twice as many as in Wales and Scotland.
Mr Maskey concluded: "The Committee for Social Development will be vigorously pursuing key solutions arising from this evening's event and will continue to work closely with other Committees, stakeholders and relevant Departments to ensure that these solutions are implemented effectively and quickly."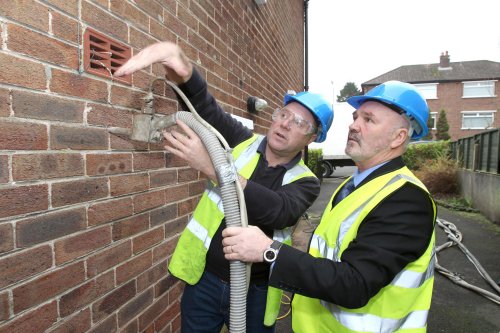 As the Assembly's Committee for Social Development focuses on fuel poverty, Committee Chairperson Alex Maskey MLA learns how cavity wall insulation can help people conserve energy and save money. Pictured with Alex Maskey is Anthony Bradley, Cavity Wall Installer with O'Kane's Plumbing & Electrics, a registered installer with Bryson Charitable Group.