Committee Commends Supported Housing Project for the Disabled
Session: 2011/2012
Date: 30 June 2011
Reference: SD 04/11/12
The Northern Ireland Assembly Committee for Social Development visited a supported housing project at Ardkeen, South Belfast today. The project, one of several managed by leading disability charity, the Cedar Foundation, provides bespoke accommodation to meet the varying needs of disabled residents.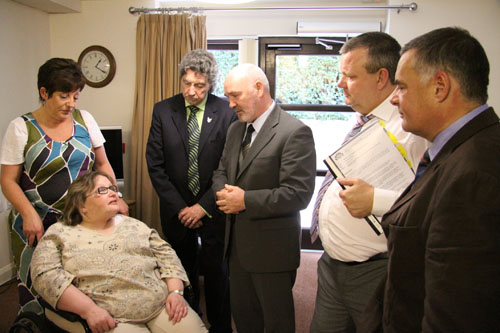 Pictured (l-r) are Debra Stevenson Head of Services at the Cedar Foundation, Ardkeen tenant Fiona Curry, Committee Deputy Chairperson Mickey Brady MLA, Committee Chairperson Alex Maskey, Michael Copeland MLA and Stephen Matthews, Chief Executive of the Cedar Foundation
Speaking after the visit, the Chairperson of the Committee said: "We were delighted to be provided with the opportunity to visit this inspiring and innovative project. Many people in our communities with physical disabilities have very particular housing needs. It is encouraging that this project not only meets those needs but also provides residents with greater independence and an enhanced quality of life.
"The Committee regularly hears about new and innovative developments in Social Housing. To get out and actually see the work that goes on is invaluable so that we can experience how it enriches the day to day lives of residents.
"We have been very impressed with what we have seen here today and remain fully committed to ensuring that this and similar projects continue to be fully supported by the Department and accessible to those most in need."