Assembly Receives Environmental Management Accreditation
Session: 2011/2012
Date: 20 October 2011
Reference: SO 09/11/12
The Northern Ireland Assembly has achieved a prestigious certificate for its environmental management system. The internationally recognised ISO 14001:2004 certificate was awarded by the assessment body National Quality Assurance (NQA).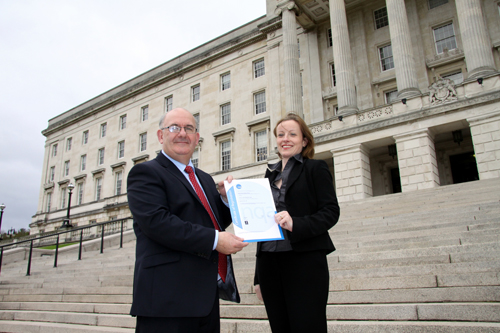 Speaker of the Northern Ireland Assembly, Mr William Hay MLA, is pictured with The Assembly's Sustainable Development Manager, Louise Friel. The Environmental Management Accreditation was awarded to the Assembly in recognition of its environmental management system achieving the internationally recognised ISO 1400:2004 certificate
The Speaker of the Northern Ireland Assembly, William Hay, MLA said: "The Assembly has worked hard to develop its Environmental Management System to demonstrate our commitment to sustainability. It is good to see this work officially recognised. It is a great achievement for the Assembly and staff who have worked hard on this project."
The ISO 14001 certificate represents a worldwide business standard designed to help an organisation manage environmental risk and minimise its impact on the environment. The certificate assesses the way an organisation:
Integrates environmental considerations to its management structures
Manages its environmental impacts and continually improves its environmental performance in areas such as waste, energy, water, paper and procurement
Ensures legal compliance with all relevant environmental legislation
The standard was awarded following a thorough five day external audit by NQA. NQA were particularly impressed with employee engagement and awareness of energy conservation measures and the introduction of new environmental improvement schemes such as remedial works to fuel storage facilities.
Some of the Assembly's sustainability targets include:
To reduce total electricity consumption in Parliament Buildings by 5-10% over the next four years
To reduce gas and electricity usage by 2.5% per year
To improve Parliament Buildings energy rating to C class by March 2015
To increase recycling to 80% by March 2012
To reduce waste by 5% by March 2012
To reduce paper usage by 10-15% by March 2012
In order to retain the award, external environmental audits by NQA will take place on an annual basis. NQA is an independent third party certification body accredited to certify companies to ISO 14001.
ENDS