Assembly Committee Hosts 'Masterchef' Style Event
Session: 2011/2012
Date: 29 November 2011
Reference: E&L 05/11/12
The Northern Ireland Assembly Employment and Learning Committee today hosted its own 'Masterchef' style event in Parliament Buildings. Nine trainees from the NOW organisation prepared a gourmet meal, dressed tables and escorted the invited guests, including MLAs and two well-known local chefs, Balloo House's Danny Miller and Andy Rea from Mourne Seafood Bar and Cookery School.
NOW, which is based in North and West Belfast, works with adults with learning difficulties to prepare them for work and provides them with skills and support to help them live independent and productive lives.
Basil McCrea MLA, Chairperson of the Employment and Learning Committee said: "It has been a fantastic opportunity for the Employment and Learning Committee to work with NOW and its trainees. Helping adults with learning disabilities achieve independence by developing skills is not just important, it is crucial if we want to encourage everyone to be full members of our society.
"The skills that the trainees have shown tonight--not just those preparing the meal but also those dressing the tables and ushering guests--really demonstrates just what can be achieved, and achieved at a very high level.
"Everyone who has been a guest here tonight has been very impressed with the level of skill and commitment by the trainees; my Committee is pleased to have brought this event to the Assembly."
The NOW trainee chefs prepared a four course meal for the guests under the watchful eyes of Danny Millar and Andy Rea. Local food critic John Ferris compered the event.
ENDS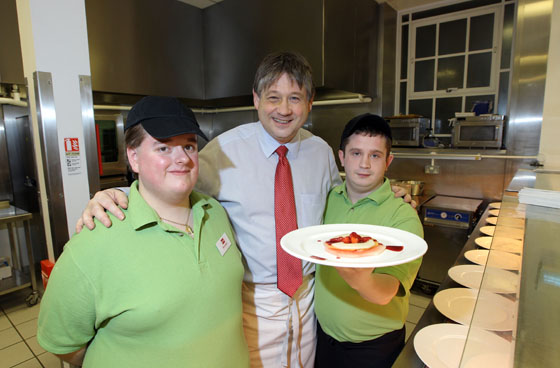 The Committee for Employment and Learning hosted its own 'Masterchef' style event with trainees from the Belfast based NOW organisation. Trainees prepared a four course meal, dressed the tables and ushered guests to the event at Parliament Buildings. Committee Chair Basil McCrea is pictured with trainees Daniel Benson and Brendan Donnelly.