Assembly Committee for Justice visits Forensic Science Laboratories
Session: 2011/2012
Date: 25 November 2011
Reference: JUS 03/11/12
The Northern Ireland Assembly Committee for Justice visited Forensic Science Northern Ireland (FSNI) yesterday. As well as a tour of the alcohol, drug and toxicology labs and the DNA unit, the Committee was shown a mock crime scene to demonstrate how evidence is gathered.
Committee Chairman, Paul Givan said: "Our visit has been very interesting. What we have learnt about the processing and storage of DNA will be very helpful when the Committee is considering proposed changes to the policy on DNA/fingerprint retention. This will form part of a Bill to be brought forward by the Department of Justice early in the New Year.
"We also received a very informative briefing from Stan Brown, FSNI Chief Executive. He spoke about the challenges facing the organisation, new developments in DNA technology and progress on the new accommodation being built to improve laboratory facilities.
"The Committee appreciated the opportunity to meet FSNI staff and discuss their work which plays a crucial role in the investigation and prosecution of crime in Northern Ireland."
ENDS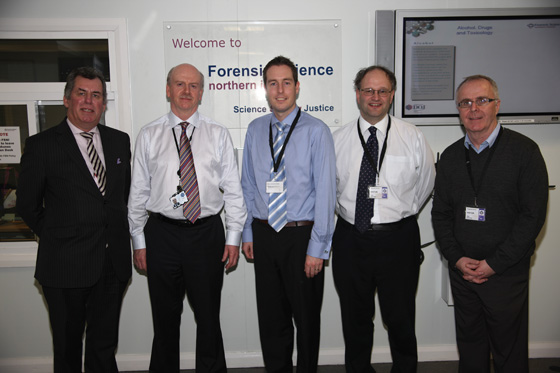 Members the Assembly Committee for Justice on a visit to Forensic Science Northern Ireland.
Pictured L to R: Alban Maginness MLA; Stan Brown, Chief Executive Forensic Science Northern Ireland; Committee Chair, Paul Givan MLA; Peter Weir MLA and Committee Deputy Chair, Raymond McCartney MLA