Constituency Profiles
(Updated April 2015*)
Constituency Profiles are produced by the Research and Information Service (RaISe) of the Northern Ireland Assembly and provide a statistical overview of each Northern Ireland Constituency. These updated reports include a demographic profile for each Constituency as well as key indicators of Health, Education, the Labour Market, Low Income, Crime and Traffic and Travel. For each indicator, the profiles present:
The most up-to-date information available for each Constituency;
How each Constituency compares with the Northern Ireland average;
How each Constituency compares with the other 17 Constituencies in Northern Ireland; and,
Small area information, at ward level, demonstrating similarities and differences within each Constituency and highlighting any 'hotspots' that might exist, where available.
Summary tables show the latest data for each indicator as well as the previous years' data and change over the period.
Please hover over the map below and click on a Constituency to view the profile for that area.
The data contained in these reports has been extracted from NISRA's Northern Ireland Neighbourhood Information Service (NINIS).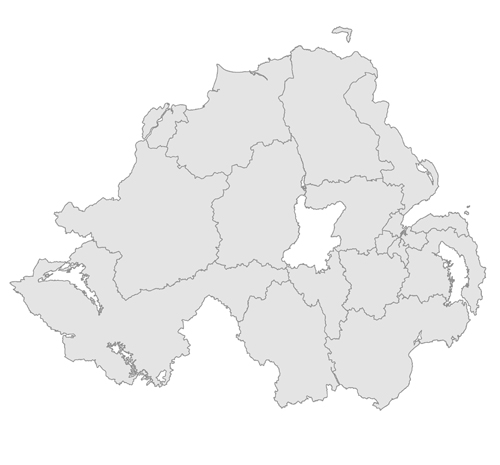 This material is based upon Crown Copyright and is reproduced with the permission of Land and Property Services under delegated authority from the Controller of Her Majesty's Stationery Office, © Crown copyright and database rights.
*Please note: Disease prevalence figures have now been revised to reflect revisions made by NISRA. Offences recorded with a domestic abuse motivation have also been added to the Crime section of the reports.