Public Accounts
This Committee has been set up to consider accounts, and reports on accounts laid before the Assembly. The Committee will have the power to send for persons, papers and records and to report from time to time. The Committee Chairperson is Ms Michaela Boyle MLA and the Deputy Chairperson is John Dallat MLA.
---
Report on DRD: The Effectiveness of Public Transport in Northern Ireland
The Assembly Public Accounts Committee has found that significant improvements could be made in the provision of public transport services here, both by Translink and by the Department of Regional Development.
The Committee's findings follow a recent review into the effectiveness of local public transport which makes a number of recommendations aimed at developing and improving the service for local people.
---
Cross-Border Broadband Initiative: the Bytel project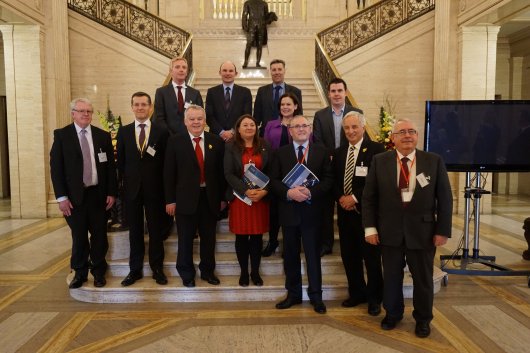 Members of the Public Accounts Committee are pictured with Members of the Oireachtas Committee for Public Accounts who joined them for a briefing from the Comptroller and Auditor Generals North and South (also pictured) on 04/03/2015. The briefing was on the Cross-Border Broadband Initiative: the Bytel project, which is due to be reported on by both Committees