Public Accounts
This Committee has been set up to consider accounts, and reports on accounts laid before the Assembly. The Committee will have the power to send for persons, papers and records and to report from time to time. The Committee Chairperson is Ms Michaela Boyle and the Deputy Chairperson is John Dallat.
---
Cross-Border Broadband Initiative: the Bytel project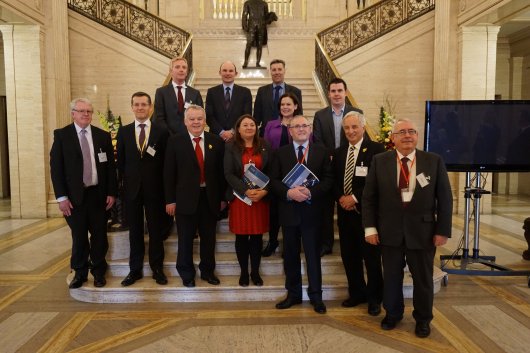 Members of the Public Accounts Committee are pictured with Members of the Oireachtas Committee for Public Accounts who joined them for a briefing from the Comptroller and Auditor Generals North and South (also pictured) on 04/03/2015. The briefing was on the Cross-Border Broadband Initiative: the Bytel project, which is due to be reported on by both Committees
---
Report on Northern Ireland Courts and Tribunals Service Trust Statement for the year ended 31 March 2013
The Committee recommends that NICTS should put in place a robust system to identify an individual's ability to pay before a fine is imposed. This would allow the court to consider options at the outset to prevent fine default, including instalment orders, non-monetary supervised activity orders and other measures, such as deductions from earnings or benefits.