Public Accounts
This Committee has been set up to consider accounts, and reports on accounts laid before the Assembly. The Committee will have the power to send for persons, papers and records and to report from time to time. The Committee Chairperson is Ms Michaela Boyle MLA and the Deputy Chairperson is John Dallat MLA.
---
Report on General Report on the Health and Social Care Sector 2012-13 and 2013-14
The Assembly's Public Accounts Committee has voiced serious concerns over the decline in the financial stability of the Health and Social Care (HSC) Trusts in a report published today.
The Report, entitled General Health Report and Social Care Sector 2012-13 and 2013-14 found that despite only the Western Trust failing to break-even in 2014-15 (a deficit of £6.6 million), this masks an underlying funding gap of Trust pressures from 2014-15 which is reckoned to be over £131 million carried-forward to 2015-16.
---
Cross-Border Broadband Initiative: the Bytel project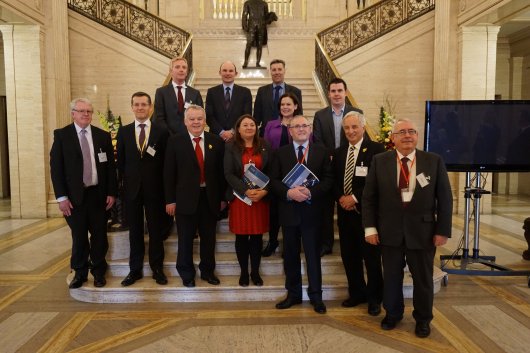 Members of the Public Accounts Committee are pictured with Members of the Oireachtas Committee for Public Accounts who joined them for a briefing from the Comptroller and Auditor Generals North and South (also pictured) on 04/03/2015. The briefing was on the Cross-Border Broadband Initiative: the Bytel project, which is due to be reported on by both Committees