Committee for the Environment
Welcome to the Home Page of the Committee for the Environment. The committee was established to advise and assist the Minister of the Environment, Mark H Durkan MLA, on matters within his responsibility as a Minister. The committee undertakes a scrutiny, policy development and consultation role with respect to the Department of the Environment and plays a key role in the consideration and development of legislation. The Committee Chairperson is Ms Anna Lo MLA.
Here you will find information about the Committee membership and the work of the Committee.
---
Latest News
The Committee for the Environment will hold its next meeting on Thursday 2nd July, 2015 at 10:00am in the Senate Chamber, Parliament Buildings..
Forthcoming business will be published in the Business Diary.
---
Committee for the Environment at the Balmoral Show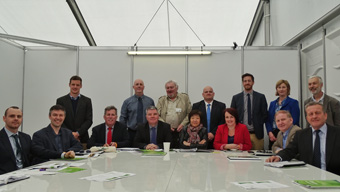 Members of the Environment Committee meet with representatives of Northern Ireland Environment Link at the Balmoral Show
---
Committee Launches Report on its Inquiry into Wind Energy
The Environment Committee launched its report on its Inquiry into Wind Energy. The Committee initiated the Inquiry in response to local groups who were concerned about the impact on rural dwellers of the increasing number of wind turbines in the countryside.
Listen to what Committee Chairperson, Anna Lo, had to say on the report:
---
Road Traffic (Amendment) Bill - Committee Stage
The Road Traffic (Amendment) Bill was formally introduced to the Northern Ireland Assembly on 12 May 2014 and received its Second Reading on 27 May 2014. The Bill has now been referred to the Committee for the Environment which has responsibility for the Committee Stage of the Bill.
The Committee has issued a written call for evidence in order to assist it with the scrutiny of the Bill and the closing date for submissions passed on Thursday 21 August 2014.
The Committee stage was extended to 27 March 2015. Click here for further information and to view the current progress.
---
Visit to DOE Marine Conservation Zone Stakeholder Workshop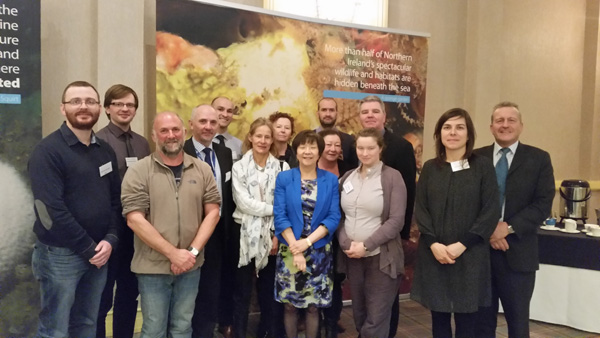 Members of the Committee at the recent DOE Marine Conservation Zone stakeholder workshop
---
Committee Visits and Meetings
The Committee have compiled some photos showing the wide range of visits and meetings they undertake as part of their work covering the Environment remit.