Culture, Arts and Leisure
Welcome to the Home Page of the Committee for Culture, Arts and Leisure. The committee was established to advise and assist the Minister of Culture, Arts and Leisure, Carál Nί Chuilίn MLA, on matters within her responsibility as a Minister. The committee undertakes a scrutiny,policy development and consultation role with respect to the Department of Culture, Arts and Leisure and plays a key role in the consideration and development of legislation. The Committee Chairperson is Mr Nelson McCausland MLA.
Here you will find information about the Committee membership and the work of the Committee.
---
Latest News
At the meeting scheduled for 10am on Thursday 08 October 2015 the Committee for Culture, Arts and Leisure will receive a briefing from the former DCAL Deputy Secretary on the Casement Park inquiry. Also, the Committee will consider (in closed session) the recommendations for the Inclusion in Arts inquiry and agree its next steps regarding the renewal of the BBC Charter.
Forthcoming business will be published in the Business Diary.
---
Contact the Committee
Committee Clerk: Peter Hall

Room 373,Parliament Buildings,
Ballymiscaw,Stormont,
Belfast, BT4 3XX

Tel: (028) 9052 1718
Email: committee.cal@niassembly.gov.uk
---
Committee hosts Sing for Life choir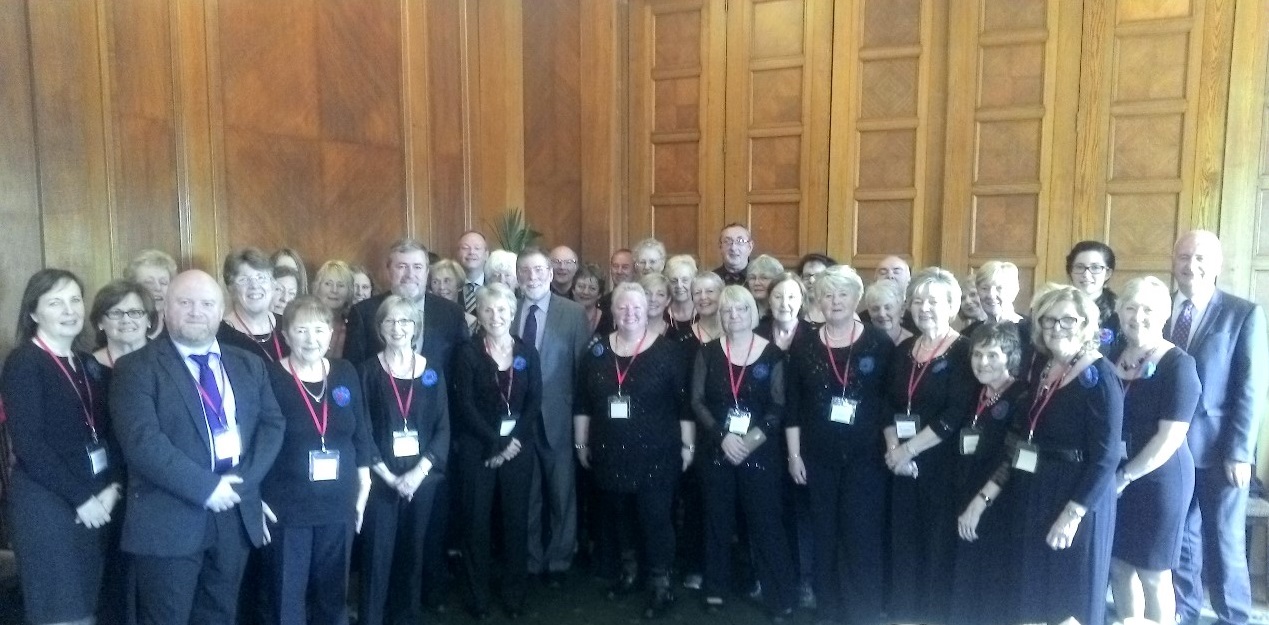 The Committee welcomed Sing for Life choir to Parliament Buildings recently. Formed from a partnership between Crescent Arts Centre Belfast and Cancer Focus Northern Ireland the choir consists of those whose life has been affected by cancer - patients, carers and family members.
---
CAL Committee welcomes BBC Director General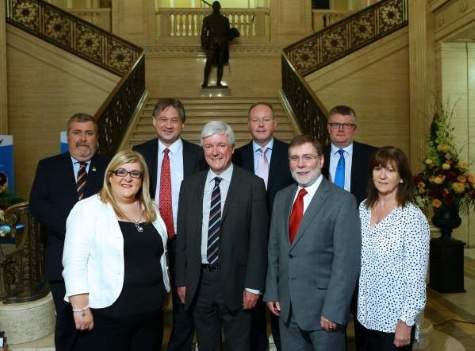 CAL Committee Chairperson Nelson McCausland and Members welcomes the BBC Director General, Lord Hall of Birkenhead and Peter Johnston, Director of BBC Northern Ireland to Parliament Buildings. Pictured are from left (1st row): Karen McKevitt MLA; Lord Birkenhead, Director General, BBC; Committee Chairperson Nelson McCausland MLA; Rosie McSorley MLA. From left (2nd row): MLAs Cathal hOisin; Basil McCrea; William Humphrey, and Peter Johnston, Director of BBC Northern Ireland.
---
Committee Launches Report Into Gaps In Child Protection and Safeguard
The Assembly Committee for Culture, Arts and Leisure has just launched its report into gaps in child protection and safeguarding across the Culture, Arts and Leisure remit.
The Committee agreed to conduct an investigation following a briefing from the Sport NI's Child Protection and Sport Unit, an organisation that has spearheaded policy to make participation in sport safer for young people.
---
Inquiry into the Creative Industries
Clear branding, leadership and collaboration will help to provide a boost to the Creative Industries in Northern Ireland. That is the message from the Committee for Culture, Arts and Leisure in its report that will be published today on maximising the potential of the Creative Industries.