Brexit Brief Newsletter
8 February 2021

Welcome to the 8 February 2021 newsletter
Last week Minister for Agriculture, Environment and Rural Affairs Edwin Poots decided DAERA staff should step back from their duties at Larne and Belfast ports, citing concerns for their safety, following reports of graffiti and suspicious activity. The matter was discussed in the Northern Ireland Assembly and the House of Commons. On Thursday the Committee for Agriculture, Environment and Rural Affairs heard evidence from officials on the decision to suspend certain checks at ports. Michael Gove, Maroš Šefčovič, Arlene Foster, and Michelle O'Neill held a video conference, following Gove's letter to Šefčovič calling for long extensions to the grace periods for checks under the Protocol.
Poots withdraws staff from Belfast and Larne ports
On Monday 1 February, Edwin Poots, Minister for Agriculture, Environment and Rural Affairs, tweeted that in consultation with departmental staff, he had decided to withdraw staff from Belfast and Larne ports over safety concerns. His department is responsible for implementing checks on goods and animals entering NI under the Protocol on Ireland/Northern Ireland.

Source: Edwin Poots on Twitter
Shortly after this, the DUP released a statement announcing that Minister Poots was standing down from his duties temporarily for health reasons. Gordon Lyons MLA, previously a junior Minister in the Executive Office, takes over the AERA portfolio. Gary Middleton MLA becomes junior Minister.
House of Commons debate
On Tuesday in the House of Commons Chancellor of the Duchy of Lancaster, Michael Gove, said the Secretary of State for Northern Ireland Brandon Lewis is engaging closely with police on the safety concerns around workers at ports. He said that the Government "will work over coming days to fix the difficulties on the ground, preserve the gains of the Belfast/Good Friday agreement and, of course, uphold Northern Ireland's place as an integral part of our United Kingdom".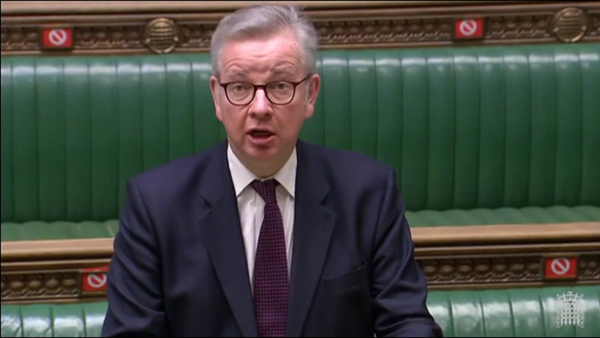 Michael Gove answering questions in the House of Commons | Source: UK Parliament
Shadow Secretary of State for Northern Ireland Louise Haigh said the EU's action in relation to Article 16 must not be used as an excuse to undermine the Protocol and that everyone has a responsibility to dial down rhetoric and ensure people in Northern Ireland are safe. Gove said the way the Commission behaved in the last week is a concern, but that Maroš Šefčovič (Vice-President of the European Commission) understands the need for a pragmatic solution. He said he wants to work through the Joint Committee to address the issues, however he also stated "if necessary, Article 16 is there, and it can be invoked." He emphasised that Šefčovič is conscious of the questions, and is committed to working to resolve these issues in a practical way.
Gove seeks extensions to the grace periods
On Tuesday, Gove wrote to Maroš Šefčovič, stating there had been "a sense of shock and anger" in Northern Ireland following the events the previous Friday regarding Article 16 and vaccine exports. Gove said the situation had "profoundly undermined the operation of the Protocol and cross-community confidence in it." He laid out six steps "to stabilise the situation and reassure all parties in Northern Ireland" and called for action on these issues this week:
Extension of grace periods for supermarkets and suppliers until 2023
A permanent solution for normally prohibited meat products moving GB-NI
Extension of the grace period for parcels until 2023
Extension of the grace period for medicines until at least 2023
Solution for products such as steel to enable goods to move tariff-free in line with product quotas
Resolution of the ban on pet travel between GB and NI/Ireland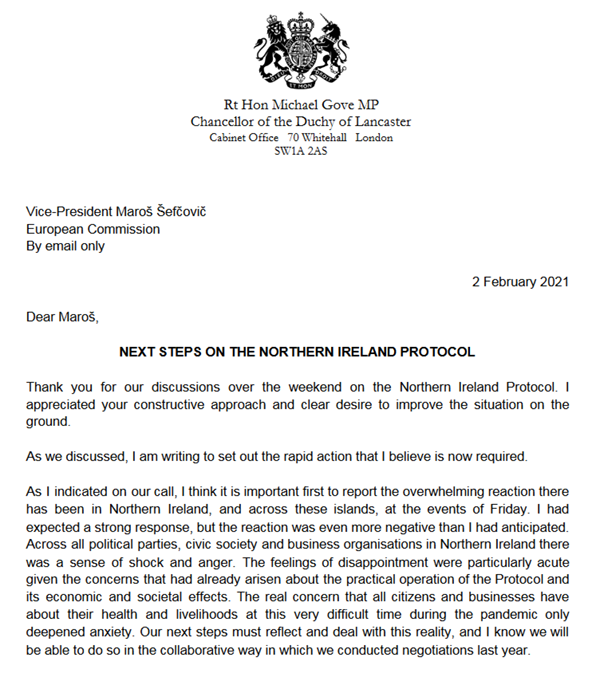 Source: UK Government
Gove also raised issues such as movement of plants and plant products, and mutual recognition of professional qualifications. He stated that the UK would consider "using all instruments at its disposal" if agreement cannot be found on the issues. On wider issues with the Protocol, Gove said "Working with the Northern Ireland Executive, the UK Government has compiled a wider list of issues that will be provided separately, covering more specific but nonetheless very important issues."
Northern Ireland Assembly debate
On Tuesday at the Northern Ireland Assembly, the threats to workers at Border Control Posts were discussed in the 'Matter of the Day' brought by Alliance MLA Stewart Dickson. All speakers condemned the threats. Mr Dickson said "I want to hear the Assembly cooling all the rhetoric to ensure that people can go about their daily duties in delivering for us in Northern Ireland. The last thing that we want to do in the Brexit debate is add further barriers". William Irwin (DUP) said "East-west trade and the movement of goods must be restored immediately, but it must be achieved peacefully and democratically." Steve Aiken (UUP) pointed out that around 2,500 pieces of legislation "will be imposed upon us in this Assembly that we will have absolutely no say in whatsoever." Linda Dillon (Sinn Féin) argued said the source of the problem is Brexit, while Roy Beggs (UUP) asserted that "the protocol needs to be changed...we need something that the entire community can buy into." Matthew O'Toole (SDLP) pointed out that the Protocol contains a consent mechanism and that many of the checks taking place in NI "are a continuation of some that were happening long before Brexit, and, indeed, long before the Good Friday Agreement, as plant and animal products entered the island of Ireland."
That afternoon the new Minister for Agriculture, Environment and Rural Affairs took questions from MLAs. Gordon Lyons condemned the threats made against staff and said they should be able to do their job without intimidation. He said the decision to temporarily suspend physical checks was made "as a purely precautionary measure in the interests of staff safety" and stated that the documentary checks, and seal checks (where possible in GB ports), continue to be implemented. He called for calm heads, saying, "I absolutely confirm that the policy of my Department and, I hope, of the whole Executive will not be influenced in any way by sinister elements." Lyons outlined his view on the issues with the Protocol which, he said, "has failed and has to go".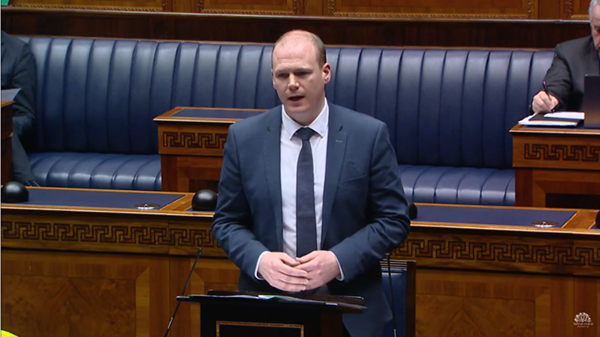 Minister for Agriculture, Environment and Rural Affairs Gordon Lyons speaking in the Assembly | Source: NI Assembly
The DUP has launched a five point plan to remove the Protocol, including a petition, "Trigger Article 16. We want unfettered GB-NI Trade." At the time of writing the petition has 135,140 signatures which means that it will be considered by Parliament for debate.
EU engagement
The European Commission on Tuesday condemned any threat of violence against port officials, saying, in such circumstances it understands that decisions have been taken to temporarily suspend certain checks. The Commission asked its staff not to attend their duties and continues to monitor the situation. On Thursday the Commission stated that EU staff had not yet returned to their duties.
On Wednesday, Michael Gove, Maroš Šefčovič, First Minister Arlene Foster and deputy First Minister Michelle O'Neill held a video conference. Gove and Šefčovič released a statement following the meeting, condemning any threats or intimidation. There was a "constructive discussion" and the they agreed to work to resolve the outstanding issues through the Joint Committee. Gove and Šefčovič are to meet again this week in London.

@MarosSefcovic on Twitter
Committee hears evidence from officials
On Thursday, the Committee for Agriculture, Environment and Rural Affairs heard from senior officials, who gave details about the decision to temporarily suspend physical inspections on products of animal origin at Belfast and Larne ports. The Department's Permanent Secretary Denis McMahon outlined events in the lead up to the decision, including graffiti in Larne threatening port staff, and health and safety threats raised at SOLACE (Society of Local Authority Chief Executives). The Department was waiting for a formal written threat assessment from the PSNI, and is undertaking its own risk assessment.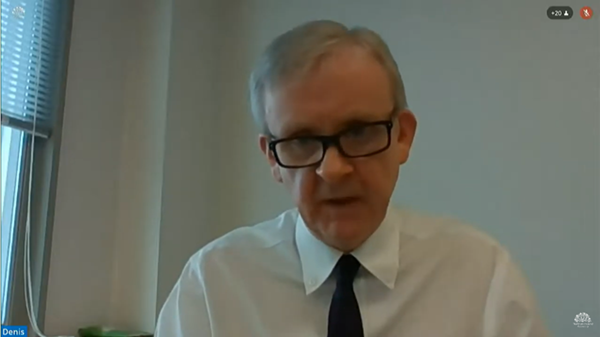 Permanent Secretary of the Department of Agriculture, Environment and Rural Affairs Denis McMahon briefed the Committee | Source: NI Assembly
NI's Chief Vet Robert Huey outlined the implications of not carrying out the checks: there are legal issues, and implications for protection of the EU single market. Products of animal origin have the least risk at a technical level to public, animal, and plant health in NI, and this was taken into consideration. Animal checks and checks on products coming from third countries continue. McMahon pointed out their legal obligations to implement the Protocol, but also to protect and ensure the health and safety of their workers – there is "a low threshold for risk".
On 2 February, the PSNI had released the following statement, stating that they have no information to substantiate claims of paramilitary involvement in the threats.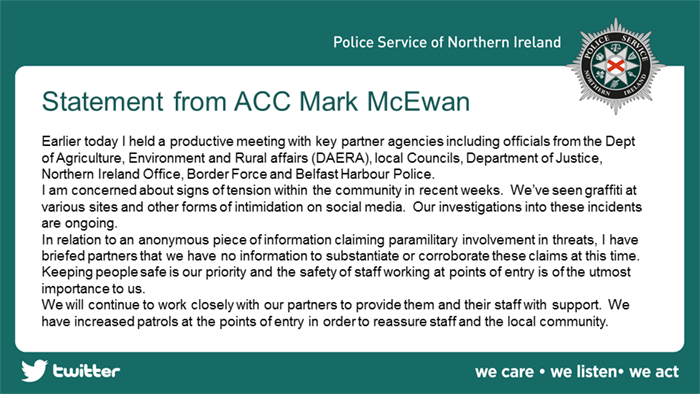 Source: Police Service NI on Twitter
Council staff at Larne resumed inspections on Friday: a risk assessment was carried out by Mid and East Antrim Council after it received a PSNI threat assessment. This morning on BBC Radio Ulster, the PSNI Chief Constable was asked if he was aware of any credible threats to staff at Belfast and Larne ports. The Chief Constable said "No we weren't. We didn't have that credible information you talk about".
UK publishes consultation on subsidy control
The UK Government has published a consultation on its proposed approach for establishing a bespoke UK-wide subsidy control regime. The Government views its exit from the EU as an opportunity to "design a domestic subsidy control regime that reflects our strategic interests and particular national circumstances". It is seeking views from businesses, business representative organisations, subsidy granters and other organisations.
Secretary of State for Business, Energy and Industrial Strategy Kwasi Kwarteng MP states that the governments of Scotland, Wales and Northern Ireland will remain in charge of their own spending decisions and says the government will work constructively with the Devolved Administrations, to "create a regime that works for the whole of the UK." He said the new subsidy control regime will "play its part in ensuring that the UK remains a reliable trading partner that upholds its various international commitments, whether as part of our ambitious free trade agreements or under the Northern Ireland Protocol." The deadline for submissions is 31 March 2021.
Common Frameworks
Common Frameworks are being developed in policy areas which were previously governed by EU law and which intersect with devolved competence. The House of Lords Common Frameworks Scrutiny Committee heard from academics and stakeholders on the impact of the Common Frameworks process for Northern Ireland. The Committee heard that more clarity was needed on how the frameworks interact with the Protocol, and their concerns about the lack of consultation and transparency in the process.
The Assembly's Committee for Health heard evidence from officials from the Food Standards Agency in relation to two Common Frameworks: Food and Feed Safety and Hygiene Common Framework; and Nutrition Labelling, Composition and Standards Common Framework. Emily Miles, CEO of the FSA said they are keeping a very close eye on EU developments and legislation, and also working with their counterparts in Ireland. She said there is unlikely to be much divergence in arrangements between the UK and EU: it's unlikely that EU or UK FSAs would come to different conclusions e.g. on food additives, but there may be divergent views in areas such as insect-based products, and gene-edited products. If NI ministers are unhappy with an EU decision affecting NI, this would have to be raised in the Joint Committee. Miles stated that she would hope that wouldn't happen and that Common Frameworks are intended to stop that happening.
Other news
On 4 February the European Parliament Foreign Affairs and International Trade Committees assessed each sector of the EU-UK Trade and Cooperation agreement, with the specialised committees providing opinions. On 5 February the INTA and AFET Committees presented their draft report on consent for the EU-UK Trade and Cooperation Agreement. Opinions from the 17 parliamentary committees involved in scrutinising the TCA can be viewed here.
On 2 February, the Committee for the Executive Office engaged with the Seanad Special Select Committee on the Withdrawal of the UK from the EU on the impact of Brexit on Northern Ireland and the Republic of Ireland.
Irish MEPs have written an open letter calling on European Commission President Ursula von der Leyen to appear before the European Parliament to answer questions on the EU's management of the vaccine programme and its decision to trigger Article 16.
Last week, the Committee for Agriculture, Environment and Rural Affairs also heard from DAERA officials about the impact of Brexit on the local fishing fleet. The officials said they are "aware of the NI industry concerns" about the allocation of additional quotas to NI fishermen. MLAs heard that "it has been made clear to DEFRA" that "the allocation of this additional quota must be fair and transparent" and should not disadvantage NI's fishing industry. The Committee also heard from officials on the departmental budget and Direct Farming Payments, which were worth £293 million in 2020. Officials told the Committee that the new regulation will "maintain status quo as far as possible" and that "farmers will see no change on the ground".
The Institute for Government has published a report entitled 'Managing the UK's relationship with the EU' which considers the tasks and relationships the UK will need to manage in the coming years, including the Protocol on Ireland/Northern Ireland. The report points out that UK Government departments "will need to be aware of what implications divergence in key areas will have for trade in goods between GB and NI."
The Department of Agriculture, Environment and Rural Affairs (DAERA) is holding a consultation on several environmental governance issues that arise as a result of the UK's withdrawal from the EU. The deadline for submissions is 26 February 2021.
The Irish Government has opened its first call for applications for its €100million scheme for the agri-food sector, in light of its unique exposure to Brexit.
The UK Government has published a list of key EU Exit helplines, relating to importing, exporting, economy, and fish, among other areas.
This Week at the Assembly
Monday 8 Feb, 2PM, Plenary - Question Time: The Executive Office; Agriculture, Environment and Rural Affairs
Wednesday 10 Feb, 2 PM - Committee for The Executive Office – Brexit: meeting with Joint Committee on the Implementation of the Good Friday Agreement; Brexit: Article 2 of the Protocol on Ireland/Northern Ireland - Oral evidence session with departmental officials; The Executive's International Relations and comparisons with Scotland and Wales - Research and Information Service Briefing
Thursday 11 Feb, 10.25 AM - Committee for Agriculture, Environment and Rural Affairs - Supplementary Legislative Consent Memorandum for the Environment Bill; EU Transition Fortnightly Update – Briefings from DAERA
Catch up with the Committees