Brexit Brief Newsletter
30 November 2020

Welcome to the Brexit Brief
Negotiations continue in London, where the teams are able to meet face-to-face again. There have been further reports about the impact on food supplies for Northern Ireland due to increased friction in GB-NI trade. Committees at the Northern Ireland Assembly heard from officials and Junior Ministers on businesses' readiness for 1 January, and official operations to prepare for the end of the transition period. The Committee for the Executive Office held a session with the Joint Oireachtas Committee on European Affairs. The UK government published more details about the Shared Prosperity Fund which is designed to replace EU funding.
State of Play
EU Chief Negotiator Michel Barnier and his team headed to London on Friday, having completed his self-isolation following contact with a Covid-19 case. UK Chief Negotiator David Frost tweeted about the resumption of in-person talks, reiterating his red line: a deal which respects UK sovereignty. For Frost, this means controlling UK borders, deciding independently on a subsidy control system, and controlling UK fishing waters. He wrote, "It's my job to do my utmost to see if the conditions for a deal exist. It is late, but a deal is still possible, and I will continue to talk until it's clear that it isn't." On Friday, Barnier spoke to Ministers from the main EU fishing nations, amidst reports of a proposal to restore 15-18% of the EU quota (fish caught by EU fleet in UK waters) back to the UK.

Source: @MichelBarnier Twitter

Source: @DavidGHFrost Twitter
European Commission President Ursula Von der Leyen addressed the European Parliament on 25 November, telling MEPs that, "I cannot tell you today if in the end there will be a deal." She stated that the EU is well prepared for a no-deal scenario and emphasised that "there will be a clear difference between being a full member of the EU and just being a valued partner."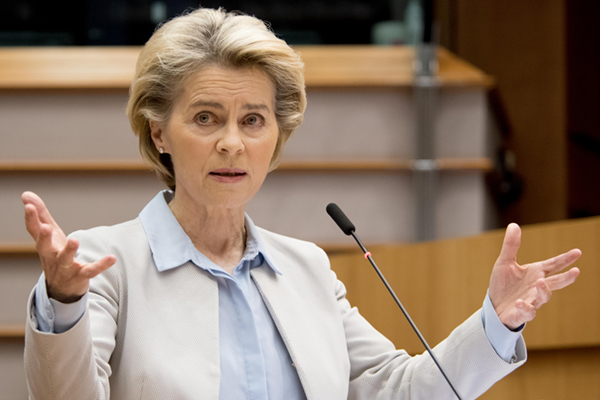 Source: EC - Audiovisual Service / Photographer: Etienne Ansotte
Progress was reported from the Joint Committee, the body which oversees the implementation of the Withdrawal Agreement. Issues the Committee deals with include goods entering Northern Ireland from Great Britain, VAT, and safety checks on food products. Many of these issues intertwine with the trade negotiations which are ongoing, and could be eased with a comprehensive Free Trade Agreement between the EU and UK.
At this stage, multiple pundits have argued that a deal ultimately depends on the political calculation made by Boris Johnson. Some Conservatives have claimed that the negative economic hit of Brexit would be dwarfed by the current economic crisis caused by Covid-19. The Office for Budget Responsibility published its latest updated forecast, including a no-deal Brexit scenario which would further reduce GDP by 2%, on top of contraction of the economy related to Covid-19.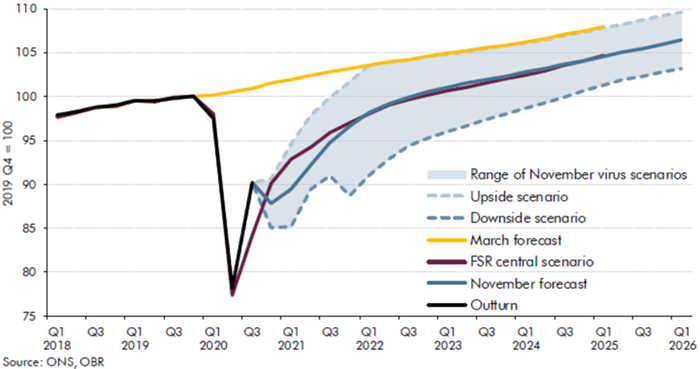 Real GDP: central forecast and alternative scenarios Source: Office for Budget Responsibility
Food for thought
There were further reports of concerns about importing food to Northern Ireland supermarkets. Marks and Spencer said that 15% of its food offering could be unavailable in its Northern Ireland stores in January. Export Health Certificates (EHC) are required for products of animal origin such as meat, milk, fish and eggs to enter the EU single market. This is a costly administrative burden for companies, which needs to be signed off on by a vet. According to the Northern Ireland Retail Consortium's Aodhan Connolly, " without mitigations on Export Health Certificates, which cost £200 each and SPS checks, either products or business models will become unviable". An additional issue is that for products the EU considers high risk, such as some chilled meats, no EHCs are available. On 24 November, RTÉ reported that EU and UK officials were negotiating to avoid a potential mutual ban on foods including sausages, mince and prepared meals moving between Great Britain and the island of Ireland.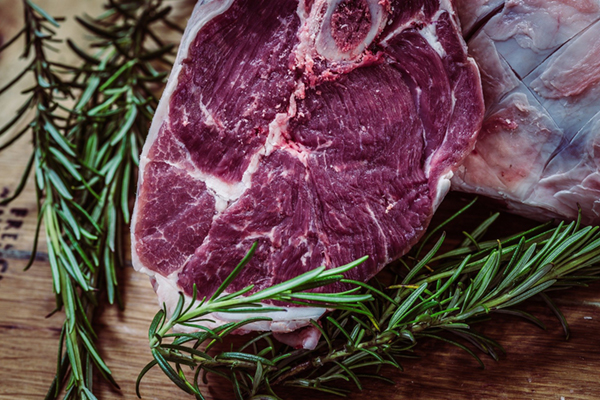 Northern Ireland Secretary of State Brandon Lewis said the Specialised Joint Committee has intensified its discussions "to get businesses the answers they need as quickly as possible" and that "we are determined to get an outcome that ensures unfettered access."
Committee for the Executive Office hears from Oireachtas members
On 25 November, the Committee for the Executive Office held a session with the Joint Oireachtas Committee on European Affairs. Chairperson Joe McHugh TD noted the importance of working together and the multiple areas of North-South cooperation. Neale Richmond TD spoke on the Irish Government's preparedness for Brexit: the budget has been framed on a no-deal scenario, Rosslare and Wexford ports have been expanded and the government is hiring customs officials, encouraging direct routes to EU, and offering microfinance loans. Asked by Doug Beattie MLA if TDs understood the concerns about the East-West border, Richmond said they did appreciate the concerns of all communities and emphasised that the EU had no wish to fetter access East-West, but that the Internal Market Bill would be going against the Withdrawal Agreement.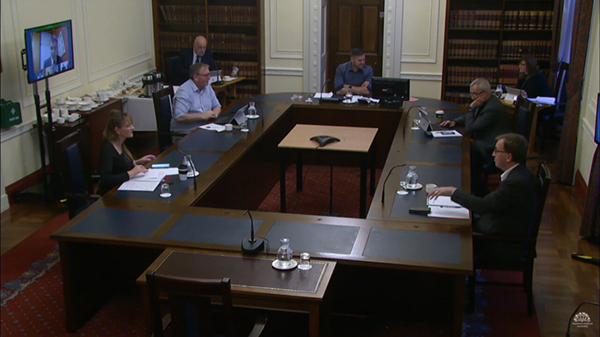 Source: NI Assembly
Martina Anderson MLA asked about the retention of EU rights by Irish citizens in Northern Ireland. Richmond added that there are other issues such as access to the Erasmus+ programme and the European Health Insurance Card. The legislation to allow Northern Irish citizens continued access to the European Health Insurance Card (EHIC) Scheme is currently passing through the Oireachtas. Chairperson Colin McGrath MLA said that NI citizens will be subject to the Protocol but won't have a voice in the European institutions.
On 25 November, the Committee also heard from Junior Ministers Gordon Lyons and Declan Kearney on Brexit issues. Detail was given by Lyons on operational readiness for the end of the transition period - engagement with the UK Government and the other devolved administrations is ongoing in this area. Six key risk areas have been identified by the Executive: food supplies, priority goods such as chemicals and medicines, business preparedness, data flow, facilities for SPS checks, and transport. Kearney stated that the Internal Market Bill has had a "very unsettling effect" on the EU negotiating team but his sense is that it is not going to create an "intractable difficulty".
The Committee for the Executive Office has published its report following evidence from local Councils on the impact of Brexit. You can read the report here. The Committee agreed to table a motion for the First Minister and deputy First Minister to provide clarity on the implementation of the Protocol on Ireland/Northern Ireland to allow local councils to prepare for the post-transition period.
Only 9% of businesses have a plan in place, Committee for Economy hears
On Wednesday, the Committee for Economy heard from officials from the Department of Economy on businesses' Brexit preparedness and continuing uncertainty around post-transition arrangements. Members heard about the Department's "significant level of concern" about low levels of preparedness, and how the Covid-19 pandemic has made this more difficult. Members asked EU Exit officials about the uptake of the Trader Support Scheme and assessment of 'at risk' goods.
Officials stated that only 9% of businesses have a plan in place for the changes looming at the end of this year; especially concerning are customs and the companies which have no prior experience of goods regulations. They pointed out that it is important to also consider the readiness of GB businesses to sell into NI - these businesses may have a lower sense of the need to prepare, and could be more focused on changes to trade with the EU, but not on changes to NI. Preparedness work will continue well into the new year. On data sharing, only 6% of businesses have plans in place for data transfer, while 80% have not engaged in contingency planning.
An issue which has perhaps been given less attention in Northern Ireland is how its international trade may be impacted – Northern Ireland has £1.8bn trade via EU Free Trade Agreements, according to officials. About 25% of this is with countries whose EU FTAs have not been rolled over.
The NI Business Info website provides a checklist for businesses of key actions they must take to be ready for the changes at the end of the year. The Invest NI EU Exit resilience tool allows businesses to assess their readiness for Brexit.
Shared Prosperity Fund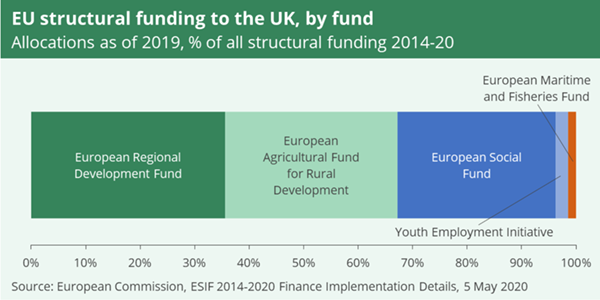 As a member state of the European Union, the UK received approximately £2.1 billion per year in structural funding. Source: UK Parliament
On 25 November, the Chancellor of the Exchequer Rishi Sunak presented the 2020 Spending Review, including details on the UK Shared Prosperity Fund (SPF), intended to replace EU funding in various areas. The SPF is designed to "help to level up and create opportunity across the UK". According to the review, the total domestic UK-wide funding will "at least match current EU receipts, on average reaching around of £1.5 billion a year". A framework for investment in people, skills, communities, and local business will be developed by the Government and published in the spring. These recipients will be asked to agree specific outcomes and investment will also have to be aligned with the Government's 'green' agenda. A second area of the SPF will target people most in need through tailored employment and skills programmes.
Catch up with the Committees
This Week at the Assembly
Monday 30 November, 3.30 pm – Plenary - Legislative Consent Motion: Medicines and Medical Devices Bill
Wednesday 2 December, 9.30 am - Committee for Infrastructure - Consideration of EU Exit legislation (Port Services, Railways Regulations)
Wednesday 2 December, 10am - Committee for Economy - Update on the Shared Prosperity Fund; Consideration of EU Exit legislation (Gas (Internal Markets) Regulations)
Thursday 3 December, 9.30 am - Committee for Agriculture, Environment and Rural Affairs - Common Frameworks: Animal Health and Welfare and Zootechnics; Chemicals and Pesticides (tbc) - Oral Evidence from DAERA; Written Briefings from DAERA on EU Exit legislation, and on EU Exit Preparation and Delivery