Brexit Brief Newsletter
August / September 2019

Welcome to the August / September 2019 issue of the Brexit Brief Newsletter
The August/September issue of the Brexit Brief includes news of Government contingency planning for Brexit and House of Commons debates and votes on prorogation; an early election; and disclosure of communications. We have details of legislation drawn up to prevent a no deal Brexit as well as information on a Northern Ireland civic society statement on Brexit and the Prime Minister's meeting with the Taoiseach.
GOVERNMENT SPENDING ON BREXIT
On 31 July, HM Treasury issued a statement that the Chancellor of the Exchequer Sajid Javid was doubling government spending on no-deal Brexit preparations. He announced £2.1 billion to prepare for no deal with a new immediate cash boost of £1.1 billion for Government departments and the devolved administrations to prepare critical areas for EU exit on 31 October. A further £1 billion will be available to enhance operational preparedness this year if needed.
The funding will be used for border and customs operations, critical medical supplies, support for UK nationals abroad, and an awareness campaign to ensure the public and businesses are ready to leave the EU.
In total the Treasury has now made available £6.3 billion to prepare for EU exit, including £4.2 billion funding this financial year alone.
The Chancellor of the Exchequer, Sajid Javid, said:
"With 92 days until the UK leaves the European Union it's vital that we intensify our planning to ensure we are ready.
We want to get a good deal that abolishes the anti-democratic backstop. But if we can't get a good deal, we'll have to leave without one. This additional £2.1 billion will ensure we are ready to leave on 31 October - deal or no deal."
Targeted funding allocated today will support critical operations, including:
£344 million to help get new border and customs operations ready. This includes:

An extra 500 border force officers, meaning we will have added up to 1,000 more officers this year.
Boosting capacity to process UK passport applications this year, helping avoid delays.
Doubling the support made available for customs agents to train new staff or invest in better IT so businesses can get the support they need to complete customs declarations.
Improving transport infrastructure around ports and additional funding for 'Operation Brock' to manage traffic disruption in Kent.
Enhancing support available on government helplines.
£434 million made available to help ensure continuity of vital medicines and medical products, including through freight capacity, warehousing and stockpiling.
£108 million available to promote and support businesses to ensure they are ready for Brexit, including a national programme of business readiness and helping exporters to prepare for, and capitalise on, new opportunities.
£138 million to boost public communications, including:

A new information campaign to help people and businesses get ready to leave on 31 October.
Increasing consular support and information for Brits living abroad.
Support for local areas including Northern Ireland.
In addition to the £1.1 billion immediate funding, the Chancellor has also committed today that a further £1 billion will be available for all departments and the devolved administrations to enhance operational preparedness for the UK's departure from the EU on 31 October. Departments will be invited to submit bids to the Treasury if they require additional funding, and the devolved administrations can submit bids where they face disproportionate pressures compared to England.
Additional information
Prior to this announcement, the Government had allocated £4.2 billion to prepare for a range of Brexit scenarios.
This funding will only be used to prepare for no deal in 19/20. The immediate allocation of funding is focussed on critical areas of operational planning.
Barnett will apply in the usual way to all new funding given to UK government departments in devolved areas. In addition, the devolved administrations can bid for access to the £1 billion unallocated pot where they face disproportionate pressures compared to England, as they can with the existing reserve.
CIVIC SOCIETY STATEMENT ON NO DEAL BREXIT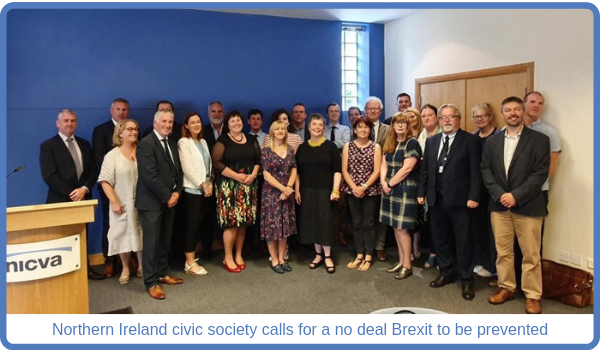 On 31 July, a group of civic society organisations in Northern Ireland issued a joint statement calling for a no deal Brexit to be prevented. The statement was launched at the headquarters of the Northern Ireland Council for Voluntary Action (NICVA) at an event jointly organised by NICVA, the Confederation of British Industry (CBI,) the Irish Congress of Trade Unions (ICTU), and the Ulster Farmers' Union (UFU) - collectively known as Concordia.
The statement reads as follows:
"Northern Ireland's leading civic society organisations representing business, trade unions, farming, and voluntary and community sector interests are calling for the imminent potential disaster of a no deal Brexit to be prevented.
A no deal Brexit would be hugely detrimental for Northern Ireland's economic, social, and political well-being and future.
Northern Ireland civic society believes that a no deal Brexit must be prevented under any circumstances to avoid the major damage it would inflict to this and future generations in Northern Ireland."
The statement is supported by the following civic society organisations:
Irish Congress of Trade Unions
NICVA (Northern Ireland Council for Voluntary Action)
Ulster Farmers' Union
Northern Ireland Retail Consortium
CO3
Northern Ireland Freight Transport Association
Women in Business NI Ltd
The Community Foundation for Northern Ireland
Mineral Products Association Northern Ireland
Manufacturing NI
Children in Northern Ireland
Social Enterprise NI
CBI Northern Ireland
Community Organisations of South Tyrone and Areas (COSTA)
NI Human Rights Consortium
Parenting NI
Newry and Mourne Enterprise Agency
NI Youth Forum
Northern Ireland Meat Exporters Association
Northern Ireland Federation of Housing Associations (NIFHA)
Northern Ireland Hotels Federation
Foyle Port
Londonderry Chamber of Commerce
The Ashton Centre
Retail NI
Equality Coalition
Newry Chamber of Commerce
Causeway Chamber of Commerce
GOVERNMENT NO DEAL CONTINGENCY PLANNING LEAKED
A leaked dossier from Operation Yellowhammer was reported by the Sunday Times (18 August) to say that the UK could face months of disruption at its ports after a no-deal Brexit.
Operation Yellowhammer is the Government's overarching no deal Brexit contingency plan, which was put in place in June 2018. It covers 12 sectors including healthcare, transport, energy, food and water and was designed to allow the Government to coordinate different agencies to handle any short term disruption.
The Sunday Times reported that the document states that:
"Britain faces shortages of fuel, food and medicine, a three-month meltdown at its ports, a hard border with Ireland and rising costs in social care in the event of a no-deal Brexit, according to an unprecedented leak of government documents that lay bare the gaps in contingency planning.
The documents, which set out the most likely aftershocks of a no-deal Brexit rather than worst-case scenarios, have emerged as the UK looks increasingly likely to crash out of the EU without a deal.
Compiled this month by the Cabinet Office under the codename Operation Yellowhammer, the dossier offers a rare glimpse into the covert planning being carried out by the government to avert a catastrophic collapse in the nation's infrastructure."
In response to the leaked document, Michael Gove, the Minister in charge of no deal planning in the Government said that it was an old document that only looked at "what the very, very worst situation would be".
Mr Gove said:
"It's certainly the case there will be some bumps in the road, some element of disruption in the event of no-deal. But the document that has appeared in the Sunday Times was an attempt in the past to work out what the very, very worst situation would be, so we could take steps to mitigate that.
And we have taken steps, not just to deal with some of the risks, but also to make sure that our economy and our country are better placed than ever to leave the EU on 31 October."
Opposition MPs have called for the Government to publish its no deal contingency planning in full.
PM WRITES TO EU COUNCIL PRESIDENT

On 19 August, the Prime Minister wrote to European Council President Donald Tusk. His letter states:

"The changes we seek relate primarily to the backstop. The problems with the backstop run much deeper that then simple political reality that it has three times been rejected by the House of Commons. The truth is that it is simply unviable for these three reasons.

First, it is anti-democratic and inconsistent with the sovereignty of the UK as a state…….

Second, it is inconsistent with the UK's desired final destination for a sustainable long-term relationship with the EU……

Third, it has become increasingly clear that the backstop risks weakening the delicate balance embodied in the Belfast (Good Friday) Agreement……."

On next steps, the letter states:

"We must, first, ensure there is no return to a hard border. One of the many dividends of peace in Northern Ireland and the vast reduction of the security threat is the disappearance of a visible border. This is something to be celebrated and preserves. his Government will not put in place infrastructure, checks or controls at the border between Northern Ireland and Ireland. We would be happy to accept a legally binding commitment to this effect and hope that the EU would do likewise.

We must also respect the aim to find "flexible and creative" solutions to the unique circumstances on the island of Ireland. That means that alternative ways of managing the customs and regulatory differences contingent on Brexit must be explored. The reality is that there are already two separate legal, political, economic, and monetary jurisdictions on the island of Ireland. This system is already without contention and with an open border.

The UK and EU have already agreed that "alternative arrangements" can be part of the solution. Accordingly:

- I propose that the backstop should be a replaced with a commitment to put in place such arrangements as far as possible before the end of the transition period, as part of the future relationship.

- I also recognise that there will need to be a degree of confidence about what would happen if these arrangements were not all fully in place at the end of that period. We are ready to look constructively and flexibly at what commitments might help, consistent of course with the principles set out in this letter."

In response to the Prime Minister's letter, Council President Donald Tusk tweeted: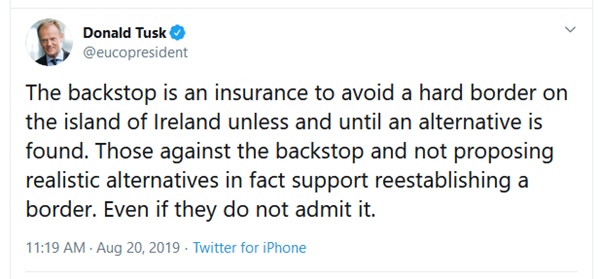 Speaking at a press briefing on 20 August in response to questions, Deputy Chief Spokesperson for the European Commission Natasha Bertaud said :
"We take note of Prime Minister Johnson's letter [...] You will have seen that President Tusk has tweeted his initial reaction to this letter - a reaction which we share. From the Commission's side, we welcome UK government's engagement & continued commitment to an orderly withdrawal. We firmly believe this is in the best interests of both the EU and the UK.

However we also note that the letter doesn't provide a legal, operational solution to prevent the return of a hard border on island of Ireland.

It does not set out what any alternative arrangements could be. In fact, it recognises that there is no guarantee that such arrangements will be in place by the end of the transitional period. As stated on many occasions, we stand ready to work constructively with the UK and within our mandate."
UK ATTENDANCE AT EU MEETINGS

On 20 August, the Government issued a statement that from 1 September 2019, UK officials and Ministers would stop attending most EU meetings. The statement said that officials will now only attend EU meetings where the UK has a significant national interest in the outcome of discussions, such as on security.

The statement said:

"As the PM has promised in the House of Commons in July, as a departing Member State it makes sense to 'unshackle' officials from these EU meetings to enable them to better focus their talents on our immediate national priorities. This includes, as the top priority, work on preparations for Brexit on 31 October and on our future relationship with the EU, but also on pioneering new trade deals and promoting a truly Global Britain.

This decision is not intended in any way to frustrate the functioning of the EU. The UK's vote will be delegated in a way that does not obstruct the ongoing business of the remaining 27 EU members.

Where matters of ongoing national interest are being discussed, the UK will continue to be present until 31 October."

Secretary of State Steve Barclay said:

"An incredible amount of time and effort goes into EU meetings with attendance just the tip of the iceberg. Our diligent, world-class officials also spend many hours preparing for them whether in reading the necessary papers or working on briefings.

"From now on we will only go to the meetings that really matter, reducing attendance by over half and saving hundreds of hours. This will free up time for Ministers and their officials to get on with preparing for our departure on October 31 and seizing the opportunities that lie ahead."
HMRC BREXIT PREPARATIONS
On 21 August, Chancellor of the Exchequer Sajid Javid announced that HM Revenue and Customs would begin to automatically enrol companies in the Economic Operator Registration and Identification (EORI) system. Businesses must have an EORI number in order to continue to trade with the EU post Brexit. 72,000 companies have already registered for EORI numbers and the Government aims to double that number in the coming weeks.
The Government's press release states:
After getting an EORI number, businesses will need to decide whether to complete customs declarations themselves, or employ a customs agent to do this. As part of the £2.1bn announced on 31 July, we are doubling the support made available for customs agents to train new staff or invest in better IT so businesses can get the support they need to complete customs declarations. If employing a customs agent, businesses will need to supply their EORI number.
Traders also need to decide whether to apply for Transitional Simplified Procedures to make it easier to import goods from the EU.
Chancellor of the Exchequer Sajid Javid said:
"As the government accelerates its preparation to leave the EU on 31st October, it's right businesses are prepared too.
There can be no time for delay which is why HMRC has allocated thousands of businesses with a trading number to ensure they can continue to trade their goods through Europe from day one.
This will help ease the flow of goods at border points and support businesses to trade and grow.
The Chancellor has been determined to grip Brexit preparations, allocating an extra £2.1 billion for government departments last month to prepare for no deal, doubling Brexit funding for this year.
As part of the cash injection, border and customs operations will receive an additional £344m to be ready for Brexit, including by hiring more border officers, doubling the support available for customs agents, and improving transport infrastructure around ports."
NO UK NOMINATION TO THE EUROPEAN COMMISSION

The Government has confirmed that it will not make any nomination for the new incoming European Commission. The UK's Permanent Representative to the EU Sir Tim Barrow wrote to the EU on 23 August to confirm that to confirm that the UK will not be nominating a candidate for the 2019-2024 College of Commissioners. This follows a statement to the House of Commons on 25 July by Prime Minister Johnson to this effect. Nominations for the new Commission closed on 26 August 2019.

Secretary of State for the Department for Exiting the EU Steve Barclay said:

"We are leaving the EU on 31 October. As a departing member state we will not be involved in the new Commission so it would be a distraction to nominate a new Commissioner.

This is part of the UK's ongoing preparations for Brexit which allows us to focus on our future relationship with the EU while continuing to explore new opportunities with partners across the world."
PRIME MINISTER MEETS EU LEADERS



Prime Minister Boris Johnson meet with German Chancellor Angela Merkel and Emmanuel Macron in August. He then attended the G7 summit in Biarritz on 24-26 August.
Speaking before he met with the President of the European Council Donald Tusk, Mr Johnson said "If we come out without an agreement it is certainly true that the £39bn is no longer, strictly speaking, owed."
He told ITV: "There will be very substantial sums available to our country to spend on our priorities. It's not a threat. It's a simple fact of reality."
Prior to their meeting on 25 August, Mr Tusk tweeted: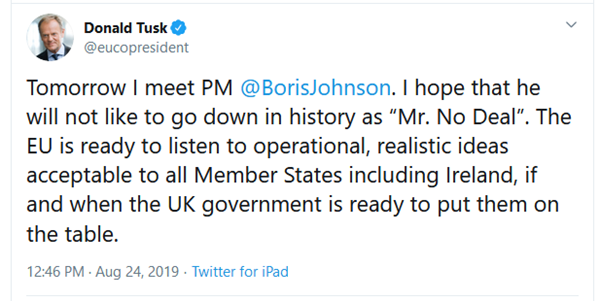 The UK exit from the EU didn't feature in the Prime Minister's press conference speech at the end of the summit but in response to questions he said:

"The EU does tend to come to an agreement right at the end. Clearly for us the walking away, as it were, would come on 31 October when we would take steps to come out … we would have by then made absolutely colossal extensive and fantastic preparations."

"I think that it's the job of everybody in parliament to get this thing done," he said. "I think it's what the people want, I also think by the way it's what our friends and partners on the other side of the Channel want.

"They want this thing done, they want it over.

"You talk to our friends as I have done in the last few weeks and they are very enthusiastic about getting on with the future. They regard Brexit now as an encumbrance, an old argument. They want to talk about the new partnership that we're going to build."

On the issue of the £39 billion 'divorce payment', EU Commission spokeswoman Mina Andreeva said on 26 August;

"All commitments that were taken by the 28 member states should be honoured. This is also and especially true in a no-deal scenario where the United Kingdom would be expected to continue to honour all commitments made during EU membership.

"Rather than going now into a judicial action threat, I think that it is important to make clear that settling accounts is essential to starting a new relationship on the right foot, based on mutual trust."

President of the European Commission Jean-Claude Juncker and Prime Minister Johnson spoke by telephone on 27 August. The Commission published a readout of the call: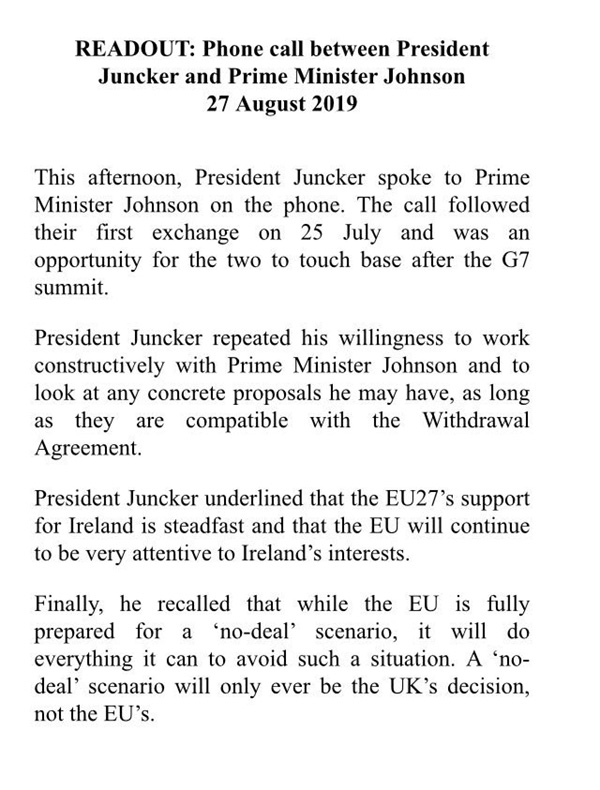 Speaking to Europe 1 Radio on 29 August, European Commissioner for Economic and Financial Affairs Pierre Moscovici said "The British will have to settle their [membership] contributions, and their financial contributions in all circumstances, regardless of whether there's a deal or a no deal."
Once he looks at things more closely, Boris Johnson will realise that these are legal and financial obligations that must be honoured."

Mr Moscovici argued that honouring all financial obligations is a "precondition" to starting a new relationship based on "trust," before adding: "The subject is not up for discussion and cannot be discussed."
ARCHBISHOP JUSTIN WELBY TO CHAIR CITIZENS' FORUM ON BREXIT
On 27 August the Archbishop of Canterbury, the Most Revd Justin Welby issued a statement saying he is willing in principle to chair the proposed Citizens' Forum on Brexit.
His statement said:
"It is an unexpected privilege to be asked to chair this proposed Citizens' Forum on Brexit. In the past this kind of gathering has, in many places and in difficult situations, opened the way for careful deliberation if at the right time and genuinely representative.
"I am honoured to be approached and would be willing to accept in principle, subject to some conditions which have not yet been met. The main three are first, and indispensably, that the forum should not be a Trojan horse intended to delay or prevent Brexit in any particular form. That power can only be exercised by the government and MPs in parliament. A forum must be open to all possibilities. Second, that it has cross party support (although its members will not be politicians). Third, the process must have time to be properly organised….."
BREXIT SECRETARY SPEECH IN PARIS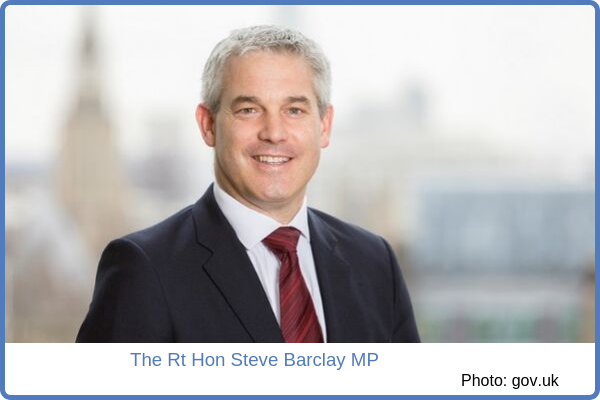 Secretary of State for Exiting the EU Steve Barclay gave a speech on 28 August at the MEDEF Université in Paris. He spoke about the social and economic relationship between UK and France. On Brexit he said;
"Our shared economic future is best served through a deal as the UK leaves the European Union – which we are committed to doing on the 31st October.
It is not just because the backstop has been rejected three times by the UK Parliament that we seek its removal.
As the Prime Minister made clear in his letter to Donald Tusk, and in their subsequent meeting, Parliament will not allow the people of Northern Ireland to be subject to an indefinite period of continued alignment. It would mean Northern Irish voters – UK citizens – being governed by rules in which they have no say.
And since we can only leave the backstop by the agreement with the EU, once it is triggered we could be locked in it forever, something that the UK Attorney General has made clear and which indeed makes it harder to leave the backstop than it does indeed the EU itself.
But the backstop is not the entire Northern Ireland Protocol – it is just the relevant articles relating to alignment. The Northern Ireland Protocol also covers the benefits of the Single Electricity Market. It covers North-South cooperation, the Common Travel Area. None of these require continued regulatory alignment.
So the issues remaining before us are narrower than is often portrayed.
Yet the EU is seeking through the backstop a 100 per cent all-weather guarantee on the future economic partnership before we have even started those negotiations, and with insufficient time to conclude those negotiations because of the way the Article 50 talks were structured.
The backstop has also been universally rejected by one of the two key communities in Northern Ireland, which means it is an unstable basis for power sharing in Northern Ireland. There is ample room - indeed there is a shared responsibility for all - to seek a solution that can enjoy genuine cross-party consent.
We understand the need to protect the integrity of the Single Market.
But it is our firm view that Irish border issues should be dealt with in the talks on the future agreement between the UK and the EU, where they should always have been, and we're ready to negotiate in good faith on that basis.
We will do so with a cast-iron commitment to upholding the Belfast/Good Friday Agreement and preventing a hard border on the island of Ireland. And do not, please, misunderstand that commitment. Together with our friends in Ireland no one is more aware of the need to maintain peace and freedom on the island of Ireland than the UK. For years we have invested too much in it and care too much about it to see anything to put it at risk. And indeed under no scenario will we erect the barriers at the border that would jeopardise its future.
The Belfast/Good Friday Agreement directly impacts UK sovereignty. It has been supported by successive UK Governments of different political parties, and it is a firm commitment of this Prime Minister. Too often the integrity of the single market is presented as a concern about the Good Friday Agreement, as if these two issues are the same. In fact, the single market is clearly the priority for the EU, meaning that it is the EU that will insist on putting up a hard border in the event of a no deal. This is something that everyone wants to avoid and the UK has guaranteed it will never do, even in the event of no deal.
Likewise the UK is often asked for more detail on its proposals. Yet if the test is one of 100% certainty, all-weather, all-of-life insurance, then creative and flexible solutions will always be quickly shot down. Progress requires creativity and flexibility on both sides – including in the application of single market rules.
We recognise the concern about the risk of a backdoor to the single market, but we need to deal with it in a different way, one which reflects the value of democracy that we share. For when politicians ask the people to make a choice, it is the responsibility of the elected representatives to deliver on that choice. It is not, as the PM has said, for politicians to choose which votes they want to act upon and those they would prefer to ignore.
The UK wants to use the Implementation Period to put in place alternative arrangements.
Now the EU says on one hand it wants to look for "creative and flexible solutions on the border in Northern Ireland" – the very words used by the European Council in its own guidelines, yet at the same time refuses to progress work on alternative arrangements until the Withdrawal Agreement has been ratified. Likewise it is quick to dismiss the use of technology as 'magical thinking', while recognising such technology is part of the alternative arrangements which indeed it has agreed to progress.
The EU has used creativity and flexibility in the past, look at the arrangements in Switzerland, look at the arrangements when Germany reunified with the West.
So let's look at this issue afresh as partners.
For if not and we move to a no deal exit, people will question in the future why there was such a lack of flexibility, and indeed why, in the pursuit of a 100 per cent guarantee of no risk on the Irish border at the end of 2020, we made real this risk in November. But if a compromise cannot be found then we have been clear that we are leaving whatever the circumstances on 31st October.
People voted for Brexit and it is important to our democracy that we deliver it. We have stepped up our preparations in the UK significantly under the new Government."
Mr Barclay also met with Tánaiste Simon Coveney at the Irish Embassy in Paris. Following their meeting, he tweeted: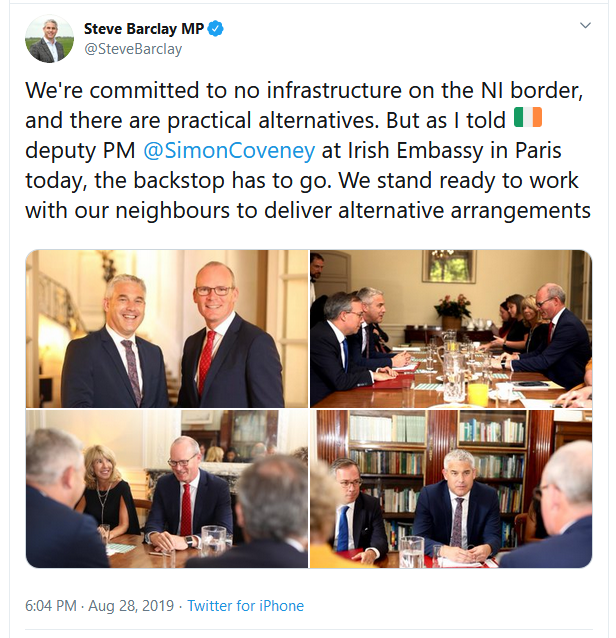 Speaking in Paris, Simon Coveney said:
"As the EU Council has consistently made clear the Withdrawal Agreement, including the now famous backstop, cannot simply be renegotiated. Even if we wanted to do that, which we don't, we can't do it in six or ten weeks.
Prime Minister Johnson's proposal to simply abolish the backstop in the absence of agreed Alternative Arrangements that we can believe will work is something that we cannot and will not support.
Nobody has yet come up with credible arrangements or technical solutions for that matter which could replace those temporary arrangements in the Withdrawal Agreement and the backstop.
We're committed to exploring Alternative Arrangements in the future or now if and when they exist. We want to find a solution that can provide the stability everybody is looking for. That is catered for in the Withdrawal Agreement in terms of review mechanisms.
But these alternative proposals have got to do the same job as the backstop to fulfil the commitments made to the people of Northern Ireland. Ultimately the truth is that the answers lie with Westminster as they have done since Britain voted to leave.
A No Deal...will be the choice of the UK Government and the British parliament collectively if they choose to allow it or indeed to deliberately trigger it. No amount political grandstanding or attempts to shift the blame can change this fact.
Any such No Deal arrangements will clearly be suboptimal to the backstop in terms of fully mitigating the risks posed by Brexit to the border and to the broader peace process in Ireland."
PROROGATION OF PARLIAMENT
Prime Minister Boris Johnson wrote to Conservative MPs on 28 August to advise that that Parliament will be prorogued between 9-12 September and 14 October 2019. Prorogation is a power exercisable by the Queen on the advice of a Prime Minister. The Institute for Government has a handy explainer on prorogation.
Mr Johnson said that he wished to prorogue Parliament in order to facilitate a Queen's Speech on 14 October which would outline a new programme of legislation.
The President of the European Parliament David Sassoli tweeted:

On 9 September, Downing Street confirmed that Parliament would be prorogued after close of business on 9 September until 14 October 2019.
LEGAL CHALLENGES TO PROROGATION
Several applications for judicial review of the prime minister's advice to the Queen to prorogue Parliament have been made – including by the business woman Gina Miller; the SNP's Joanna Cherry; and victims campaigner Raymond McCord.
On 6 September, in the case brought by Gina Millar, the High Court in London rejected the legal challenge to the decision to prorogue Parliament. The decision is being appealed to the Supreme Court.
The legal challenge from the cross party group led by Joanna Cherry QC alleged that it would be illegal and unconstitutional for the prime minister to suspend the Commons to prevent MPs blocking a no-deal Brexit before 31 October. On 11 September, the Court of Session in Scotland ruled that the Prime Minister's prorogation of Parliament is unlawful. The panel of three judges said that the Prime Minister was attempting to prevent Parliament from holding the Government to account ahead of Brexit.
Victims campaigner Raymond McCord also sought an injunction aimed at forcing the Prime Minister to reverse plans to prorogue the House of Commons ahead of 31 October.
Mr McCord is mounting a wider action against any withdrawal from the EU without an agreement, claiming that a no deal exit would breach the Good Friday Agreement and threaten the Northern Ireland peace process. On 11 September, Lord Justice Bernard McCloskey dismissed the case.
A three-judge Court of Appeal, led by Lord Chief Justice Sir Declan Morgan will hear the appeal on 16 September in Belfast.
The Supreme Court will hold a three-day hearing starting on 17 September to hear appeals from the legal challenges in Edinburgh and London and potentially the Belfast case depending on the outcome from the Court of Appeal.
ALTERNATIVE ARRANGEMENTS WORKING GROUP MEETS IN BELFAST
Secretary of State for Business, Energy and Industrial Strategy Andrea Leadsom chaired a meeting of the Business & Unions Alternative Arrangements working group in Belfast on 29 August. A further meeting is planned for September 2019.
IRISH GOVERNMENT BREXIT PREPARATIONS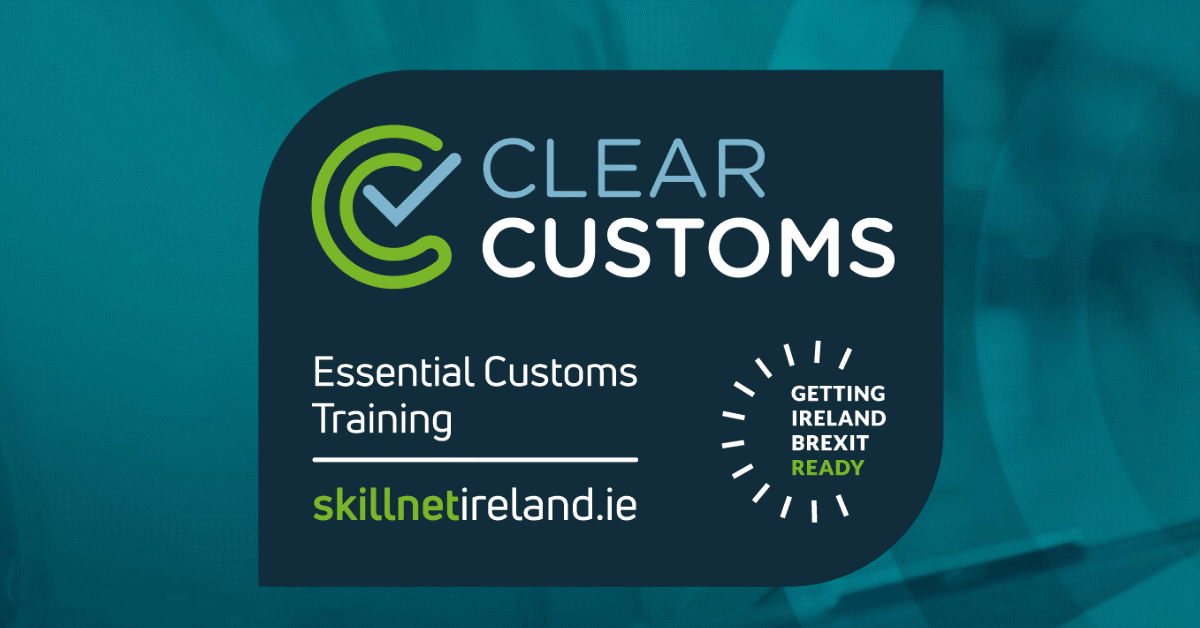 On 7 August 2019, the Irish Government announced a new initiative to help customs capacity post-Brexit. The 'Clear Customs' initiative is designed to help customs agents, intermediaries and affected Irish businesses develop the capacity to deal with the additional customs requirements due to the UK's departure from the EU, notably under No Deal.
The number of customs declarations required is estimated to rapidly increase due to Brexit, from 1.6m annually to an estimated 20m after Brexit.
The initiative, which is being made available immediately to customs agents, intermediaries and eligible businesses free of charge, comprises two elements:
A training programme delivered nationwide over a period of 6 weeks providing the essential skills needed to make a compliant customs declaration.
Eligible businesses can apply for a Customs Financial Support payment to assist with the costs of recruiting and assigning new staff to customs roles. Subject to terms and conditions for eligibility, this payment is up to €6,000 per employee that completes the training programme, up to maximum of 10 employees per company.
Minister for Finance, Paschal Donohoe T.D.: "If you trade with the UK, Brexit will most definitely impact your business. This targeted measure is aimed at supporting and incentivising capacity building in the customs agent sector. This is complementary to the Government's overall efforts to support and facilitate smooth and efficient trade flows. You should make necessary preparations now to minimise disruption to your business come 31 October – register for an EORI number, work out how you are going to make your customs declarations and if you will require a customs agent to assist you."
Commenting on the new initiative, Minister Heather Humphreys T.D. called on businesses to act now before the Brexit deadline: "Many businesses are telling me that it is difficult to plan for a situation that remains so unpredictable. That is understandable. It can be difficult for firms to plan from week-to-week let alone beyond that and into the unknown. Notwithstanding the uncertainty, however, there are several areas where they can take immediate action to prepare. This Clear Customs initiative is one of those areas, so I am advising businesses to start now and not leave it too late."
Minister of State for Training, Skills, Innovation and Research and Development John Halligan T.D. said: "Clear Customs is key to ensuring that businesses are supported to upskill staff rapidly by 31st October 2019 to deal with any new customs challenges. Government recognises the need for support in this area and this free training from Skillnet Ireland is an important step in ensuring businesses are prepared. We are calling on business owners to provide leadership and avail of this opportunity to train their staff in customs clearance procedures, pre-empting Brexit related customs implications for their business."
On 15 August, the Irish Minister for Agriculture, Food and the Marine, Michael Creed T.D. announced a €100 million exceptional aid measure for beef farmers.
The Beef Exceptional Aid Measure (BEAM), funded by a combination of EU exceptional aid and Exchequer support, is to be provided to beef farmers in light of 'market volatility and uncertainty arising out of Brexit'. Online applications can be made from 19 August to 8 September 2019.
The Minister added, "This scheme has been designed to make the application process as user-friendly and accessible as possible for farmers. The prolonged period of depressed prices and ongoing uncertainty surrounding the outcome of Brexit, has led to a difficult period of market disturbance. The BEAM, coupled with the Beef Environmental Efficiency Pilot (BEEP), introduced earlier this year, provides an injection of up to €120m in aid for the beef sector in 2019."
The Government press release states: "BEAM will provide financial aid to Irish beef farmers and is targeted towards those farmers most affected. BEAM is also designed to meet the requirements set out by the Commission, including granting support to farmers engaging in actions which enhance their long-term resilience and sustainability. It is a demand-led, voluntary scheme."
BELFAST CITY COUNCIL DEBATES LEGAL ACTION TO PREVENT PROROGATION OF PARLIAMENT
On 29 August Belfast City Council discussed a motion laid by the SDLP calling for legal action against the UK Government's decision to prorogue parliament.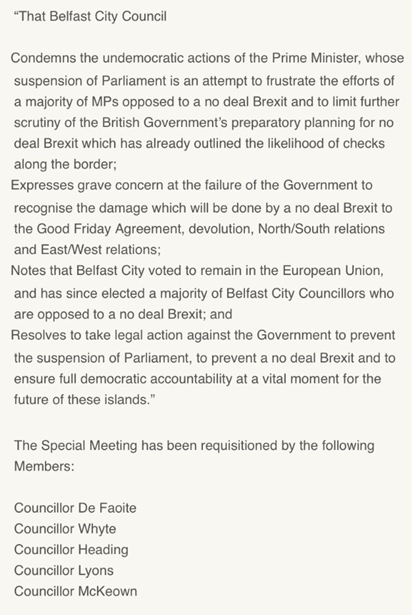 A special council meeting to discuss the motion took place on 2 September 2019. Voting on the motion was – Ayes 12; Noes 18; abstentions 24; and therefore the motion fell.
WELSH GOVERNMENT RESPONSE TO PROROGATION
The Welsh Government's Brexit Minister and Counsel General Jeremy Miles announced on 31 August 2019 that he is intervening in legal proceedings in the High Court supporting Gina Miller's legal challenge to the Prime Minister's advice to the Queen to prorogue Parliament.
Making the announcement, the Counsel General said:
"The Assembly has consented to Brexit-related legislation in Parliament which affect devolved areas on the basis that Parliament would be able to continue to sit to pass those laws.
The prorogation of Parliament deprives MPs of the opportunity to properly scrutinise the UK Government, and to legislate the terms on which the UK leaves the EU should they wish.
Members of the Assembly here in Wales also have a vital role to advise Parliament on how critical areas of Wales's economy and communities will be affected by a no deal Brexit. This cannot be done if the Prime Minister has cut the lines of communication.
I do not make this intervention lightly. As the Law Officer, I have a duty to uphold the rule of law and the constitution. The submissions I have filed at the Court are necessary, appropriate and proportionate to defend Wales interests in Parliament being allowed to sit.
They do not replicate points made by the Claimant, Gina Miller; nor do they seek the right, at this stage, to make oral submissions. My intention is to assist the Court in deciding the legal issues, and to explain why they are of crucial importance to Wales, its people and its legislature."
BREXIT AND DEVOLUTION - INQUIRY
The Welsh Assembly's Constitutional and Legislative Affairs Committee has launched an inquiry Wales' Changing Constitution considering the impact Brexit is having on devolution and the constitution of the UK. The consultation closes on 30 September 2019. The inquiry terms of reference include:
To consider the current scope and application of the Sewel convention in the context of the process of leaving the EU, including:

in relation to primary and secondary legislation,
whether the current Devolution Guidance Notes relating to consent are fit for purpose,
the recent Supreme Court rulings,
how "normally" should be interpreted in section 107(6) of the Government of Wales Act 2006, who should interpret it and how disputes should be resolved,
whether parliamentary procedures should be established to recognise the Convention in the legislative process, and
the experience of other devolved legislatures in the UK and the approach to legislative consent in other countries;

To consider the implications of new levels of UK governance as a result of Brexit on the Welsh devolution settlement, including:

the development of legislative and non-legislative common frameworks,
the development and use of intergovernmental agreements between the UK and Welsh Governments that are emerging as a consequence of Brexit-related legislation, and
the power of UK Ministers under section 109A of the Government of Wales Act 2006 (as introduced by section 12 of the EU Withdrawal Act 2018) to temporarily 'freeze' areas of devolved competence;

To review, as required, the recommendations of the Committee's Brexit-related reports; and
To consider any other matters relating to the UK's constitutional arrangements post Brexit including constitutional reform.
TÁNAISTE PLAYS DOWN TALK OF A LAST MINUTE BREXIT DEAL
Speaking on 2 September at an event in Cork, Tánaiste Simon Coveney played down the prospect of the UK and EU reaching a last minute deal on the UK's exit from the EU:
"I don't see how any EU Council meeting is going to be able to redesign a withdrawal agreement of the complexity of this withdrawal agreement which is a legal document which runs to many, many pages - even the Irish protocol on its own is complex.
"If you take out one essential element which is part of the balance and compromise of that withdrawal agreement without having a properly thought through alternative arrangement - well then, the withdrawal agreement starts to fall apart."
"We have spent many many months looking at alternatives to the backstop but the backstop was actually designed because of British red lines because it was a British ask that resulted in the backstop, not anybody else's."
"We are going to have a pretty intense discussion on Brexit in Cabinet tomorrow. I'm bringing a Brexit memo, as I do to almost every Cabinet meeting in terms of updating my colleagues on the state of preparedness in Ireland and what we need to do.
"We are assessing Brexit on a daily basis and the Government will make a collective decision as to when we move from a default position of there being a deal to a default position of there being a no deal and if we think it's right to do it.
"And when we feel the Government needs to move into that space, certainly we won't hesitate to do that and we will I think be making decisions on that issue in the next couple of weeks."
MPs DRAW UP LEGISLATION TO PREVENT A NO DEAL BREXIT
On 2 September, a group of MPs published draft legislation which would require the Prime Minister to request a further extension of the Article 50 period to 31 January 2020. The European Union (Withdrawal) (No. 6) Bill 2019 would require the PM to request the extension unless the House of Commons has agreed a Withdrawal Agreement or agreed to leave the EU without a deal.
If the House has not agreed either of these scenarios, the Prime Minister must, by 19 October (i.e. the day after the European Council meeting concludes), send a letter to the President of the European Council requesting an Article 50 extension until 31 January 2020. If the European Council agrees to an extension to the 31 January 2020, then the Prime Minister must immediately accept that extension. If the European Council proposes an extension to a different date then the Prime Minister must accept that extension within two days, unless the House of Commons rejects it.
The Bill was presented to Parliament by Labour MP Hilary Benn.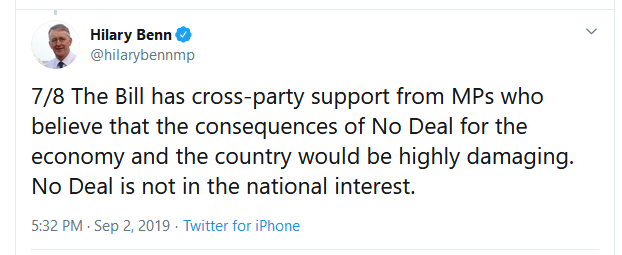 Speaking on the steps of Downing Street on 2 September, the Prime Minister said:
"…… And as we come to that Brexit deadline I am encouraged by the progress we are making. In the last few weeks the chances of a deal have been rising, I believe, for three reasons.
They can see that we want a deal.
They can see that we have a clear vision for our future relationship with the EU - something that has perhaps not always been the case.
And they can see that we are utterly determined to strengthen our position by getting ready to come out regardless, come what may
But if there is one thing that can hold us back in these talks it is the sense in Brussels that MPs may find some way to cancel the referendum. I don't think they will. I hope that they won't. But if they do they will plainly chop the legs out from under the UK position and make any further negotiation absolutely impossible.
I want everybody to know – there are no circumstances in which I will ask Brussels to delay. We are leaving on 31 October, no ifs or buts. We will not accept any attempt to go back on our promises or scrub that referendum
Armed and fortified with that conviction I believe we will get a deal at that crucial summit in October. A deal that parliament will certainly be able to scrutinise
And in the meantime let our negotiators get on with their work without that sword of Damocles over their necks and without an election, which I don't want and you don't want…… "
The Bill completed all its parliamentary stages on 6 September 2019 and was granted Royal Assent on 9 September 2019 becoming the European Union (Withdrawal) (No. 2) Act 2019.
COMMONS VOTES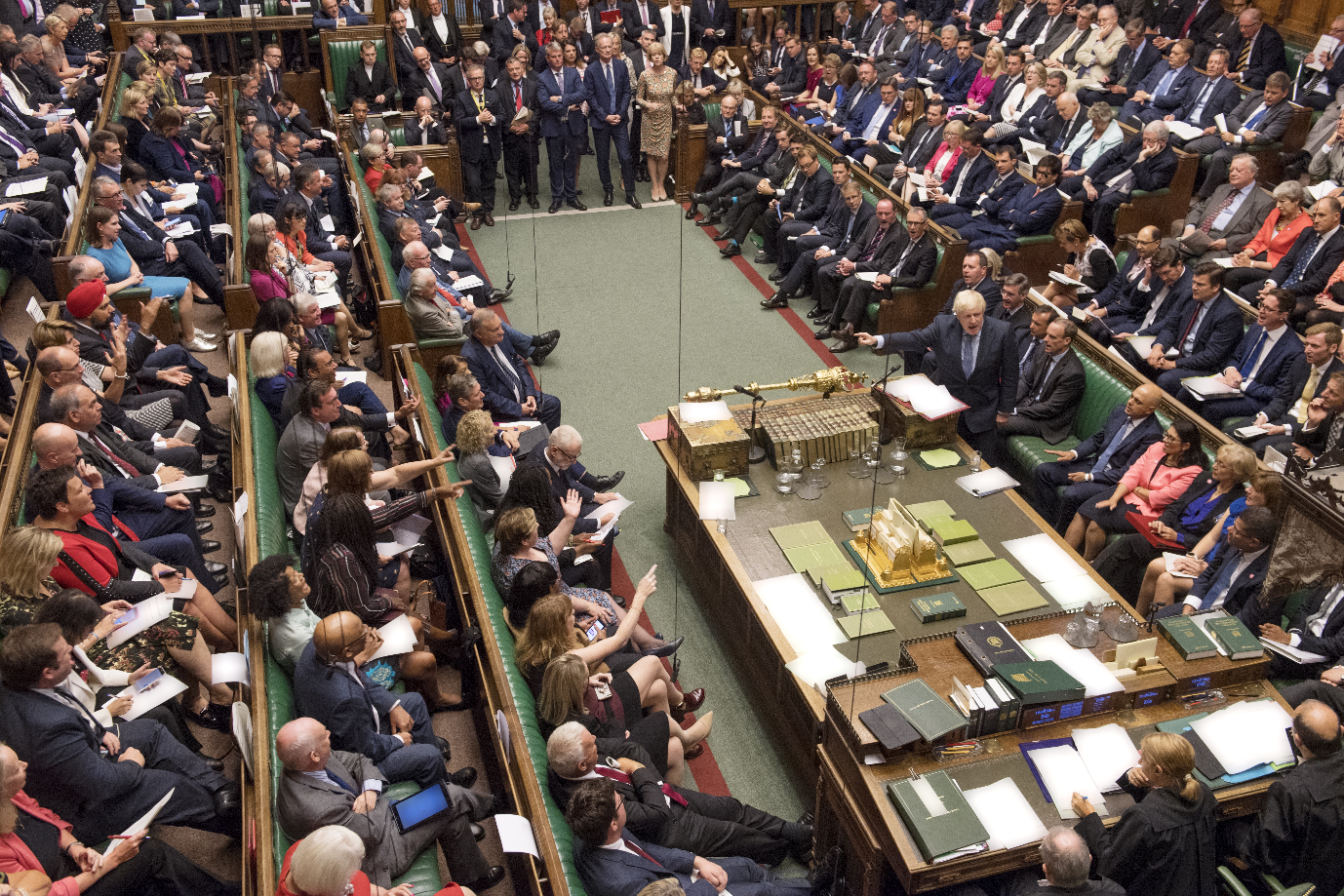 Photo: UK Parliament
On 3 September, the House of Commons voted on a motion to take control of the parliamentary agenda for Wednesday 4 September in order to be able to introduce the European Union (Withdrawal) (No. 6) Bill 2019 which seeks to prevent the UK leaving the EU without a deal.
The Government opposed the motion. The motion passed 328 votes to 301 with 21 Conservative MPs rebelling against the Government. The party whip was withdrawn from these MPs meaning that they now sit an independent MPs can cannot stand for the Conservative party in an election.
Speaking in the Commons following the vote, the Prime Minister said:
"… Let there be no doubt about the consequences of this vote tonight. It means that Parliament is on the brink of wrecking any deal that we might be able to strike with Brussels, because tomorrow's Bill would hand control of the negotiations to the EU. That would mean more dither, more delay and more confusion, and it would mean that the EU itself would be able to decide how long to keep this country in the EU.
Since I refuse to go along with that plan, we are going to have to make a choice. I do not want an election. The public do not want an election. I do not believe the right hon. Member for Islington North (Jeremy Corbyn) wants an election. But if the House votes for the Bill tomorrow, the public will have to choose who goes to Brussels on 17 October to sort this out and take this country forward. Everybody knows that, if the right hon. Gentleman is the Prime Minister, he will go to Brussels and beg for an extension, he will accept whatever Brussels demands, and we will have years more arguments over Brexit. By contrast, everyone knows that, if this Government are in charge and I go to Brussels, I will go for a deal and I believe I will get a deal, and we will leave anyway—even if we do not, we will leave anyway on 31 October.
The people of this country will have to choose. The Leader of the Opposition has been begging for an election for two years. He has crowds of supporters outside calling for an election. I do not want an election, but if MPs vote tomorrow to stop negotiations and to compel another pointless delay to Brexit, potentially for years, that would be the only way to resolve this, and I can confirm that we are tonight tabling a motion under the Fixed-term Parliaments Act 2011."
Responding to the Prime Minister, Labour leader Jeremy Corbyn said:
"… I welcome tonight's vote. We live in a parliamentary democracy. We do not have a presidency; we have a Prime Minister. Prime Ministers govern with the consent of the House of Commons representing the people in whom sovereignty rests. There is no consent in this House to leave the EU without a deal. There is no majority for no deal in the country. As I have said before, if the Prime Minister has confidence in his Brexit policy—when he has one he can put forward—he should put it before the people in a public vote. So he wants to table a motion for a general election. Fine—get the Bill through first in order to take no deal off the table."
The Government was defeated in two votes in Parliament on 4 September. MPs in the House of Commons agreed the European Union (Withdrawal) (No. 6) Bill 2019. The Prime Minister then led the debate on his motion to hold an early general election which would require at least two-thirds of MPs (434) to agree. The House of Commons rejected the motion with 298 ayes and 56 noes failing to meet the two-thirds requirement.
Speaking in Wakefield on 5 September, the Prime Minister said:
"We want an election on October 15 and indeed earlier - I really don't see how you can have a situation in which the British ability to negotiate is absolutely torpedoed by Parliament."
Mr Johnson added that he'd "rather be dead in a ditch" than ask the EU to delay Brexit beyond 31 October.
PRIME MINISTER REMARKS ON ALL IRELAND AGRI-FOOD MARKET
Making a statement to the House of Commons on 3 September on his attendance at the G7 meeting in Biarritz, Prime Minister Johnson said;
…. In the last few weeks, I believe that the chances of a deal have risen. This week, we are intensifying the pace of meetings in Brussels. Our European friends can see that we want an agreement and they are beginning to reflect that reality in their response. ….. I quote President Macron of France, who said:
"If there are things which, as part of what was negotiated by Michel Barnier, can be adapted and are in keeping with the two objectives I've…mentioned, stability in Ireland"—
which we all support—
"and the integrity of the single market—we should identify them in the coming months."
Is that the negative spirit of those on the Opposition Benches? No, it is not. And speaking in Berlin of possible alternatives to the backstop, Chancellor Merkel of Germany said:
"Once we see and say this could be a possible outcome, this could be a possible arrangement, this backstop as a sort of placeholder is no longer necessary."
…. There are practical arrangements that we can find which avoid anyone putting infrastructure on the Irish border …. These have been well worked out and involve measures such as trusted trader schemes, transit provisions, frontier zones, reduced bureaucracy for small and local traders, and many others.
In particular, we recognise—[Interruption.] I advise Opposition Members to pay attention to what is being said. We recognise that for reasons of geography and economics, agri-food is increasingly managed on a common basis across the island of Ireland. We are ready to find a way forward that recognises this reality, provided that it ​clearly enjoys the consent of all parties and institutions with an interest. We will discuss that with the EU shortly, and I will discuss it with the Taoiseach, Leo Varadkar, when I see him in Dublin on Monday.
It is simply wrong to say that we are not making progress. There is a lot to do in the coming days, but things are moving. A major reason for that is that everyone can see that this Government are utterly determined to leave the EU on 31 October, come what may, without a deal if necessary. That is why over the summer my right hon. Friend the Chancellor of the Duchy of Lancaster has been leading the Government's efforts, seven days a week, to accelerate our national preparations for that possibility. He will make a statement on that subject shortly. My right hon. Friend the Chancellor has made all the necessary funds available. We have already reached agreements with our partners to roll over trade deals worth around £89 billion of exports and imports. We have secured air services agreements around the world. We have increased the capacity of our Border Force, strengthened the resilience of our ports, bolstered our freight capacity and worked in meticulous detail to ensure the uninterrupted supply of critical goods, including medicines. We will be ready.
I returned from the G7 with real momentum in the Brexit discussions. I want to return from next month's European Council in a similar way, with a deal that this House can debate, scrutinise and endorse in time for our departure on 31 October. But there is one step that would jeopardise all the progress that we have made in the G7 and around the capitals of Europe, and that is if this House were to decide that it was simply impossible for us to leave without a deal and to make that step illegal. [Interruption.] That is what they want—to undermine our negotiations; to force us to beg for yet another pointless delay. If that happens, all the progress we have been making will have been for nothing….. "
SCOTTISH GOVERNMENT CONTINUITY BILL
Announcing the Scottish Government's Programme for Government on 4 September, First Minister Nicola Sturgeon stated that the Government will introduce a 'Continuity Bill' which will provide the ability to maintain alignment with EU law in devolved areas after Brexit. Speaking in Parliament, Ms Sturgeon said:
"….. The Scottish Government will continue to work with others to try to block a no-deal Brexit – and to prevent Scotland being removed from the EU at all.
But we have to plan for all eventualities.
This year's legislative programme includes two measures which are directly linked to Brexit.
The Rural Support Bill will enable us to modify elements of retained EU law which relate to the Common Agricultural Policy. It will also provide us with new powers for the collection of agricultural data. These powers will be needed if Scotland has to leave the EU, since we would seek to simplify and improve CAP legislation.
The Continuity Bill will allow the Scottish Government and Parliament to align devolved law with EU law.
In particular, it will provide us with the power to keep pace with changes to regulations and standards which are subsequently made by the EU. By doing so, it will send a clear signal about Scotland's desire and our ability to rejoin the EU.
Alongside these crucial legislative steps, we will continue to plan for the possibility of a no-deal Brexit – with a focus on ensuring continuity of medicine and food supplies, and providing reassurance and support for EU citizens.
As long as no deal remains a risk, we will do everything we can to ensure that Scotland is as prepared as we can be. However, unlike the UK government, we will be honest about the inability to prevent all of the harm that a catastrophic no-deal Brexit would inflict.
Presiding Officer, it is also worth making the point that these measures, although vital, are about mitigation – about making UK Government decisions less damaging than they might otherwise be.
But mitigating bad Westminster decisions should not be what this Parliament is about.
We should be focussing all of our energies on the positive decisions that will secure the best future for our country."
EUROPEAN COMMISSION ON BREXIT PREPAREDNESS
On 4 September, the European Commission issued its 6th Brexit preparedness Communication and reiterated its call on all stakeholders in the EU27 to prepare for a 'no-deal' scenario.
The Communication says that "In light of the continued uncertainty in the United Kingdom regarding the ratification of the Withdrawal Agreement – as agreed with the UK government in November 2018 – and the overall domestic political situation, a 'no-deal' scenario on 1 November 2019, remains a possible, although undesirable, outcome."
The Commission published a checklist for businesses which trade with the UK. The Communication says "In order to minimise disruption to trade, all parties involved in supply chains with the UK – regardless of where they are based – should be aware of their responsibilities and the necessary formalities in cross-border trade."
The Commission has proposed to the European Parliament and the Council to:
Extend the scope of the European Solidarity Fund to cover the serious financial burden that may be inflicted on Member States by a 'no-deal' scenario, subject to certain conditions.
Ensure that the European Globalisation Adjustment Fund is available to support workers and self-employed persons who are made redundant as a result of a 'no-deal' scenario, subject to certain conditions
On Ireland, the Commission's Communication says:
"The Commission and Ireland continue working together, in the context of the unique situation on the island of Ireland and their twin objectives of protecting the integrity of the internal market while avoiding a hard border, to identify arrangements both for contingency solutions for the immediate aftermath of a withdrawal without an agreement and for a more stable solution for the period thereafter. The backstop provided for by the Withdrawal Agreement is the only solution identified that safeguards the Good Friday Agreement, ensures compliance with international law obligations and preserves the integrity of the internal market."
INTERPARLIAMENTARY FORUM ON BREXIT MEETS
The Interparliamentary Forum on Brexit held its 8th meeting on 5 September in the House of Commons. The Forum provides an opportunity for interparliamentary dialogue between legislatures to support more effective scrutiny of Brexit related issues. Officials from the Northern Ireland Assembly attend as observers.
Members agreed a joint letter to the newly appointed Chancellor of the Duchy of Lancaster, Rt Hon Michael Gove, regarding the scrutiny role for UK and devolved parliaments and inviting him to attend the Forum at a future meeting. The Forum also discussed the role of devolved institutions in the negotiation of international agreements. Participants agreed the following statement:
"There remains great uncertainty about how the Brexit process will develop. The Forum's strength is in its ability to bring together Members of differing political backgrounds from across the UK to discuss important questions relating to Brexit and devolution. The Forum has written to the new Chancellor of the Duchy of Lancaster, Rt Hon Michael Gove, to reiterate its recommendations for the UK and devolved parliaments to have a role in scrutinising intergovernmental relations as part of the JMC review.
We had a productive discussion on the importance of developing mechanisms for greater parliamentary scrutiny of governments in their negotiation of future international treaties and other agreements including the importance of timely and regular information sharing with regards to the UK governments' negotiating mandate.
The Forum agreed that parliamentary scrutiny of international treaties is a matter for all of the legislatures of the UK and have asked officials to consider models for scrutiny across the legislatures.
We intend to meet again in Cardiff in November 2019."
PRIME MINISTER AND TAOISEACH MEET IN DUBLIN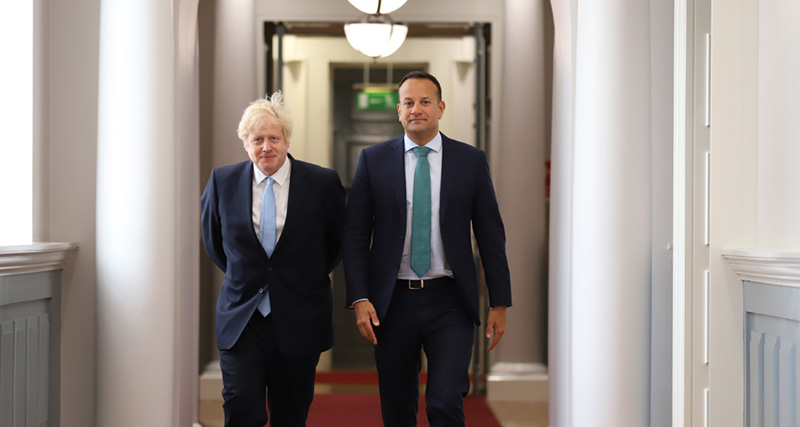 Photo: Merrion Street
Prime Minister Boris Johnson met with Taoiseach Leo Varadkar in Dublin on 9 September.
The Taoiseach said:
"First of all, allow me to say that we respect the democratic and sovereign decision of the British people to leave the European Union.
We meet this morning at a point where the stated intention of the British Government is to leave the EU on 31 October, with or without a deal.
However, the story of Brexit will not end if the United Kingdom leaves on 31st October or even January 31st - there is no such thing as a clean break. No such thing as just getting it done. Rather, we just enter a new phase.
If there is No Deal I believe that's possible, it will cause severe disruption for British and Irish people alike. We will have to get back to the negotiating table. When we do, the first and only items on the agenda will be citizens' rights, the financial settlement and the Irish border. All the issues we had resolved in the Withdrawal Agreement we made with your predecessor. An Agreement made in good faith by 28 governments.
If there is a Deal, and I think that is possible, we will enter talks on a Future Relationship Agreement between the EU and UK. It's going to be tough dealing with issues ranging from tariffs, to fishing rights, product standards and state aid. It will then have to be ratified by 31 parliaments.
Prime Minister, negotiating Fat's with the EU and US and securing their ratification in less than three years is going to be a Herculean task for you. We want to be your friend and ally, your Athena, in doing so.
The manner in which you leave the EU will determine if that's possible.
I am ready to listen to constructive ways to achieve our agreed goals and resolve the current impasse. But what we cannot do, and will not do, is replace a legal guarantee with a promise. Our businesses need long-term certainty. And the people of this island, North and South, need to know that their livelihoods, their security and their sense of identity will not be put at risk as a consequence of a hard Brexit.
The stakes are high. Avoiding the return of a hard border on this island and protecting our place in the single market are the Irish Government's priorities in all circumstances.
We must protect peace on the island and the burgeoning success of the all-island economy. This is why the backstop continues to be a critical component of the Withdrawal Agreement, unless and until an alternative is found.
Yes, we are open to alternatives. But they must be realistic ones, legally binding and workable. We have received no such proposals to date.
Prime Minister we have spoken twice by phone already. I know we have a shared desire to see the Northern Ireland institutions restored. The Tánaiste and Secretary of State are already working closely together on that. The Good Friday Agreement is proof that old foes can come together to deal with the most intractable of problems. As co-guarantors of the Agreement, I look forward to exploring with you, how working with the Northern Ireland parties, we can restore power-sharing and devolution.
Today I am confident about finding common ground. I am also determined to defend the all island economy, peace, and all that we value….."
In his speech, the Prime Minister said:
"………. I know that this problem of Brexit was not, to be perfectly frank, a conundrum that Ireland ever wished for and I think there are three basic questions we need now to answer for the sake of our collective peace of mind.
Can we ensure that we continue to have unchecked movement at the border of goods and people and indeed cattle? I think the answer is yes – and as someone who went to the border several times before the Good Friday agreement, and shuddered to see watchtowers on UK soil, I can say now that the UK will never ever institute checks at the border, and I hope our friends in the EU would say the same.
Can we uphold the Belfast Good Friday agreement in all its particulars? Again I say the answer is yes, and our commitment to the peace process is unshakeable. Can we protect the economic unity of the island of Ireland and the gains that Ireland has won through its membership of the EU single market? And again I think the answer is yes – and I think we can achieve all these things while allowing the UK to withdraw whole and entire from the EU.
And of course I acknowledge the complexities involved. And the symbolism and the sensitivities evoked by the very concept of a border. But strip away the politics and at the core of each problem you find practical issues that can be resolved. With sufficient energy and a spirit of compromise, and indeed even the current treaty must logically envisage that the problems can be solved, or the present protocol would never have been called a backstop.
So if I have one message that I want to land with you today Leo, it is that I want to find a deal. I want to get a deal. Like you, I've looked carefully at no deal. I have assessed its consequences, both for our country and yours. And, yes, of course, we could do it, the UK could certainly get through it. But be in no doubt that it would be a failure of statecraft for which we would all be responsible and so, for the sake of business, and farmers, and for millions of ordinary people who are now counting on us to use our imagination and creativity to get this done, I would overwhelmingly prefer to find an agreement.
Our governments have spent three years masticating this problem. I think it is time to honour the achievements of our predecessors who tackled far worse problems by cracking this one ourselves. I won't say that we can do it all today, but I believe there is a deal to be done by Oct 18. Let's do it together."
The two Governments issued a joint statement following their meeting:
The Prime Minister and the Taoiseach had a positive and constructive meeting in Government buildings this morning. This was an essential and timely opportunity for the Prime Minister and the Taoiseach to establish a relationship and a better understanding of each other's positions.
They spoke privately over breakfast for more than half an hour before joining their delegations for another half hour meeting.
While they agreed that the discussions are at an early stage, common ground was established in some areas although significant gaps remain.
The UK and Ireland are committed to securing an agreement between the European Union and the UK, and recognise that negotiations take place through the Brussels Task Force.
They also shared their commitment to the Belfast/Good Friday Agreement and the restoration of the power-sharing institutions in Northern Ireland.
They look forward to meeting each other again in the near future.
MPs USE HUMBLE ADDRESS MOTION
On 9 September, a number of MPs signed a 'humble address' asking that the Queen direct Ministers to lay before the House of Commons all correspondence and communications (including communication via social media channels) relating to the prorogation of Parliament and also all documents relating to Operation Yellowhammer which have been submitted to Cabinet or Cabinet Committee.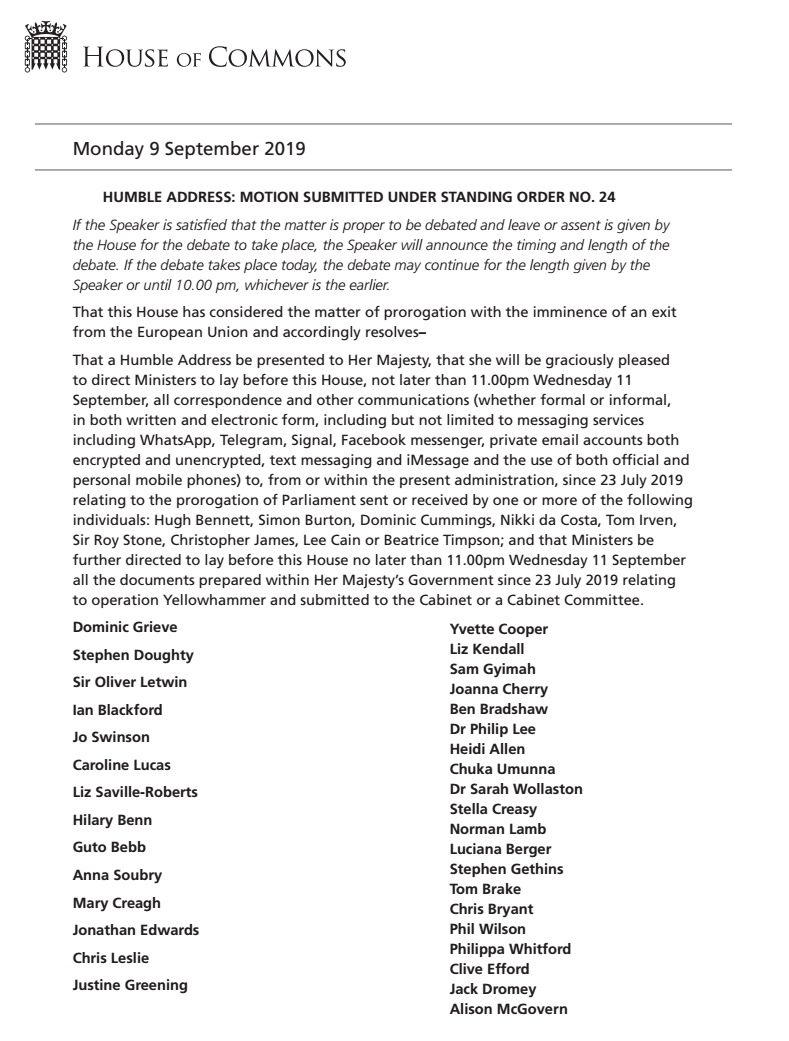 The motion was debated and voted upon Ayes: 311 and Noes: 302 and therefore the motion was agreed by the House.
GOVERNMENT DEFEATED ON MOTION FOR EARLY ELECTION
On 9 September, the Prime Minister brought a motion to the House to seek an early election. The motion was debated and voted upon. The provisions of the Fixed Term Parliaments Act 2011 meant that the motion required the support of two thirds of the House.
The vote results were Ayes: 293 and Noes: 46 so did not meet the majority required.
Speaking after the outcome of the vote, the Prime Minister said:
"On a point of order, Mr Speaker. I earlier urged the House to trust the people, but once again the Opposition think they know better. They want the British Prime Minister to go to a vital negotiation without the power to walk away. They want to delay Brexit yet again, without further reference to those who voted for it, handing over to Brussels an extra £250 million a week for no purpose—enough to upgrade more than five hospitals or train 5,000 new nurses. And most egregiously of all, not only have they refused to choose the way ahead; they have now twice denied the British people their say in an election. The House cannot choose; it will not let anyone else choose. It resolves only to be irresolute and decides only to be undecided, determined to dither, adamant for drift, so now the House will move to adjourn and resume with the state opening and the Queen's Speech on 14 October. I hope the Opposition will use that time to reflect. Meanwhile, the Government will press on with negotiating a deal, while preparing to leave without one. I will go to that crucial summit in Brussels on 17 October, and no matter how many devices this Parliament invents to tie my hands, I will strive to get an agreement in the national interest.
This Government will not delay Brexit any further. We will not allow the emphatic verdict of the referendum to be slowly suffocated by further calculated drift and paralysis. While the Opposition run from their duty to answer to those who put us here, they cannot hide forever. The moment will come when the people will finally get the chance to deliver their verdict on how ​faithfully this House executed their wishes, and I am determined that they will see that it was this Government who were on their side."
Leader of the Opposition Jeremy Corbyn said:
"On a point of order, Mr Speaker. [Interruption.] I think we have had quite enough playground politics from the Conservative party this evening. The one thing the Prime Minister did not say was that he was going to obey the law of this country. He did not say that he acknowledged or accepted three votes that have taken place in this Parliament. At his request, the House is now apparently due to be prorogued this evening for one of the longest prorogations in history simply in order to avoid any questioning of what he is doing or not doing, simply to avoid discussion about Yellowhammer, and particularly to avoid any discussion about the proposals that have been put to the European Union that he has or does not have or that do or do not exist. This Government are a disgrace, and the way the Prime Minister operates is a disgrace—[Interruption.] I hope that the Prime Minister will reflect on proroguing and shutting down Parliament to avoid a Government being held to account, because that is exactly what is doing today and proposes to do to this country."
VON DER LEYEN COMMISSION NOMINATIONS ANNOUNCED
Incoming President of the European Commission Ursula von der Leyen announced her nominations for the new European Commission on 10 September.
Irish Commissioner Phil Hogan is nominated to take over the Trade portfolio. He is the current Commissioner for Agriculture and Rural Development. He will be working with former Brexit deputy negotiator Sabine Weyand who is the Director-General of the Commission's Trade department. Mr Hogan's new portfolio means that he will take charge of the negotiations with the UK on creation of a long-term trade agreement between EU and UK.
Speaking to the Irish Times after his nomination, Mr Hogan said:
"Mr Johnson has made a proposal in the last few days talking about an all-Ireland food zone. That is certainly a clear indication of divergence between Northern Ireland and the Republic of Ireland, the EU and the rest of the UK. This is the first time that this has been spoken about by a British prime minister where they are prepared to accept some level of divergence between Northern Ireland and the rest of the UK.
"If we can build on that we certainly might get closer to one another in terms of a possible outcome."
There is some way to go, he admits, insisting that the EU would not accept a partial backstop. "It would have to include all goods . . . in terms of any agreement," he says.
"I remain hopeful that the penny is finally dropping with the UK that there are pragmatic and practical solutions can actually be introduced into the debate at this stage – albeit at the eleventh hour – that may find some common ground between the EU and the UK."
Commissioners-designate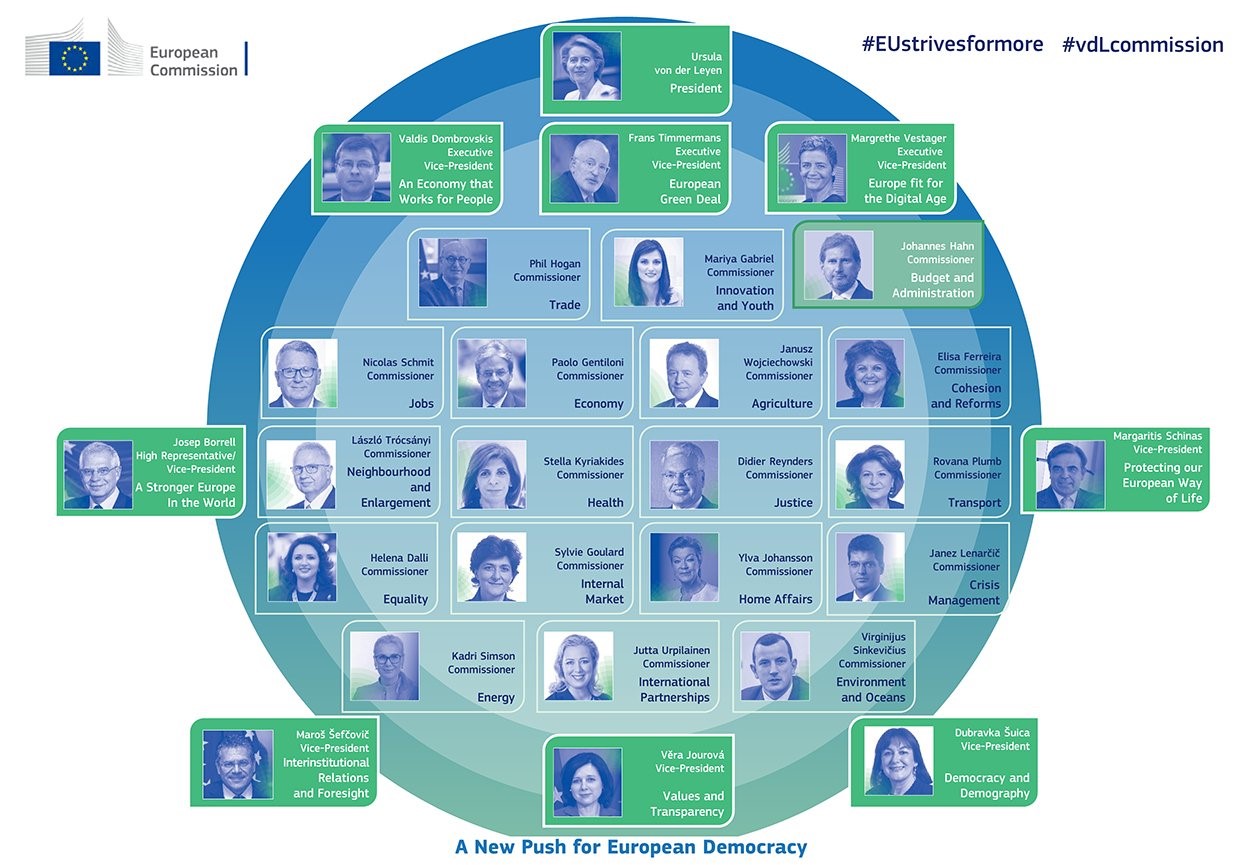 The European Parliament has to give its consent to the entire College of Commissioners following hearings with the Commissioners-designate in the relevant committees. Once the European Parliament has given its consent, the European Council formally appoints the European Commission.
Ms von der Leyen has said that if the Brexit deadline is extended, then the UK will have to put forward a commissioner. She also said that Michel Barnier's time as chief Brexit negotiator could be extended if there is an extension to Article 50.
"Michel Barnier did an outstanding job. We will need his expertise. I will discuss with him a prolongation but it is also very much depending on what kind of certainty we have on 1 November."
BREXIT LEGISLATION
The UK Government prepared a suite of legislation in preparation for EU exit.
Acts already made:
Legislation which had been introduced but fell with prorogation (and must be re-introduced into a new Parliament):
Not yet introduced:
Animal Welfare (Sentencing and recognition of sentience) Bill
EU (Withdrawal Agreement) Bill
WHAT'S NEXT?

Sept 10 – Oct 13: Prorogation of Parliament
Sept 14-17: Liberal Democrat conference
Sept 21 – 25: Labour Party conference
Sept 29 – Oct 2: Conservative Party conference
Oct 4 – 6: Green Party conference
Oct 4 – 5: Plaid Cymru conference
Oct 13 – 15: Scottish National Party conference
Oct 14: State opening of Parliament and Queen's speech
September – October: Appointment of new College of Commissioners at the European Commission
October 17-18: European Council meeting
October 31: UK leaves the EU (if the Withdrawal Agreement isn't ratified before this date)
November 1: New President of the European Commission takes up office
December 1: New President of EU Council takes up office