Brexit Brief Newsletter
July 2019

It may be summer and time for holidays (for most people!), but there's still plenty to report in this issue of the Brexit Brief. We have developments in devolution and the impact of Brexit; new data on Northern Ireland's trade and investment in a 'no deal' scenario; news on the Northern Ireland (Executive Formation) Bill and amendments to ensure that Parliament will be meeting in the run-up to 31 October; and of course information on the new Prime Minister Boris Johnson and his cabinet appointments.
INTERGOVERNMENTAL RELATIONS AND DEVOLUTION
On 3 July the then Minister for the Cabinet Office and Chancellor of the Duchy of Lancaster David Lidington laid a written statement in Parliament which included details of a set of draft principles for intergovernmental relations. The review of intergovernmental relations was commissioned by the Joint Ministerial Committee (Plenary), consisting of the Prime Minister and the First Ministers of Scotland and Wales on 14 March 2018.
Mr Lidington said:
"The UK Government and the devolved Administrations continue to work closely with on this joint review of the existing memorandum of understanding between us.
The draft principles for intergovernmental relations were developed jointly by a working group of representatives of all four administrations. The principles are intended to establish a solid foundation for the ways in which all four administrations will work together in the future. They will be presented for formal adoption to a future ​Joint Ministerial Committee (Plenary) and, subject to the timing of its re-establishment, to a new Northern Ireland Executive for its endorsement.
The UK Government and the devolved Administrations are committed to making rapid and substantive progress on the review. This will include agreeing a joint plan of next steps, developing a clear timeline covering all four remaining workstreams of the review. This will focus in particular on dispute avoidance and exploring options for an independent element in the process for resolving any future intergovernmental disputes which might arise".
The 'Agreement on Joint Working' included a draft set of principles for intergovernmental relations:
A. Maintaining positive and constructive relations, based on mutual respect for the responsibilities of governments across the UK and their shared role in the governance of the UK
B. Building and maintaining trust, based on effective communication
C. Sharing information and respecting confidentiality
D. Promoting understanding of, and accountability for, their inter-governmental activity
E. Resolving disputes according to a clear and agreed process
This statement of principals builds on and sits alongside the existing Memorandum of Understanding (MoU) between the governments and will inform its future development.
In response to Mr Lidington's statement and the draft principles on joint working, the Scottish and Welsh Governments sent a joint letter to David Lidington on 4 July calling for immediate steps to improve "the current "weak and ineffective" government structures, guarantee respect for devolved responsibilities and strengthen the dispute resolution process."
The letter from Jeremy Miles, Counsel General and Brexit Minister for the Welsh Government and Mike Russell, Cabinet Secretary for Government Business and Constitutional Relations for the Scottish Government said:
"… Whether or not the UK leaves the EU, there is an urgent need for fundamental reform of the relationship between our governments. Even before the referendum there was a widespread consensus that the intergovernmental structures are weak and ineffective. The experience of repeated failures to involve the devolved governments properly in the negotiations further demonstrates how urgent that task of reform has become.
Given this background, it is deeply disappointing that the intergovernmental relations review commissioned fifteen months ago has made so little progress. This, in our view, is almost entirely due to the lack of a commitment to reform on the part of the UK Government. The Welsh Government set out a comprehensive set of proposals over two years ago. The Scottish Government has set out its own proposals on a number of occasions and will shortly do so again in a dedicated publication.
Against this backdrop, we therefore urge that a meeting of Heads of Government at JMC(P) [Joint Ministerial Committee in plenary format] be convened as soon as practicable in order to discuss these proposals and agree a programme of reform with a clear timetable. That programme will of course be essential if the draft principles are to have any practical effect.
That programme of reform must include:
reformed machinery which is robust enough to bear the weight of intergovernmental working now required and as replacement for the current inadequate architecture;
a strengthened dispute resolution process which both reflects the discussion on the use of independent advice and arbitration and delivers real parity of participation – a fundamental shortcoming of the current arrangements;
arrangements which guarantee respect for devolved responsibilities, in contrast to the statements being made by candidates for leadership of your party which are clearly incompatible with devolution and threaten to undermine co-operation between our governments;
arrangements to provide certainty that decisions made by devolved institutions, including in relation to legislation on devolved matters, are fully respected……."
THERESA MAY ANNOUNCES A REVIEW OF DEVOLUTION
On 4 July the then Prime Minister Theresa May announced a review of devolution to be chaired by former Scotland Office Minister Lord Andrew Dunlop. The review will recommend improvements to inter-governmental relations, specifically on how UK Government departments co-operate on devolution.
Announcing the view in a speech on the Union in Stirling, Mrs May said
"There have been several reviews into how devolution works. But we have never thought deeply about how we make the Union work – how we ensure that as we fully respect devolution, we do not forget the UK Government's fundamental duty to be a government for the whole United Kingdom of Great Britain and Northern Ireland.
That is why I have asked Andrew Dunlop to lead an independent review into the structures of the UK Government to ensure that they are set up to realise fully all the benefits of being a United Kingdom.
Lord Dunlop has a wealth of experience from his time in Government as an advisor and Minister and I look forward to reading his report.
Of course it will be for my successor to respond to his recommendations, and I am delighted that both candidates are supportive of the review.
I am confident that whoever succeeds me in 10 Downing Street will make the Union a priority."
Commenting on the announcement of the review, Chair of the House of Commons Public Administration and Constitutional Affairs Committee Sir Bernard Jenkin MP said:
"Our report [The Committee's 2018 report 'Devolution and Exiting the EU: reconciling differences and building strong relationships'] made clear that devolution is a significant feature of the UK constitutional architecture and should be treated with respect to maintain the integrity of the United Kingdom. We called on the Government to conduct a review how Whitehall relates to devolved governments.
"It is therefore heartening to see the Prime Minister announce an independent review into existing Whitehall structures, with the aim of ensuring the Union benefits all parts of the United Kingdom. My Committee will be closely examining the terms of reference for the review to ensure it can achieve the task it has been set.
"It is vital that her successor commits to providing Lord Dunlop with all the resources he needs to undertake this essential work, and my Committee will be following his efforts with interest."
Tweeting in response to news of the review, First Minister of Scotland Nicola Sturgeon said:
First Minister of Wales Mark Drakeford said Mrs May's government was "very late in the day in coming to a serious discussion about the future of the United Kingdom".
He added, "The Welsh Government, and working with the Scottish Government, have come forward with a series of practical proposals to show how the United Kingdom can go on operating successfully the other side of the European Union.
"That certainly does not involve trying to strengthen the organs of central government here in Wales or elsewhere in UK."
THE NATIONAL ARCHIVES PREPARE FOR EU EXIT
On 3 July, the National Archives launched two new services to enable the public to access all legislation related to the UK's exit from the EU.
The first is a comprehensive archive of EU law which will be captured through to exit day, allowing members of the public to search for EU legislation, treaties, international agreements and case law.
The second strand of work is the addition of EU legislation to legislation.gov.uk, all pieces of EU law were uploaded to the website including a timeline of the changes so far. The service makes it easy for people to find out how EU legislation is being changed by the UK.
The European Union (Withdrawal) Act 2018 required The National Archives to make all EU legislation relevant to our exit available online. The National Archives have now produced two services to host this crucial information.
Minister James Cleverly said:
"The government is making sure that the UK is ready to leave the EU in good order. That's exactly what The National Archives is doing with this monumental piece of work.
This resource provides an invaluable legal reference which gives certainty, and clarity to the public, and especially to businesses who are making preparations for Brexit."
Jeff James, Chief Executive, Keeper of Public Records and Queen's Printer, The National Archives said:
"Our aim is to ensure we have both a comprehensive, permanent record of the law at EU exit, and, with legislation.gov.uk to provide an ongoing service now and for the future. As legislation changes over time, legislation.gov.uk offers great value, aiding legal certainty for all those who are seeking to understand what the law is and will be post exit."
IRISH GOVERNMENTS UPDATES CONTINGENCY PLAN FOR NO DEAL BREXIT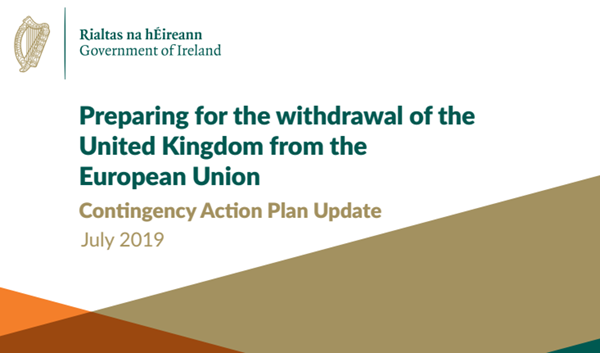 The Irish Government published its updated Contingency Action Plan for a no deal Brexit on 9 July.
This follows the summer economic statement to Dáil Eireann on 25 June by Irish Government Minister for Finance, Public Expenditure and Reform Paschal Donohoe which said that a no-deal Brexit could lead to 50,000 to 55,000 jobs being lost within two years of the UK exiting the EU without a deal, with another 30,000 at risk in the medium term.
The Plan states
"It is the Government's assessment that there is a significant risk of a no deal Brexit on 31 October (or thereafter) and, accordingly, work on no deal Brexit preparations continue to be taken forward as a matter of priority across government departments and agencies."
The Plan outlines a range of contingency planning measure undertaken by the Irish Government in advance of the 29 March and 12 April as well as continued work planned prior to 31 October:
Withdrawal of the United Kingdom from the European Union (Consequential Provisions) Act 2019 – the 'Brexit Omnibus Act', signed into law by the President on 17 March, focuses on protecting Irish citizens, assisting businesses and jobs, and securing ongoing access to essential services and products. The various Parts of this legislation are ready to be commenced as needed in the event of a no deal Brexit.
Infrastructure, staffing and ICT systems at our ports and airports-sufficient infrastructure was put in place to manage the necessary checks and controls on East-West trade with the UK outside the EU. Work at Dublin Port involved nine projects across eight sites to deliver 13 new inspection bays, documentary and identity check facilities, office facilities and parking for up to 128 heavy goods vehicles (HGVs).
400 additional Revenue staff recruited and trained for customs facilitation and checks; nearly 190 Department of Agriculture, Food and the Marine (DAFM) staff trained and in place to conduct import controls; 59 additional Health Service Executive (HSE) staff trained and in place.
Common Travel Area (CTA) – a high level MOU that reaffirms the commitment of both Irish and British Governments to the CTA was signed on 8 May 2019. Under the CTA, which will be maintained in any scenario, Irish and British citizens can travel freely, move to live, work and study, and access services including healthcare and social benefits.
EU contingency measures – there was agreement at EU level on a range of temporary contingency measures in key areas, including maintaining basic air connectivity and road haulage access between the EU and the UK in the event of a no deal Brexit.
Extradition arrangements - workable alternative extradition arrangements under the 1957
Council of Europe Convention on Extradition were put in place for the event of a no deal Brexit, which would see the UK immediately fall outside the European Arrest Warrant process.
Business supports – a wide range of support programmes for enterprise and the agri-food sector have been developed and put in place, including the €300 million Brexit Loan Scheme and €300 million Future Growth Loan Scheme, Enterprise Ireland's Brexit Scorecard, Bord Bia's Brexit Barometer and InterTradeIreland's Brexit Vouchers.
Communications and stakeholder engagement–this has included over 100 Brexit information seminars and events since September 2018;a nationwide media information campaign and 750,000 leaflets distributed nationwide through 5,000 public outlets;18 meetings of the Brexit Stakeholders Forum chaired by the Tánaiste; and five meetings of the All-Island Civic Dialogue.
Financial and budgetary preparations - undertaken over three budgets to build the resilience of the economy, including the establishment of the Rainy Day Fund and investment in long-term economic development through Project Ireland 2040.
The period between now and the 31 October deadline for a possible no deal Brexit will be used to strengthen and refresh these preparations. Key areas for continued work include:
Providing further additional infrastructure at ports and airports to enhance our capacity to manage the necessary checks and controls on goods coming from the UK as smoothly as possible.
Commitments to the people of Northern Ireland, including access to Erasmus+ and the European Health Insurance Card (EHIC).
Preparing for Budget 2020 and making provision for targeted funding for the sectors most affected in the event of a no deal Brexit.
A new phase of the Government's Brexit communications campaign, which will include a call to action to businesses operating in exposed sectors to take the necessary steps to prepare for a no deal Brexit.
Ongoing engagement with Member States and with the European Commission on key outstanding issues, including on potential supports for Ireland and affected sectors."
With respect to a no-deal Brexit and Northern Ireland the Plan states:
"There should be no illusion – a no deal Brexit would result in far-reaching change on the island of Ireland. This would particularly impact on North-South trade, which could no longer be as frictionless as it is today. The impact of tariffs, and of the customs and SPS requirements and associated checks necessary to preserve Ireland's full participation in the Single Market and Customs Union, would be significant for the operation of the all-island economy and would involve additional costs for and disruption to businesses throughout the island, particularly those in Northern Ireland.
We continue to work closely with the Commission with a view to minimising these negative consequences of no deal, but any arrangement will clearly be sub-optimal."
SHARP RISE IN APPLICATIONS FOR IRISH PASSPORTS FROM GREAT BRITAIN
The number of first-time applications for Irish passports from Great Britain has risen sharply since the EU referendum. In the year to 30 June 2019, the number of applications from Great Britain was 31,099 and 47,645 from Northern Ireland. The figures were issued by Tánaiste and Minister for Foreign Affairs Simon Coveney in answer to a parliamentary question from Fianna Fáil TD Niall Collins.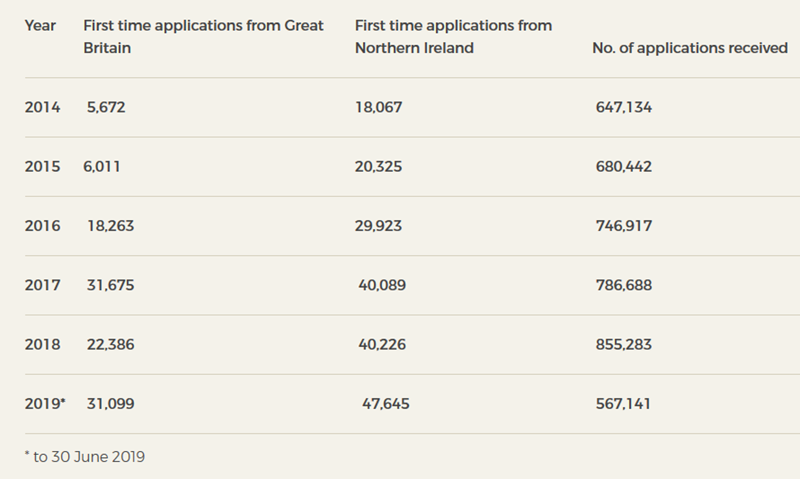 COMMON FRAMEWORKS UPDATE
On 3 July, the Government published an update on progress on development of common frameworks. Common frameworks are the UK-wide approaches that will be used in some policy areas where powers previously exercised at EU level which intersect with devolved competence are returned to Edinburgh, Cardiff and Belfast.
The documents Include an overview of the delivery process and an 'outline framework' for hazardous substances planning which provides an example of how common frameworks are being developed while noting that all frameworks will be specific to the needs of individual policy areas.
The Government's April 2019 Revised Framework Analysis stated that there are 160 policy areas where EU law intersects with devolved competence. 21 of these policy areas may require legislation to ensure a common UK approach; 78 policy areas where non-legislative arrangements such as memoranda of understanding are being considered; and 63 policy areas where no further action is needed to create a common framework.
On 17 July, the Government published the fourth report on progress in developing Common Frameworks. The European Union (Withdrawal) Act and Common Frameworks report details the steps the Government is taking, working with the devolved administrations, to design and implement common frameworks on areas of EU law that intersect with devolved competences; and on any use of section 12 powers in the EU (Withdrawal) Act 2018 to temporarily 'freeze' devolved competence. This report covers the period 26 March 2019 to 25 June 2019.
The report confirms that the Government has not sought to bring forward any section 12 regulations to date. It also states "The UK Government, Welsh Government and Scottish Government, together with the Northern Ireland Civil Service, have jointly developed a plan of engagement to increase awareness of the Common Frameworks programme across the United Kingdom."
HEAD OF NICS SPEECH AT INSTITUTE FOR GOVERNMENT

David Sterling, Head of the Northern Ireland Civil Service gave a keynote speech at the Institute for Government on 10 July. His speech covered governing in the absence of the power-sharing executive and how this has affected policy decisions, including Brexit preparations and negotiations.
In relation to the potential impacts for Northern Ireland of a no deal Brexit, Mr Sterling said:
"I have to say, and it's uncomfortable for me as a civil service to be making statements like this but nonetheless, our assessment is that no deal would have a profound and long lasting negative impact on Northern Ireland's economy and society.
This is a point I made to the Northern Ireland political parties back in March and it remains valid today, as the risk of no deal appears to be increasing. The impact of EU tariffs and non-tariff barriers will mean that whatever the Irish Government and/or the EU may do or not do, many businesses will no longer be able to export to the Irish market leading to a major reduction in Northern Ireland's exports to Ireland and the rest of the EU – that's currently around £3.9 billion per year. Some businesses may respond by focusing more on the Northern Ireland and GB markets however, the pressure on import volumes and commodity prices created by the temporary tariff regime would mean that they are no longer competitive in the GB or Northern Ireland markets and this risk is particularly acute for the agri-food sector.
No deal would place pressure on Northern Ireland's access to the EU leaving businesses with very limited options and the Northern lead economy facing an absolute reduction in exports and external sales.
Tradeable services is similar exposed. For example, businesses exporting services to Ireland would face increased costs in doing business. Our ICT sector is particularly vulnerable where particular increases in costs are being projected.
Overall, it's been estimated the increase in restrictiveness on trade with Ireland could equate to over £120 million of extra costs per year – that would be a loss to our economy.
Pressure on businesses to change behaviour to remain viable or the exploitation of differentials by organised crime groups could see an increase in smuggling and evasion. And the impact on communities particularly in border regions is difficult to quantify but any increase in non-compliance or evasion could change behaviours and attitudes in communities which over time I think would have an impact on the culture of lawfulness in many of those areas.
The picture is also challenging for consumers. Only a small minority of the goods on supermarket shelves are from Northern Ireland and many more are externally sourced so there is a risk of shortages and of price rises particularly if there is a further depreciation in sterling.
The Northern Ireland economy is already showing worrying signs which means it may be poorly positioned to absorb any shocks from a no deal Brexit. Our Department for the Economy has today produced some analysis which suggest there could be a sharp increase in unemployment and there could be severe consequences for both Northern Ireland's competiveness in the all island economy and Northern Ireland's place in the UK internal market.
We have been consistently making these messages clear to the UK Government and indeed our analysis is consistent with the analysis of the UK Government in this regard but in the absence of Ministers I feel compelled to urge the UK Government to listen to these grave concerns."
DEPARTMENT FOR THE ECONOMY DATA ON TRADE & INVESTMENT IN NO DEAL SCENARIO
On 10 July, the Department for the Economy published a data paper on Northern Ireland's trade and investment under 'no deal' as part of the Northern Ireland Civil Service's work on EU Exit. It follows requests for the statistics held by the Northern Ireland Civil Service on the implications of 'no deal' and the broader statistics held on cross-border trade.
The paper provides a summary of the risks and impacts:
'No deal 'could lead to a sharp increase in unemployment, with at least 40,000 jobs at risk, based on EU export exposure.
'No deal' would have immediate and severe consequences for both NI's competitiveness in the all-island economy and NI's place in the UK internal market.
The impact of EU tariffs and non-tariff barriers will mean that whatever the Irish Government and / or the EU may do or not do, many businesses will no longer be able to export to the Irish market, leading to a major reduction in NI's exports to Ireland. The impact of EU tariffs could reduce NI's exports to Ireland by 11% and the inclusion of non-tariff barriers could see a decline of 19%. This equates to a decline of between £100m to £180m in NI's exports to Ireland.
Analysis of import volumes and commodity prices shows that NI businesses would have increased vulnerability to low cost non-EU imports in the GB or NI market. This risk is particularly acute for the agri-food sector where certain commodity prices for larger agri-food exporting non-EU countries are much lower than local prices (especially for beef).
'No deal' therefore places a twin pressure on NI's access to the EU and UK markets, leaving businesses with very limited options and the NI economy facing an absolute reduction in exports and external sales.
Tradable services is similarly exposed. For example, businesses exporting services to Ireland would face an average increase in the cost of doing business of 14.5 percentage points. Our ICT sector is particularly vulnerable, as it is facing a 24 percentage point increase in the cost of doing business. Overall the increase in restrictiveness in trade with Ireland equates to over £120m being lost to the economy.
Pressure on businesses to change behaviour to remain viable or the exploitation of differentials by organised crime groups could see an increase in smuggling. The impact on communities –particularly in border regions –is difficult to quantify, but any increase in non-compliance or evasion would change behaviours and attitudes in communities, which, over time, will significantly impact on the culture of lawfulness in NI.
The prospect of lower prices on some goods may appear good news for consumers. However, NICS analysis shows that only a small minority of the goods on supermarket shelves are from NI and, therefore, likely to decrease in price. Many more are ultimately sourced from beyond NI, so there is much greater risk of price rises due to a further depreciation in sterling. As such, both consumer spending and the capacity for businesses to grow would be limited as drivers of growth.
Under a 'no deal' exit, NI's FDI attractiveness would be negatively impacted. A 'no deal' would see losses in the medium to long run of 6% per annum in the case of the number of FDI projects and of 7.6% for FDI-related new jobs
Across all of these risks it is clear that the majority of businesses do not consider themselves to have a mitigation plan in place, and the NI economy is already showing worrying signs which mean it will be poorly positioned to absorb any shocks from a 'no deal' Brexit. These factors could exacerbate the impact of other exit impacts.
There will be further impacts in a 'no deal' exit that are either difficult to identify or difficult to quantify."
COMMONS REPORT ON STATISTICS ON UK-EU TRADE
On 18 July, the House of Commons library published a briefing note Statistics on UK-EU trade. The key points:
The EU, taken as a whole is the UK's largest trading partner. In 2018, UK exports to the EU were £289 billion (46% of all UK exports). UK imports from the EU were £345 billion (54% of all UK imports).
The share of UK exports accounted for by the EU has generally fallen over time from 55% in 2006 to 43% in 2016, though this increased slightly to 44% in 2017 and 46% in 2018.
The share of UK imports accounted for by the EU fell from 58% in 2002 to 51% in 2011, increasing to 53% in 2018.
The UK had an overall trade deficit of -£64 billion with the EU in 2018. A surplus of £29 billion on trade in services was outweighed by a deficit of -£93 billion on trade in goods.
The UK had a trade surplus of £44 billion with non-EU countries. A surplus of £83 billion on trade in services outweighed a deficit of -£39 billion on trade in goods.
Services accounted for 40% of the UK's exports to the EU in 2018. Financial services and other business services (a category which includes legal, accounting, advertising, research and development, architectural, engineering and other professional and technical services) are important categories of services exports to the EU – in 2017 these two service categories made up 52% of UK service exports to the EU.
Wales, followed by Northern Ireland and the North East of England had the highest percentage of goods exports going to the EU of all the countries and regions in the UK in 2018. The East of England followed by Northern Ireland had the joint highest proportion of goods imports from the EU.
EU tariffs are generally low but are high on some goods, especially agricultural products.
EXPORT STATISTICS
61% of exports of goods from Wales and Northern Ireland go to the EU - this is the highest proportion of any country or region in the UK, followed by the North East and Yorkshire and the Humber at 60%.
Scotland and the East of England also have relatively high shares of exports to the EU.
BREXIT SECRETARY GIVES EVIDENCE ON NO-DEAL PREPARATIONS
On 17 July, the House of Commons Exiting the EU Committee took evidence from Brexit Secretary Steve Barclay on no-deal preparations.
Sammy Wilson (DUP) asked Mr Barclay about freight and trade:
Sammy Wilson: "The point I am trying to get at is that, if the EU has made these commitments of free-flowing trade for Irish goods and goods to Ireland, through GB across two sea crossings, has it shared how it intends to do that? That has implications at Holyhead and Dover. If it can afford that to the Irish lorries carrying Irish goods, how can it not afford it to lorries carrying goods from GB?"
Stephen Barclay: "I do not think the Commission would suggest that it can give a commitment as to whether there would be congestion on a motorway in the UK. It can give commitments about common transit documentation and how that would be approached, but it cannot give those sorts of commitments. If there were a delay, for example on the roads leading to Dover, it would apply to the 40% of Irish exports, just as it would to the UK.
Within the UK, it is quite difficult to disaggregate. One of the questions I asked was whether we could take a different approach for the 30% of lorries that are empty, as opposed to those that are loaded. Actually, there are behavioural difficulties in how you do that operationally because, if a route is quicker, there is a tendency for people to use it, even if their lorry is not empty. There are operational difficulties in doing that. When I say that these issues are reciprocal, my point is that there is a shared interest in keeping flow. It affects not just the Irish Government, but the exporters coming in from European businesses. It is in both sides' interests. Four out of five hauliers are European, so there is a shared interest in keeping that flow moving as well as possible."
Andrea Jenkyns (Conservative) asked Mr Barclay about lessons learned and what he would do differently:
Stephen Barclay: "I would draw attention to three particular areas. I hope I have tried to do this in my time. The first is how we engage with Parliament. The more open we can be with Parliament, the better. There was a lot of misunderstanding around the withdrawal agreement. I appreciate some colleagues still have ongoing concerns about it, but that document was misunderstood in certain areas. Thinking about how we work with Parliament is one area.
….. The second area… is the devolved Administrations and how we work with them. There has been a lot of quantity of JMCs, but this is about how we work with the Welsh and Scottish Governments moving forward, particularly in phase two, where there are very strong regional interests and expertise. For example, having a constructive relationship with Jeremy, who represents the Welsh Government, is extremely important, so I am keen to think about the union implications as we go through Brexit."
FISCAL STRESS TEST OF 'NO DEAL BREXIT' SCENARIO
The Office on Budget Responsibility (OBR) published its Fiscal Risks Report 2019 on 18 July.
Commissioned by Parliament in 2015, the report identifies and analyses risks to the medium term outlook for the public finances and to long-term fiscal sustainability.
The OBR undertook a fiscal 'stress test' to illustrate the fiscal effects of the International Monetary Fund's 'No-deal Brexit Scenario A', which was published in the April 2019 World economic outlook. The OBR report finds that a no deal, no transition Brexit scenario could add around £30 billion a year to borrowing from 2020-21 onwards and around 12 per cent of GDP to net debt by 2023-24.
The OBR report summary states:
"….Given the leadership contenders' willingness explicitly to countenance a 'no-deal' exit on October 31, we use the 'stress test' in this FRR to illustrate the potential fiscal impact of a no-deal, no-transition Brexit scenario set out by the International Monetary Fund (IMF) in its April 2019 World Economic Outlook. This scenario is not necessarily the most likely outcome and it is relatively benign compared to some (for example, assuming limited short-term border disruptions). But it still adds around £30 billion a year to borrowing from 2020-21 onwards and around 12 per cent of GDP to net debt by 2023-24, compared with our March forecast baseline.
A more disruptive or disorderly scenario, closer to the stress test we considered two years ago, could hit the public finances much harder. (It is important to remember that the economic and fiscal developments over the past three years – as well our and the IMF's baseline forecasts – already incorporate some impact from the referendum vote, although it is impossible to isolate that from other surprises relative to our pre-vote forecasts. The impact of Brexit itself – once it happens – would also continue to unfold for many years beyond the end of the stress test horizon.)"
NEW PRIME MINISTER, NEW CABINET

Boris Johnson became Prime Minister on 24 July 2019. Mr Johnson also confirmed he would change his own official title to include "Minister for the Union" - a pledge he made during his leadership campaign. A Downing Street spokesperson said this was a "statement of his commitment" to strengthening ties between the constituent parts of the UK.
The Prime Minister's other appointments:
Sajid Javid – Chancellor of the Exchequer
Priti Patel - Home Secretary
Dominic Raab - Foreign Secretary
Stephen Barclay - Brexit Secretary
Michael Gove - Chancellor of the Duchy of Lancaster
Ben Wallace - Defence Secretary
Liz Truss - International Trade Secretary
Matt Hancock - Health & Social Care Secretary
Theresa Villiers - Environment Secretary
Gavin Williamson - Education Secretary
Nicky Morgan - Culture Secretary
Andrea Leadsom - Business Secretary
Robert Jenrick - Housing & Communities Secretary
Amber Rudd - Work & Pensions, Women & Equalities
Robert Buckland - Justice Secretary
Alok Sharma - International Development Secretary
Grant Shapps - Transport Secretary
Alun Cairns - Welsh Secretary
Alister Jack - Scottish Secretary
Julian Smith - Northern Ireland Secretary
Baroness Evans - Leader of the House of Lords
James Cleverly - Party chairman
Jacob Rees-Mogg - Leader of the House of Commons
Rishi Sunak - Chief Secretary to Treasury
Mark Spencer - Chief Whip
Geoffrey Cox - Attorney General
Esther McVey - Minister for housing, communities and local government
Brandon Lewis - Home Office minister
Jo Johnson - Minister for business, energy and industrial strategy, and education
Oliver Dowden - Paymaster General
Kwasi Kwarteng - Minister for business, energy and industrial strategy
Jake Berry - Cabinet office minister, Housing, communities and local government
Kit Malthouse – Minister of State for the Home Office
Nigel Adams - Minister of State at the Department for Digital, Culture, Media and Sport
Lucy Frazer – Minister of State at the Ministry of Justice
Michael Ellis - solicitor general
Nick Hurd – Minister of State at the Northern Ireland Office and Minister for London
Baroness Goldie - Minister of State at the Ministry of Defence
Lord Ashton of Hyde - Lords chief whip
Baroness Williams of Trafford - Home Office and equalities minister
Lord Ahmad of Wimbledon - minister at the Foreign Office
Lord Callanan - Brexit minister
With regards to Brexit, Steve Barclay will lead the negotiations with the EU however most of the work is expected to be done by the Prime Minister's Office and the Cabinet Office. Michael Gove has been put in charge of overall planning for a no-deal Brexit, including its potential implications for Scotland, Wales and Northern Ireland.
In his inaugural speech outside Number 10 on 24 July, Mr Johnson said on Brexit:
"…. we are going to fulfil the repeated promises of parliament to the people and come out of the EU on October 31, no ifs or buts, and we will do a new deal, a better deal that will maximise the opportunities of Brexit while allowing us to develop a new and exciting partnership with the rest of Europe based on free trade and mutual support…."
Mr Johnson made a statement to the House of Commons on 25 July on the priorities for his government. On exiting from the EU he said:
"…. we must take some immediate steps.
The first is to restore trust in our democracy and fulfil the repeated promises of Parliament to the people by coming out of the European Union – and doing so on October 31st.
I and all ministers in this government are committed to leaving on this date, whatever the circumstances. To do otherwise would cause a catastrophic loss of confidence in our political system. It will leave the British people wondering whether their politicians could ever be trusted again to follow a clear democratic instruction.
I would prefer us to leave the EU with a deal. I would much prefer it. I believe that is still possible even at this late stage and I will work flat out to make it happen. But certain things need to be clear.
The Withdrawal Agreement negotiated by my predecessor has been three times rejected by this House. Its terms are unacceptable to this Parliament and to this country. No country that values its independence and indeed its self-respect could agree to a Treaty which signed away our economic independence and self-government as this backstop does. A time limit is not enough. If an agreement is to be reached it must be clearly understood that the way to the deal goes by way of the abolition of the backstop.
For our part we are ready to negotiate in good faith an alternative, with provisions to ensure that the Irish border issues are dealt with where they should always have been: in the negotiations on the future agreement between the UK and the EU. I do not accept the argument that says that these issues can only be solved by all or part of the UK remaining in the customs union or in the single market. The evidence is that other arrangements are perfectly possible, and are also perfectly compatible with the Belfast or Good Friday Agreement, to which we are of course steadfastly committed.
I, my team, and my Rt Hon Friend the Secretary of State for Exiting the European Union are ready to meet and to talk on this basis to the Commission or other EU colleagues whenever they are ready to do so.
For our part, we will throw ourselves into these negotiations with the greatest energy and determination and in the spirit of friendship.
And I hope that the EU will be equally ready and that they will rethink their current refusal to make any changes to the Withdrawal Agreement.
If they do not, we will of course have to leave the EU without an agreement under Article 50. The UK is better prepared for that situation than many believe. But we are not as ready yet as we should be. In the 98 days that remain to us we must turbo-charge our preparations to make sure that there is as little disruption as possible to our national life. I believe that is possible with the kind of national effort that the British people have made before and will make again. In these circumstances we would, of course, also have available the £39bn in the Withdrawal Agreement to help deal with any consequences.
I have today instructed the Chancellor of the Duchy of Lancaster to make these preparations his top priority. I have asked the Cabinet Secretary to mobilise the Civil Service to deliver this outcome should it become necessary. And the Chancellor has confirmed that all necessary funding will be made available.
I will also ensure that preparing for leaving the EU without an agreement under Article 50 is not just about seeking to mitigate the challenges but also about grasping the opportunities. This is not just about technical preparations, vital though they are. It is about having a clear economic strategy for the UK in all scenarios, something which the Conservative Party has always led the way, and it's about producing policies which will boost the competitiveness and the productivity of our economy when we are free of the EU regulations.
……………….. Our national participation in the European Union is coming to an end.
This reality needs to be recognised by all parties.
Indeed, Mr Speaker today there are very many brilliant officials trapped in meeting after meeting in Brussels and Luxembourg when they could be better deploying their talents in preparing to pioneer new trade deals and promoting a truly Global Britain.
I want to start unshackling our officials to undertake this new mission right away.
So we will not nominate a UK Commissioner for the new Commission taking office on 1 November – though clearly this is not intended to stop the EU appointing a new commission.
Mr Speaker, today is the first day of a new approach, which will end with our exit from the EU on 31 October. Then I hope we can have a friendly and constructive relationship – as constitutional equals, as friends, and partners in facing the challenges that lie ahead. I believe that is possible and this government will work to make it so."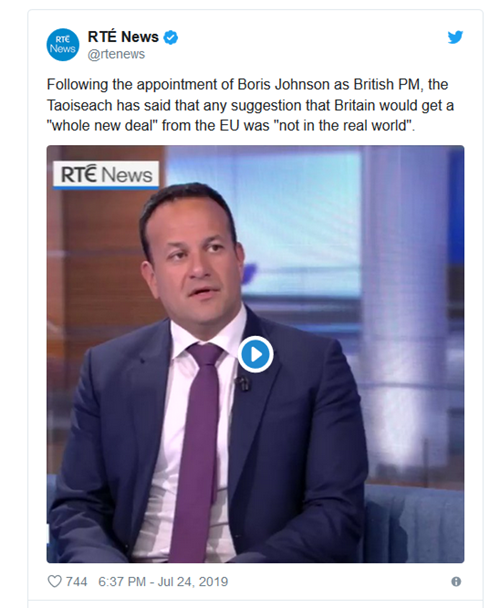 Speaking on 24 July following Mr Johnson's inaugural speech, Taoiseach Leo Varadkar said in an interview with RTÉ that Mr Johnson's message was "clear-cut but certainly not detailed".
"I think what I'd like to do is hear from him, to hear him put some flesh on the bones of what he heard today," the Taoiseach said. "Confidence and enthusiasm is not a substitute for a European policy or a foreign policy. I want to hear in detail what he has in mind.
Listening to what he said today, I got the impression that he wasn't just talking about deleting the backstop, he was talking about a whole new deal, a better deal for Britain. That is not going to happen.
The European Council does not meet again until 12 October and has no plans to meet any earlier than that and even if we were changing the negotiating guidelines, we wouldn't be changing until then. So any suggestion that there can be a whole new deal negotiated in weeks or months is totally not in the real world.
It is a very unstable political situation in the UK and that in some ways has given rise to this situation, but we are stable here," Mr Varadkar said. "We are calm, we have a clear policy, we have lots of detail behind it and we have got solid support from other EU members states and the EU institutions. We are in strong position to get through this.
"There can't be a hard border between north and south and the rights and freedoms of people in Northern Ireland, particularly Irish citizens in Northern Ireland, have to be protected.
He admitted he is "at odds" with Mr Johnson, but added: "These are the kind of things that we are going to have to discuss. I look forward to having the opportunity to sit down with him one to one and also for our teams to meet together and really see if he can put a little bit of detail behind some of those slogans and statements because we haven't got that yet.
"We look forward to an early engagement to talk about Brexit, to talk about Northern Ireland and to talk about bilateral relations between the UK and Ireland into the future."
In a letter to EU leaders on 25 July, European Commission Brexit negotiator Michel Barnier urged them "to remain calm" and "stick to our principles and guidelines and show solidarity and unity". Barnier also declared as "unacceptable" Johnson's insistence on eliminating the backstop provision on the Irish border included in the Brexit Withdrawal Agreement (WA).
In respect of the UK leaving without a deal, Mr Barnier's letter said:
"But as suggested by his rather combative speech, we have to be ready for a situation where he gives priority to the planning for 'no deal,' partly to heap pressure on the unity of the EU27," Barnier wrote. "No deal will never be the EU's choice, but we all have to be ready for all scenarios."
Prime Minister Johnson spoke to Commission President Jean-Claude Juncker by telephone on 25 July. The European Commission published this readout of the call: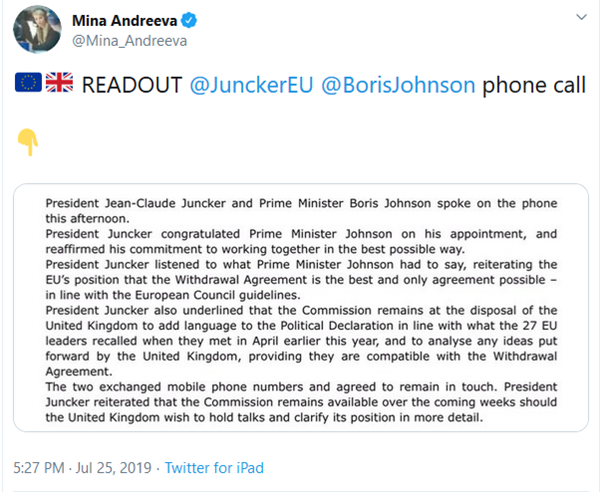 MOVES TO PREVENT SUSPENSION OF PARLIAMENT IN EVENT OF NO DEAL BREXIT
Members of the House of Commons and House of Lords debated a series of amendments to the Northern Ireland (Executive Formation) Bill in July. This short Bill would extend the period for forming an Executive to 21 October 2019 as well as granting powers to the Secretary of State to extend the period to form an executive to 13 January 2020, through regulations subject to the made affirmative procedure. The Bill would also impose a duty on the Secretary of State to report to Parliament on the progress made towards the formation of an Executive in Northern Ireland.
MPs proposed a range of amendments to the Bill and the Commons Speaker called a number of amendments, including those concerning equal marriage, abortion, historical institutional abuse in Northern Ireland and amendments requiring the aforementioned progress reports to be debated.
Conservative MP Dominic Grieve proposed four amendments to the Bill which were designed to prevent any prorogation or recess in Parliament in the weeks leading up to 31 October in order to prevent a no deal Brexit.
Explaining his amendments, Mr Grieve said
"I freely admit that one of the purposes of these amendments is to try to ensure that this extraordinary threat of really an unprecedented character made against this House that we should be prorogued can be banged on the head. Furthermore, the fact that we should be sitting in October to consider these grave matters in relation to Northern Ireland is, in my view, a good reason why these amendments should be supported. ……. as we approach the crisis that is impending on 31 October, if this House wishes to approve a no-deal Brexit, then so be it, but it should be here to do just that, and not pushed into the margins, as some have suggested in this entirely unconstitutional fashion."
Two of Mr Grieve's amendments were agreed in the Commons:

His amendment which would have required progress reports to be debated in Parliament was defeated 293 votes to 289 votes.
When the Bill as amended passed to the House of Lords for consideration, Lords voted on 17 July in favour of an amendment by a majority of 103 that would ensure parliament would sit in the weeks leading up to the 31 October deadline.
The new Lords amendment, tabled by Lord Anderson, would ensure that the progress reports on formation of an Executive would have to be debated in the weeks before the Brexit deadline. The amendment would ensure that the fortnightly reports would have to be debated within five calendar days of being produced, thus necessitating that the Commons sits.
The Bill then passed back to the Commons for consideration of the Lords amendments. On 18 July, the House defeated a Government proposal to reject the Lords amendments by 315 votes to 273. The House thus agreed the House of Lords amendment which aimed to make it more difficult for the government to prorogue Parliament before exit day, and also added a further amendment, submitted by Labour MP Hilary Benn, which expressly provides for the recall of Parliament (if prorogued) to enable compliance with scrutiny obligations under the Bill.
When the Bill returned to the House of Lords for consideration once again, the Government proposed that the amendment made by the Commons regarding government progress reports on the formation of a Northern Ireland Executive should not be agreed by the Lords. The Government was defeated on this proposal with 260 votes against and 146 members supporting the motion. The Commons amendment was thus accepted and the text of the Bill agreed.
The Bill received Royal Assent on 24 July 2019.
NEW FACES IN THE TOP POSTS AT THE EUROPEAN UNION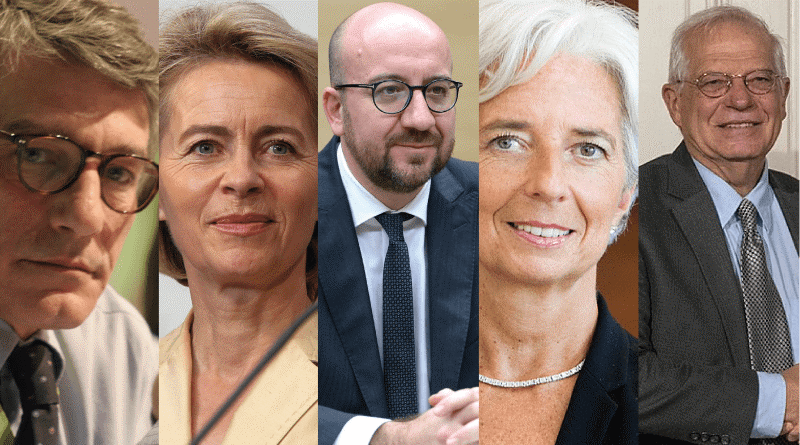 Photo: Commons Library
(L-R: David Sassoli; Ursula von der Leyen; Charles Michel; Christine Lagarde; Josep Borrell)
It's all change at the top posts in the EU institutions. The new appointees to the jobs in the European Commission; European Council; and European Central Bank will take up office on 1 November 2019.
On 2 July, the European Council elected Charles Michel as President of the European Council for the period from 1 December 2019 to 31 May 2022. This mandate is renewable once. Mr Michel is the interim Prime Minister of Belgium. The Council also adopted the decision to propose Ursula von der Leyen as the President of the European Commission.
The Council considered Josep Borrell to be the appropriate candidate for High Representative of the Union for Foreign Affairs and Security Policy and the formal appointment will require the agreement of the President-elect of the Commission. Mr Borrell is the acting Spanish Foreign Minister.
The President of the Commission, the High Representative and the other members of the Commission will be subject as a body to a vote of consent by the European Parliament, before the formal appointment by the European Council. Their term of office will last 5 years from the end of the current Commission until 31 October 2024.
The European Council also considered Christine Lagarde to be the appropriate candidate to succeed Mario Draghi as President of the European Central Bank. The European Council will take a formal decision on the appointment on the basis of a Council recommendation, after having consulted the European Parliament and the ECB's Governing Council. The mandate for the President of the European Central Bank is for 8 years non-renewable.
On 3 July, the European Parliament elected Italian MEP David Sassoli as the new President of the European Parliament. Mr Sassoli has taken up the post replacing Antonio Tajani and will hold the office for two and a half years after which the EP Presidency will be handed over to a member of the centre-right EPP group.
On 16 July, Ursula von der Leyen was narrowly approved by the European Parliament as the new President o the European Commission. Ms Von der Leyen is a doctor and member of the German government from 2005 to 2019, being a member of the CDU party and seen as a close ally of Angela Merkel. She will take over the Commission Presidency from Jean-Claude Juncker. The vote to approve her appointment passed with the support of 383 MEPs, only nine votes more than required to secure an absolute majority.
Ms Von der Leyen laid out six headline ambitions in her Political Guidelines for the Commission 2019-2024
A European Green Deal
An economy that works for people
A Europe fit for the digital age
Protecting our European way of life
A stronger Europe in the world
A new push for European democracy
Ursula von der Leyen has said that she intends to select a team of Commissioners composed of an equal number of women and men, based on candidates suggested by the Heads of State or Government. To take office, the list of Commissioners-designate has to be agreed by the Council and the European Parliament needs to give its consent to the new European Commission (2019-2024) as a whole.
Speaking to the Guardian newspaper, she commented on the UK exit from the EU:
"We don't want a hard Brexit, it's a bad outcome for both sides. We have a good withdrawal agreement."
She reiterated her view that the EU should consider extending the current Brexit deadline of 31 October if there were "good reasons" to do so. "A Brexit without a deal comes with massively negative consequences for both sides, not to mention what it means for Ireland. That's why we need to do everything to strive for an orderly Brexit. And that's why if there are good reasons for an extension coming from our British friends, I am open to listening to them."
She added: "It would be wrong to see Brexit only as the end of something. The way in which we carry out Brexit will determine our future relationship to our neighbour the United Kingdom. For both sides it is of the highest interest that there is an orderly and good beginning to our future relationships."
FINAL REPORT ON ALTERNATIVE ARRANGEMENTS
On 18 July, Prosperity UK's Alternative Arrangements Commission published its final report on alternative arrangements for the border in Ireland. This report follows on from publication of the Commission's interim report on 24 June.
The report's Executive Summary includes the Commission's recommendations:
Working Alternative Arrangements should be fully up and running within three years.
Alternative Arrangements are available by harnessing existing technologies and Customs best practice; futuristic high-tech solutions are not required.
A one size fits all solution should be avoided; instead people and traders should be given the maximum possible choice of options.
Enhanced Economic Zones, based on relevant WTO exemptions, covering frontier traffic and national security, offer potentially valuable solutions which respect the realities of border and cross-border communities.
A multi-tier trusted trader programme for large and medium sized companies should be introduced, with exemptions for the smallest companies.
Sanitary and Phyto-Sanitary (SPS) checks should be carried out by mobile units away from the border using the existing EU Union Customs Code or a common area for SPS measures.
New technology has a role to support policy, but any technology suggested for deployment in the first instance should already be in use elsewhere.
Alternative Arrangements Protocols proposing a way forwards which avoids a hard border and ensures the Backstop is never triggered should (i) be inserted in the existing Withdrawal Agreement, or (ii) be utilised in any other Brexit outcome.
The report also includes two draft legal texts or 'protocols'.
The first is designed to demonstrate how the solutions proposed by the Commission can be inserted into the Withdrawal Agreement by means of a technical amendment – i.e. it is an alternative to the existing Protocol on Ireland/Northern Ireland.
The report states:
"The alternative protocol (that we call "Protocol A") follows the existing protocol (that becomes "Protocol B") as closely as possible. In doing so, we use to the full the hard work that has gone into designing Protocol B in order to preserve the 1998 Agreement and the cooperation that has resulted from it. The changes are kept to a minimum and chiefly comprise replacing the technique of avoiding border controls through customs and regulatory alignment with one that recognises that controls will become necessary on commercial trade across the Border but moves those controls away from the Border.
Many techniques of Protocol B are used in Protocol A and should therefore be readily acceptable. They include listing details and legislative acts in annexes and providing powers to a range of institutions to manage the Protocol (the institutions of the 1998 Agreement, the Specialised Committee, the Joint Consultative Working Group and the Joint Committee of the Withdrawal Agreement). Of course, this is just a draft framework and the provisions as well as the detailed content of the annexes are open for negotiation."
The second draft legal text which is referred to as "Protocol C" is described as:
"a revised version of the alternative Protocol A that can be part of contingency planning and may be used to mitigate problems on the Irish Border if the Withdrawal Agreement should not be concluded for some reason and alternative arrangements need to be adopted at short notice. It could also be used in any agreement that the UK and EU do ultimately conclude to deal with this issue.
The content is the same as Protocol A except that the conditions for its entry into force are translated in obligations to be fulfilled as soon as possible and the references to obligations and institutions in the Withdrawal Agreement are replaced by self-standing provisions. "
The full report is available here
SCOTTISH AND WELSH FIRST MINISTERS' JOINT LETTER TO PM ON NO DEAL BREXIT
The First Ministers of Scotland and Wales issued a joint letter to Prime Minister Boris Johnson on 25 July asking him to immediately rule out a 'no deal' Brexit.
Nicola Sturgeon and Mark Drakeford's letter set out four steps which they say the new Prime Minister can immediately take to establish a 'more productive relationship between the governments of the UK'.
the need for the on-going Inter-governmental Relations Review to put in place more robust machinery for working together on the basis of greater equality.
a commitment to full involvement of the devolved administrations in international negotiations which impact on devolved competence.
the UK Government should ensure that Scotland and Wales would be no worse off if the UK does leave the EU.
the Immigration White Paper should be replaced by proposals which reflect the needs of the economy of the whole of the UK.
They have also called for the UK Government to prepare for a second EU referendum.
With regards to EU exit and devolution, the letter states:
"… The devolution settlement does not create a hierarchy of governments: each administration has its area of competence, for which is accountable to an elected legislature. There is therefore a need for negotiation and agreement between the governments to be recognised as the only possible basis for successful joint working."
GOVERNMENT STEPS UP PREPARATIONS FOR 'NO DEAL' BREXIT
Members of the new Cabinet penned articles in the media on 28 July to announce that the Government is stepping up its preparations for leaving the EU without a deal on 31 October. In an article in the Sunday Telegraph, Chancellor of the Exchequer Sajid Javid wrote
"….If, for whatever reason, a better deal which our parliament will accept cannot be achieved, we must be – and are – prepared to leave on our own terms. Making sure Britain is prepared for no deal is the best way to get a great new deal.
That is why this government is turbocharging preparations to leave with no deal. Led by my colleague Michael Gove in the Cabinet Office, we will work as one to ensure the country is ready."
And that is why I have ordered an immediate stepping up of no deal preparations in the Treasury. Under my leadership the Treasury will have new priorities, and will play its full role in helping to deliver Brexit. In my first day in office as Chancellor, I tasked officials to urgently identify where more money needs to be invested to get Britain fully ready to leave on October 31 – deal or no deal. And next week I will be announcing significant extra funding to do just that.
…………… we are also going to fund a major nationwide communications campaign to ensure the people and businesses of this great country are ready and poised to leave on October 31. More details will be announced soon, but I can say that this looks set to be one of the government's biggest ever public information campaigns….. "
Michael Gove, Chancellor of the Duchy of Lancaster and leading on no-deal preparations wrote in the Sunday Times that "no-deal is a very real prospect. We must ensure we are ready". HE said that government was now "working on the assumption" that talks with the European Union fail and that leaving without a deal "is now a very real prospect," and the government machine "is being retooled" for the task.
It was also reported in the Sunday Times that Prime Minister Boris Johnson has set up a 'war cabinet' of six ministers to work with him on key decisions relating to Brexit. Michael Gove, Chancellor Sajid Javid, Foreign Secretary Dominic Raab, Brexit Secretary Steve Barclay, and the Attorney General Geoffrey Cox will make up a core group of advisors tasked by Mr Johnson with delivering Brexit "by any means necessary" by October 31.
TELEPHONE CALL BETWEEN PRIME MINSTER AND TAOISEACH
On 30 July Prime Minister Boris Johnson spoke by telephone to Taoiseach Leo Varadkar.
A Downing Street spokesperson said:
"The Taoiseach congratulated the Prime Minister on his appointment and both leaders underscored their commitment to working closely together in the spirit of the warm and deep relationship between the UK and Ireland.
On the process of restoring the Executive and Assembly in Northern Ireland, both leaders expressed their determination to see this happen as quickly as possible.
The Prime Minister said the ongoing talks have his unequivocal support and that he wanted to continue to work closely with the Irish government to help drive the process towards a successful conclusion. He said he looked forward to visiting Northern Ireland shortly and talking to the leaders of the five main parties about this.
On Brexit, the Prime Minister made clear that the UK will be leaving the EU on October 31, no matter what.
He said that in all scenarios, the Government will be steadfast in its commitment to the Belfast Agreement and will never put physical checks or physical infrastructure on the border.
The Prime Minister made clear that the government will approach any negotiations which take place with determination and energy and in a spirit of friendship, and that his clear preference is to leave the EU with a deal, but it must be one that abolishes the backstop.
The two leaders agreed to stay in contact."
The Irish Government press release said:
"The Taoiseach congratulated the Prime Minister on his appointment and said he looked forward to having a long and close working relationship.
On Brexit, the Taoiseach emphasised to the Prime Minister that the backstop was necessary as a consequence of decisions taken in the UK and by the UK Government. Noting that the Brexit negotiations take place between the UK and the EU, the Taoiseach explained that the EU was united in its view that the Withdrawal Agreement could not be reopened. Alternative arrangements could replace the backstop in the future, as envisaged in the Withdrawal Agreement and the Political Declaration on the future relationship, but thus far satisfactory options have yet to be identified and demonstrated.
The Taoiseach restated the need for both Governments to be fully committed to the Good Friday Agreement, the protection of the Peace Process and the restoration of the Northern Ireland institutions. He recalled that the Agreement requires the sovereign government to exercise power with rigorous impartiality on behalf of all the people in full respect for their rights, equality, parity of esteem and just and equal treatment for the identity, ethos and aspirations of both communities.
The Taoiseach invited the Prime Minister to Dublin to share further their respective analyses on Brexit and to continue discussion of bilateral matters including Northern Ireland, the Good Friday Agreement and the Common Travel Area."
BREXIT LEGISLATION
The Government is introducing a suite of legislation to deal with Brexit. A summary of the status of some of this legislation is below. A full list of Bills before Parliament is available here
Acts of Parliament (i.e. are now law)
EU (Withdrawal) Act 2018
Haulage Permits and Trailer Registration Act 2018
Healthcare (European Economic Area and Switzerland Arrangements) Act 2019
Nuclear Safeguards Act 2018
Sanctions and Anti-Money Laundering Act 2018
Taxation (Cross-border Trade) Act 2018
SO WHAT'S NEXT?
September 3: Beginning of new Parliamentary term
Mid Sept – early Oct: Recess for party conference session (dates tbc)
September – October: Appointment of new College of Commissioners at the European Commission
October 17-18: European Council meeting
October 31: UK leaves the EU (if the Withdrawal Agreement isn't ratified before this date)
November 1: New President of the European Commission takes up office
December 1: New President of EU Council takes up office