Brexit & Beyond Newsletter
14 February 2022
Welcome to the 14 February 2022 Brexit & Beyond newsletter
Talks on the Protocol continue, with the EU-UK Joint Committee set to meet next week. The Minister for Agriculture has been questioned by MLAs on his order to stop checks at NI ports. The Committee for Agriculture, Environment and Rural Affairs continues to scrutinise Common Frameworks. This week's newsletter also looks at parliamentary scrutiny of replacement EU funding and retained EU law.
Protocol talks
On Friday 11 February, European Commission Vice-President Maroš Šefčovič and UK Foreign Secretary Liz Truss met in London, their third in-person meeting. They released a short joint statement, saying they "agreed on the need for progress in their talks in the interest of people in Northern Ireland, to stay in close touch and that officials will continue intensive discussions in the coming days." A meeting of the Joint Committee is scheduled for next Monday 21 February.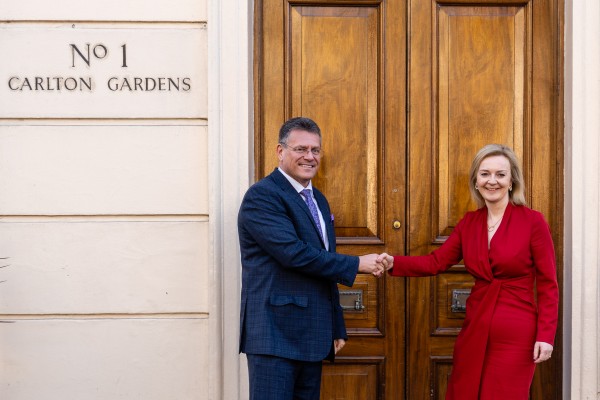 Vice-President Maroš Šefčovič and UK Foreign Secretary Liz Truss | Source: European Commission
There has been some speculation about the possibility of a partial agreement between the EU and UK. RTÉ's Tony Connelly reports that there's no evidence a partial deal is plausible ahead of next week, but that intense work is happening on customs. The FT reports that the UK may have made a concession on customs, potentially bringing an agreement closer.
On Wednesday 9 February, Prime Minister Boris Johnson told the Commons that the Protocol on Ireland/Northern Ireland "does not require, contrary to how it is being applied by our friends, all foods, all medicines and all plants to be systematically checked in the way that they are. We must fix it, and with good will and common sense I believe we can. However, if our friends do not show the requisite common sense, we will of course trigger Article 16." He went on to say, "there must be a solution that commands cross-community support. At the moment, there is no doubt that the balance of the Good Friday Agreement is being upset by the way that the Protocol is being operated, and we need to fix that."
Assembly Business
In the Assembly on Monday 7 February, several members made statements on the resignation of the First Minister and the consequences of this. Secretary of State for Northern Ireland Brandon Lewis has ruled out an early election. The Northern Ireland (Ministers, Elections and Petitions of Concern) Bill received royal assent on Tuesday 8 February. The Act removes the duty on the UK Government to set a date for an election if the posts of First Minister and deputy First Minister are not filled within a week. It also allows the Assembly to continue without an Executive for at least six months.
Questions to the Minister for Agriculture
On Monday 7 February, Minister for Agriculture, Environment and Rural Affairs Edwin Poots answered an urgent question on checks at NI sea ports. Previously, on Wednesday 2 February, Minister Poots announced that he had ordered his officials to stop checks at NI ports on goods moving from GB to NI. Minister Poots said his paper on the continued implementation of sanitary and phytosanitary checks at Northern Ireland points of entry was not considered by the NI Executive at their meeting on 27 January 2021 and noted that on Friday 4 February, the High Court suspended the implementation of his decision until a further order from the court or until the conclusion of the judicial review proceedings. Members of the European Parliament have condemned the move by Minister Poots, saying it "creates further uncertainty and unpredictability for businesses and citizens in Northern Ireland. It is also unhelpful for getting a stable and durable solution to the issues faced by the people of Northern Ireland."
Minister Poots told the Assembly, "We have no problem whatsoever in facilitating checks to do that so that our companies can continue to import and export. We do not, however, need checks on the vast majority of things that come in here at the minute. Exports have to be dealt with differently. We are happy to do that."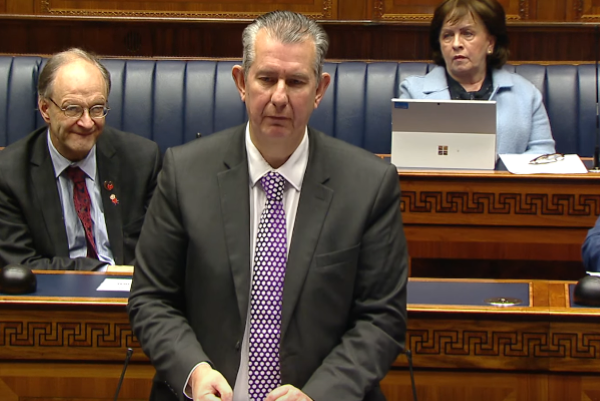 Minister for Agriculture, Environment and Rural Affairs Edwin Poots | Source: NI Assembly
On the legal advice he had received, Minister Poots said, "Given that this is constitutional law, I specifically sought the advice of a constitutional lawyer as well. My advice is there: it will be tested in court, and we will see the outcome, but the grounds for me making the decision are soundly based on sound legal advice."
Minister Poots raised other issues around the Protocol, including access to veterinary medicines: "The European Union was supposed to include veterinary medicines in the arrangements that it proposed for human medicines, but it has not done so. As a consequence, the British Veterinary Association has highlighted that 40% of the veterinary medicines that are currently available to them will no longer be available to them."
Costs of checks at ports
On Tuesday, the Minister took further questions from MLAs. He was asked about the cost of the checks operated at ports under the Protocol. Minister Poots told the Assembly that in 2021, the cost for the additional staff was £4,447,580. He added that the running costs of the current contingency inspection facilities at Belfast, Larne, Warrenpoint and Foyle ports and the service contracts for the seal checks at ports in Great Britain are a further £4.2 million over the same period. These additional costs are being funded by Her Majesty's Treasury.
Minister Poots highlighted the shortage of vets, saying it would be "bizarre" to take a vet from key front-line work to check goods.
FTAs
The Minister was asked about the UK's free trade agreements (FTAs) and their impact for the agri-food sector. He said the Australia FTA does not treat NI exports differently to those from GB. He said his view was that FTAs with New Zealand and Australia "will offer little benefit to Northern Ireland's agricultural exporters, as those countries have a considerable advantage in terms of prices and are world-leading exporters in many of the agricultural products that our agri-food industry exports."
Common Frameworks
On Thursday 10 February, the Committee for Agriculture, Environment and Rural Affairs took evidence on Common Frameworks. Common Frameworks are being developed in policy areas which were previously governed by EU law and which intersect with devolved competence. They aim to ensure a common approach is taken by devolved administrations in these areas.
Dr Sam Strain of Animal Health and Welfare NI welcomed the underlying principles of the Animal Health and Welfare Common Framework, saying cooperation across the UK and Ireland is "absolutely essential" on disease control and animal health and welfare. Strain highlighted that trade agreements which are being developed should take into account animal health issues. He said the biggest area of concern is around endemic diseases: NI is under EU animal health law, which is different to GB; there is divergence and currently non-regulated endemic diseases need to be taken account of in the framework. He emphasised the importance of engagement with external agencies who have an interest and can provide guidance and expertise. Strain also commented on transparency, noting that the framework document is complex and there is a "danger of that leading to opacity" with regard to decision-making, scrutiny and review.
David McClure of the Ulster Farmers' Union raised changes to animal welfare standards, observing that we could easily see a position where there's divergence in welfare standards: "regardless of the perceived or actual welfare gains or benefits to animals, you're going to see a situation there whereby farmers perhaps within Northern Ireland are going to have a differing level of standard to adhere to and I think it would be important that there was collaboration across the four nations to ensure that we're on a level playing field. A different production system within Northern Ireland is fine, but let's not forget that a lot of our market is also within GB". On trade, Colin Smith of the Livestock and Meat Commission also raised the need for a level playing field, saying we "have to make sure our production base can be competitive". He suggested that the document doesn't make a clear link between the commercial reality of trade and industry and those negotiating trade deals.
The Committee also heard evidence on the Fertilisers Common Framework. Gill Gallagher of the NI Grain Trade Association said in principle it is sensible to look at a Common Framework on fertilisers but in practice, the devil is in the detail. She pointed out differing regulations between Northern Ireland, the Republic of Ireland, and GB and said the framework gave an opportunity to look at new EU regulations and to try to adopt more common sense approach.
Engagement with the Irish Government
The Department for Agriculture Environment and Rural Affairs has responded to the Lords Common Frameworks Scrutiny Committee questions on engagement with the Irish Government on Common Frameworks, writing: "Irish Government officials have not been consulted regarding the development of common frameworks…Any cross border concerns relating to specific policies will be addressed through the usual channel."
Subsidy Control
The Lords Common Frameworks Scrutiny Committee has written to the Lord Callanan at the Department for Business, Energy and Industrial Strategy with concerns about the Subsidy Control Bill and interaction with Common Frameworks, including the Agricultural Support, Fisheries Management and Support, and Public Procurement Frameworks. The Committee writes, "powers and requirements within the Bill could have implications for devolved policy areas across the UK, in that these powers severely threaten the operability of relevant common frameworks agreed in devolved areas…We are therefore concerned about how provisions in the Bill can be harmonised with the explicit equality of the Parties provided for within common frameworks. "
The Committee has also written to Minister Eustice on the Agricultural Support Framework.
Northern Ireland Affairs Committee
On 8 February, Minister of State in the Northern Ireland Office Conor Burns gave evidence to the Commons Northern Ireland Affairs Committee on the New Decade, New Approach agreement. On negotiations with the EU on the Protocol on Ireland/Northern Ireland, the Minister said, "I am being candid with you here, that the Government will carry on those talks and those conversations. I suppose you could argue that the withdrawal of the First Minister has highlighted that. I am not sure that it has radically changed at all what would be the Government's interactions with the Commission and the pursuance of a line that is very clear… The political disruption that has been caused by the withdrawal of the First Minister, although stating again that Ministers remain in place and the Assembly is still sitting, is diverting a little attention away from our core goal of sorting this, but we remain committed to sorting the Protocol."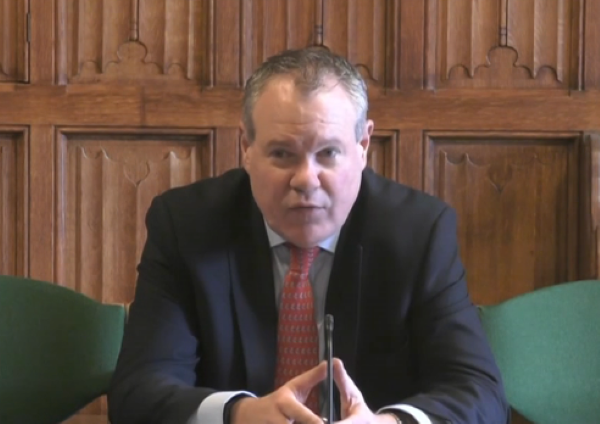 Minister of State in the Northern Ireland Office Conor Burns | Source: UK Parliament
The Minister was also asked about replacement EU funding: Stephen Farry MP (Alliance) highlighted concerns around the loss of EU structural funds. Conor Burns said, "There will be a direct replacement of that money to the regions that were in receipt of that money through the EU. That will now come directly from HMG. I emphasise that it is absolutely our wish, desire and intention that there is partnership in delivery, that this is UK Government working in partnership with the Executive, local authorities and business groups." At the Assembly, Minister of Finance Conor Murphy responded to a written question about EU funding and the replacement Shared Prosperity Fund. Minister Murphy said that there has been "minimal information shared by the British Government on the Shared Prosperity Fund. We have been excluded from the policy development and design of the fund…I am working to try and secure a substantive and meaningful role for the Executive in the design and delivery of the Shared Prosperity fund to ensure that it delivers effectively for all of our citizens, particularly the most vulnerable in our society."
Retained EU Law
On Wednesday 9 February, the Commons European Scrutiny Committee took evidence from experts on retained EU law. Chair of the Committee, Sir William Cash said that the UK's withdrawal from the European Union and the consequent changes made to its domestic legal system "amount to a legal revolution". On parliamentary scrutiny on changes to retained EU law, lawyer Eleonor Duhs said, "It is really important that Parliament is able to scrutinise and debate this change. We are now at the start of the fourth industrial revolution, and all this automated decision making—this new technology—needs to be done in a way that earns the public's trust. I would have some concerns about these changes being made without proper parliamentary debate." Sir Jonathan Jones added, "You are talking here about a vast body of legislation, deriving, as we have said, from our decades of membership of the EU and covering every area of policy, essentially, that is relevant to our national life…The risk is that because we have this rather esoteric label, "retained EU law", it is treated as a rather technical and boring area and there is the idea that we can tidy it all up by some kind of technical and quick, fast-track mechanism."
Other news
This Week at the Assembly
Wednesday 16 February, 11.35AM - Committee for the Economy - Company Law Common Framework - Briefing from Research and Information Service (RaISe)
Thursday 17 February, 10AM - Committee for Agriculture, Environment and Rural Affairs - Common Frameworks on Agri-Support; Chemicals and Pesticides - Stakeholder evidence; EU Exit legislation
Catch up with Assembly Business